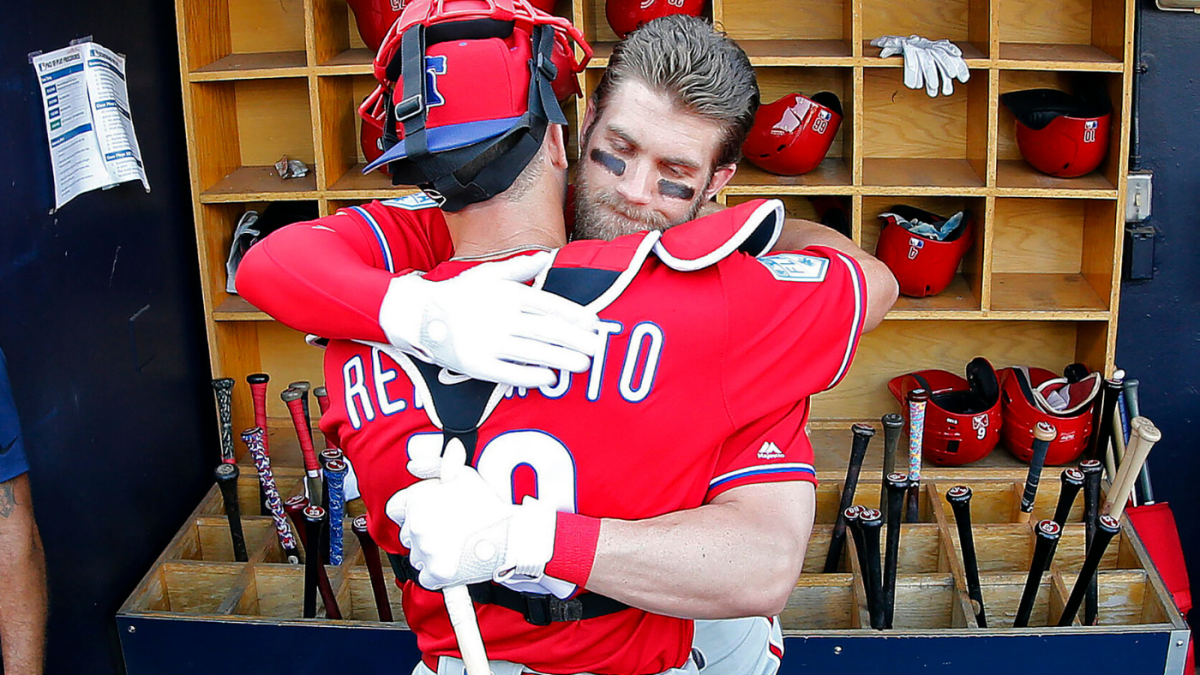 Despite Harper's enthusiasm, it doesn't appear the Phillies are pursuing Realmuto with the same sense of urgency. On Thursday, Realmuto said that extension talks remain in the preliminary stage,
per Scott Lauber of the Philadelphia Inquirer
, or the same as they were in spring training before the global pandemic gave teams added reason to be cost-averse.
Bryce Harper
made a statement when he signed a 13-year contract with the
Philadelphia Phillies
that did not include any escape clauses: he is in it for the long haul. Harper is now entering his second season with the organization, and has used the first week of the Phillies' summer camp to make a different statement, one that is arguably as important to the team's long-term success. Harper wants the team to extend catcher J.T. Realmuto before he can test the open market after the season.
Harper has continued wearing a Realmuto shirsey as an undershirt, a carryover practice from 2019. And earlier this week, when he reached the dugout following a Realmuto home run in an intrasquad scrimmage, he celebrated by yelling about how the team should sign its All-Star backstop. That doesn't necessarily mean much. The Phillies still have exclusive negotiating rights until the offseason begins, and even then they should be positioned to compete with all other suitors — especially if contract values are depressed, as is expected to be the case. It does, however, suggest that this might be a lengthier process than Harper prefers. The week prior, Harper made his desires known during an interview with reporters. "If the Phillies don't end up signing him back, it would be terrible," he said,
according to John Clark of NBC Sports Philadelphia
. "Everybody in this organization wants to see him in red pinstripes for the rest of his career. Hopefully we can make that happen."
If Realmuto does become a free agent, he's certain to draw a crowd of suitors. He won't turn 30 until next March, yet he has developed into one of the best catchers in the game. Over the last four seasons, he's posted a 114 OPS+ and has averaged 18 home runs a pop. Add in above-average defense, and Baseball Prospectus estimates that Realmuto has been worth at least four Wins Above Replacement in each of the past three seasons. It's no wonder, then, why Harper wants Realmuto to hang around for a while longer.
How badly does Harper want a Realmuto extension? Pretty badly, to use scientific terms.
Now, it's up to the Phillies to keep the face of their franchise happy.