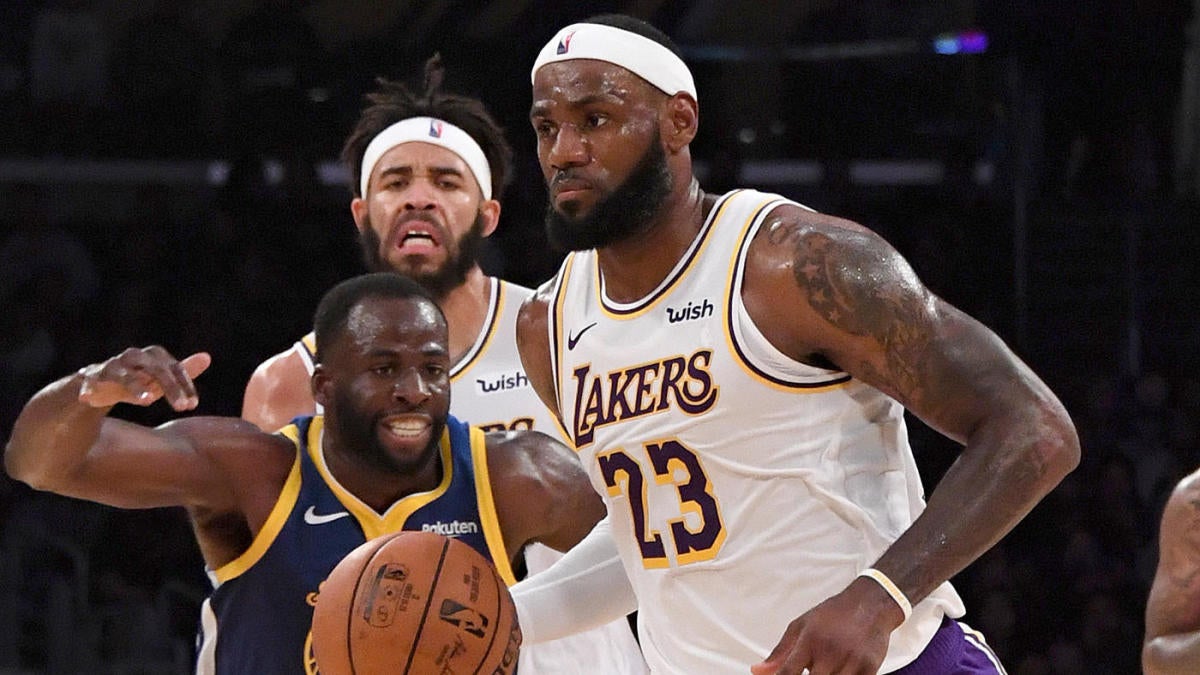 Draymond Green knows a thing or two about what it takes to win an NBA championship, and he's certainly felt the dominance of Kawhi Leonard, who helped lift the Toronto Raptors past the Golden State Warriors in last season's Finals. When Leonard left Toronto to go home to Southern California last summer, and brought Paul George with him, the Los Angeles Clippers immediately became a top-tier title contender, if not the outright favorite.
Count Green among those who initially favored the Clippers, who, in his estimation, check every championship box. But now that the conditions surrounding the upcoming 2020 postseason have changed so dramatically, Green has flipped his thinking a touch and now favors LeBron James and the Los Angeles Lakers to come out with the title.
"I think going into the season and all season long, the Clippers were the favorite," Green said on ESPN's "Jalen and Jacoby" show. "Just when you look at their team, I think they have someone that checks every box. A defender — Kawhi Leonard, Paul George, Patrick Beverley. When you're talking great size: Kawhi, Paul George, Marcus Morris. They check all the boxes. They can match up with any team well. And they have shooting. They have Montrezl [Harrell] down low. They have everything that you need to win a championship.
"However, I think going into this bubble, the Lakers got to be the favorite, because they've got LeBron and he can kind of adjust to anything," Green continued. "And I think he's probably the most disciplined player we've ever seen in the NBA. And that's going to matter going into this bubble. I think having LeBron on your team going into this bubble gives you a slight advantage."
So let's think about this. Obviously declaring the Lakers the championship favorite "because they've got LeBron" isn't some grand standard of analysis, even if it happens to be true. Basketball tends to be a relatively simple game in terms of the disproportionate impact superstars can have. It's true on playgrounds, in high school, in college, and it's often true in the NBA: If you have the best player, you're in pretty good shape.
But what Green's saying about LeBron being "the most disciplined player" does ring particularly true in these bubble conditions. Athletes are creatures of habit and routine, and nothing about this is familiar. No fans. Weird practice times. Games starting in the middle of the afternoon. Teams out of rhythm, players out of shape, the virus out of your control. All the while, the fight for racial equality continues outside the bubble while remaining front of mind for so many of the players within it.
To be able to channel all these swirling, unfamiliar circumstances into a place of extreme focus and attention to detail becomes arguably the most pivotal of abilities in Orlando. Off the court, are you keeping to your schedule and minimizing distractions? On the court, can you stick to your same game when everything around you is different?
There's a reason why teams don't tend to play as well on the road. It's easier to eliminate distractions at home, in your own bed with your family around, even something as seemingly insignificant as a familiar drive to the arena serving as a natural mechanism of narrowed focus. For a team like the Lakers that expects to compete for a championship, you could be on the road for more than two straight months.
As for the games themselves, I don't think a lot of people realize just how different things are going to be in empty arenas. If you're approaching it even one percent like a pick-up game, and consequently straying even slightly from the strict discipline with which you normally play, even if that only leads to an ill-advised shot here or there, or an occasional defensive lapse, that can be the difference between winning and losing.
It's also an entirely different kind of focus, and to Green's point, discipline, when you're left to your own motivational devices. For a lot of players, for as much as the pure pursuit of winning is the more romantically discussed source of motivation, it's really the bright-lights NBA atmosphere, the packed house and fiery introductions and ebbs and flows of the crowd, that really gets them going.
So, yes, the mental discipline to sink even further into yourself, to block out the external conditions and play as if nothing has changed will separate a lot of teams and players in this particular set of conditions. And if Green believes LeBron is the most equipped player to do this, it makes all the sense in the world that he would elevate the Lakers to the top of the board.