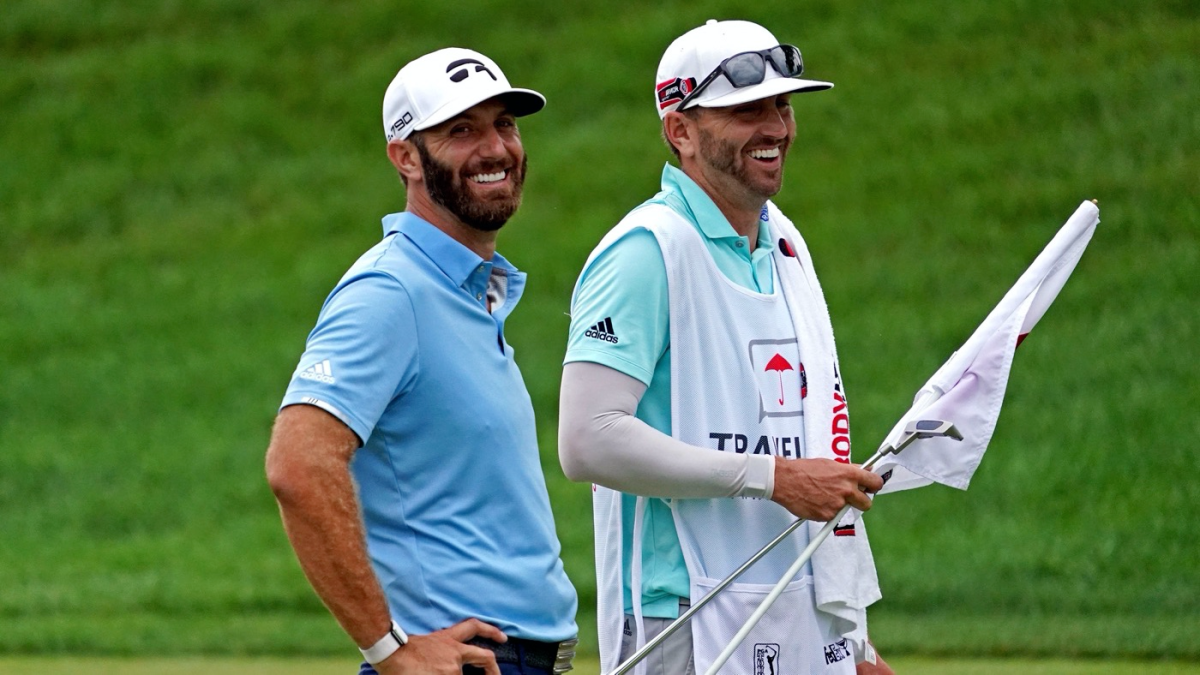 Since 2008, only three players have won 18 or more times on the PGA Tour: Rory McIlroy (18), Dustin Johnson (21) and Tiger Woods (21). In what is probably the deepest and most competitive era of PGA Tour golf, that stat is even more meaningful than it would have been 30, 40 or 50 years ago. That is, winning 21 times over these last 13 years — when you consider the exchange rate of previous generations — is more valuable than it seems.
D.J.'s career has been incredible. With his 21st victory on Sunday at the Travelers Championship, he tied Davis Love III and Lanny Wadkins for 30th all time in PGA Tour wins. He's one away from Raymond Floyd, three from Gary Player and four from Johnny Miller. We're starting to enter the stratosphere of all-timers. Greg Norman, Ernie Els and Tom Weiskopf are now in the rearview mirrorto Johnson in terms of PGA Tour wins.
There are innumerable ways to define these lists when we talk about golfers historically. "Best" is different than "most-accomplished," which is different than "most-talented." It's all very confusing. When I think about Dustin Johnson, I certainly think about one of the 25 greatest talents to ever play the game. Whether he will end up as one of the 25 most-accomplished — and therefore a top-25 golfer ever — remains to be seen. There's a path for him to get there of course, but at age 36, it's not necessarily an easy one.
Here it is for him: Win nine more times, including two majors. That's it. And when I say "that's it," I mean that's Bubba Watson's entire career, so it's not exactly simple but certainly doable.
Should D.J. wins nine more times and get to 30 PGA Tour wins, and three of those wins are major championships (two more theoretical majors plus his 2016 U.S. Open), he's one of the 25 greatest golfers of all time. It would be undisputed. Only 14 golfers have ever won 30 times on the PGA Tour and also won three major championships. Even when you take golfers like Gary Player and Ernie Els into account — guys who won more than three majors but didn't play enough PGA Tour events to win 30 times — D.J. would still have enough wiggle room to be considered a top-25 guy.
He might already be closer than we think. Again, eras matter. Consider this: Is Dustin Johnson, who has won 21 times, including one major in the best era of golf ever, better or worse than Lloyd Mangrum, who won 36 times including one major from 1940-1956? I mean, you're going to have a hard time finding a large swath of folks campaigning for Mangrum.
This is why arguing about it is so fun, though. On paper, Mangrum has had a better career. But you don't hit 350-yard missiles like D.J. hit off the tee last on Sunday at TPC River Highlands on paper. Those are the shots that solidify the resume and give weight to what D.J. has done. When you're going full throttle on the 72nd hole of a big-time event with a one-stroke lead and there's not even a millisecond of doubt from anyone watching, well, Lloyd Mangrum isn't playing that game. There's not a fluke among those 21 wins either. D.J.'s career matches the eye test, and honestly, in some cases may even fall short of what we've watched.
The truth here is that Johnson should probably already be on the list. It's not infeasible to think he could have (should have?) won the 2015 U.S. Open and the 2010 PGA Championship, among other majors in which he's contended. Of course, we don't deal in could haves and should haves, so there's still work to be done for D.J. to get himself into the top 25 of all time.
However, it's a career that may have flown under the radar because it coincided with the Tiger Woods vortex and because he's only won one major so far. That will change if he wins more majors in the future, though, and his career achievements finally match his otherworldly talent.