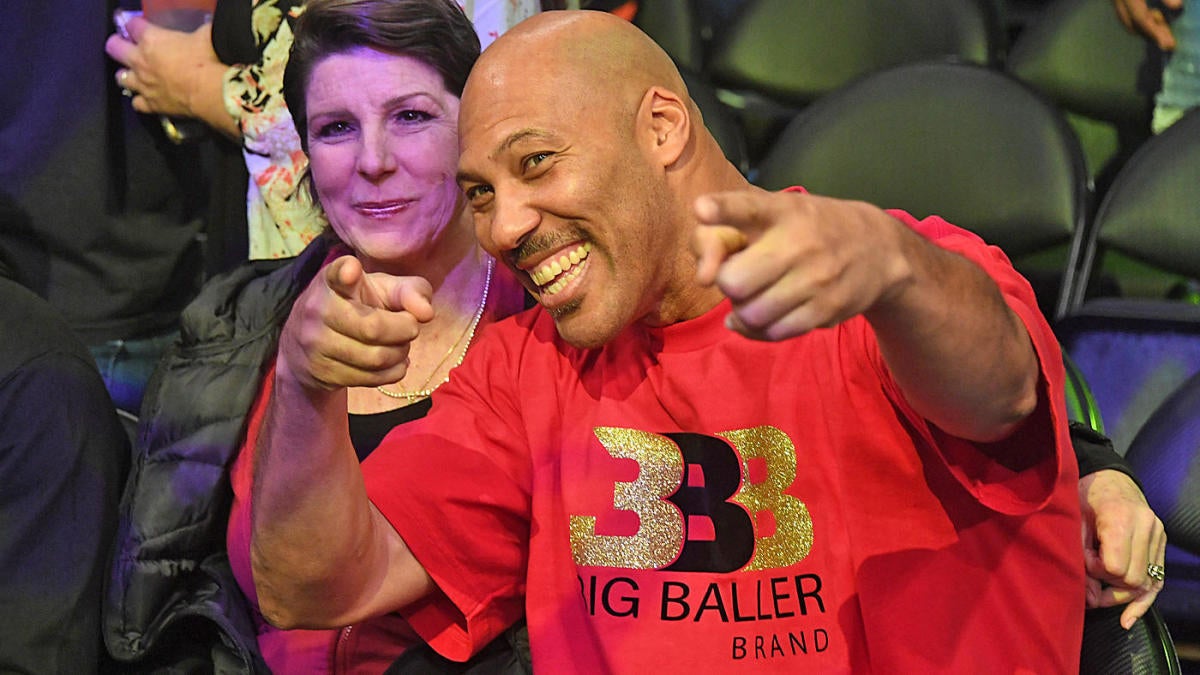 Three years ago when Lonzo Ball was rising up draft boards as a phenom at UCLA, his father, LaVar Ball, ascended quickly into fame. LaVar praised his eldest son on numerous occasions with off-the-wall declarations that earned him a platform, claiming, for instance, that Lonzo was better than both LeBron James and Stephen Curry (among other wild statements).
Since Lonzo's NBA career has matured, LaVar has taken a step out of the limelight. But with his youngest son LaMelo preparing for the 2020 NBA Draft, he's back — and he's got plenty to say about where he should (or shouldn't) land.
In an interview with this week on the "Say Less with Kaz" podcast, LaVar downplayed the idea of LaMelo landing with Golden State — a team that has a 14% chance (tied for the highest odds) to win the No. 1 pick — yet in the same breath lobbied for why they should take him No. 1.
"Melo is the most popular player in the draft, and the best guard. You get a two-for-one," he said. "Who ain't going to take him No. 1? You'd have to be a fool even if you don't like him. You get him and trade him."
As for Golden State, LaVar thinks they'd be silly to pass on LaMelo because he "would put people in seats," but admitted the fit would be odd.
"That's the part I don't like about Golden State," he said. "They've got Klay (Thompson) and the other guys, and now you want to put Melo in that mix to say you got to follow these guys. Melo ain't no follower. He don't need to do what they do, let them do they thing. There's a reason you're looking at my son; he's talented and can play the game. It ain't that hard. Dude is open, and you pass it to them. You open and you been working on your shot? Shoot the ball. Run. It's fast-paced, it's good. But don't be like Melo got to wait his turn and wait for two or three years to go by and learn from the veterans. Ain't about that. Can he play or not?"
LaMelo is the No. 1 prospect on the CBS Sports Big Board and the frontrunner to go No. 1 in the 2020 NBA Draft, but it's hard to agree with what LaVar says here. LaMelo's passing and playmaking is top notch, but he needs to add to his 6-foot-6, 180-pound frame, and his shooting needs real work. What he can be in three years is perhaps at an All-Star level, but as he joins the league, a fit alongside two of the all-time great shooters in NBA history — Curry and Thompson — would be an absolute godsend.
It's way too early to draw conclusions from any of this since the lottery hasn't occurred, therefore we don't know where the Warriors are picking. We also don't know who the Warriors prefer, and what position they may look to draft. But LaVar openly questioning the fit for LaMelo in Golden State is a bold move considering their odds of drafting No. 1. It's perhaps an early ploy to try and guide LaMelo elsewhere in the draft, or, more likely, an always-transparent LaVar speaking his mind.