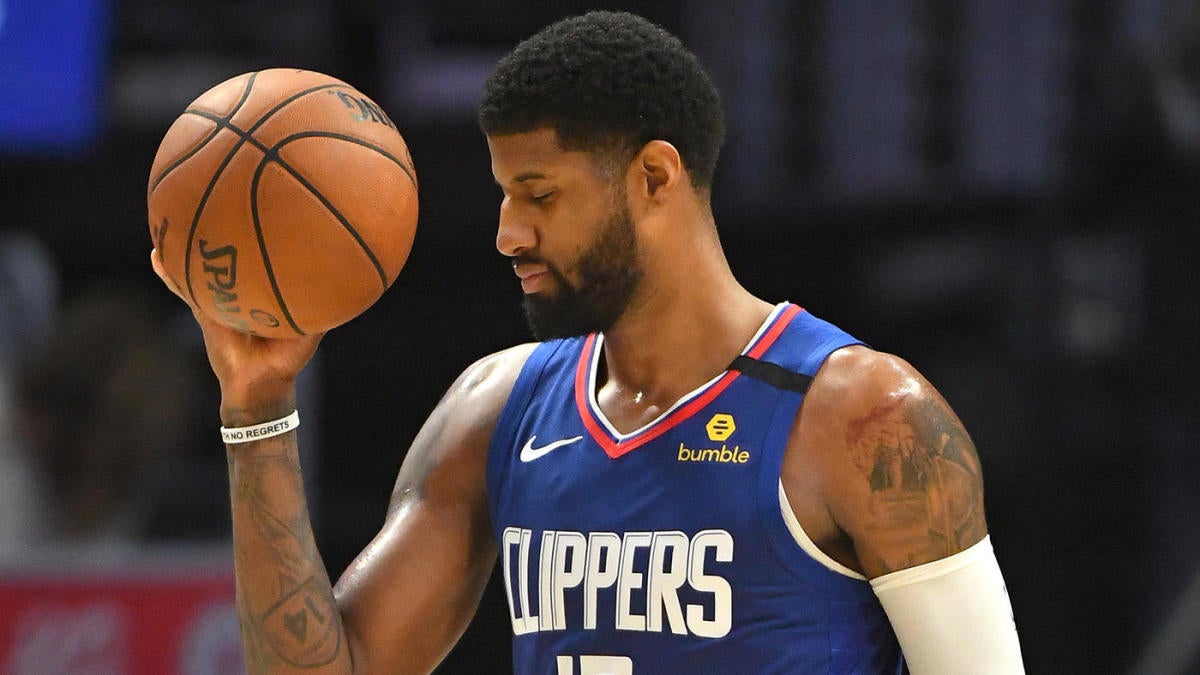 Paul George landing in Los Angeles seemed preordained. George, a native of Palmdale, California, had been linked to the Lakers for years over a supposed desire to return home, and even when he re-signed with the Oklahoma City Thunder in 2018, the shadow of his hometown still lingered for the future.
But in an interview with The Players Tribune's Knuckleheads podcast with Darius Miles and Quentin Richardson, George explained that his original plan was to remain with the Indiana Pacers. He places the blame for his exit squarely on Indiana, arguing that they did not do enough to put a winning team around him, and even passed up on the chance to add a star over financial concerns.
"I ain't gon' say the names, because I'm going to keep their business private, I'm just saying it like this," George began. "I had at the time, the best power forward saying he wanted to come to Indy and team up with me. They like 'we're a mid-major, we're a small market, we're can't do it, we're a small market, we can't afford that.'"
At that point, George felt that the team was not committed to winning. That is when he decided to leave.
"What am I doing here? You know what I mean? They don't want to win. I've got the best power forward that wants to come play here. Not everybody chooses Indy to come play here. This dude wanted to come play here. They didn't want to do it."
So the question to come out of this is, who could this star power forward have been? It's hard to say for certain, but there are a number of viable candidates.
Though he technically made First-Team All-NBA as a center that season, Anthony Davis was, by most measures, the NBA's best power forward in the summer of 2017. Indianapolis Star Pacers beat writer J. Michael argues that the player George is speaking of here is indeed Davis, but there are a number of holes in that story. The simplest is that George seems fairly confident that Indiana could've gotten whoever this mystery player was. The Pelicans were never going to trade Davis with three years left on his deal. They had just added DeMarcus Cousins and expected to contend. If they were going to trade Davis, the Pacers, with little besides George on the roster, were never going to be able to offer enough to get him. And if they could have? Not adding a 24-year-old Davis would have been organizational malpractice. No front office is cheap enough to pinch pennies over a player like Davis.
There were two All-Star power forwards available in 2017 free agency: Paul Millsap and Blake Griffin. Millsap left the Atlanta Hawks for a relatively affordable three-year, $90 million contract with the Denver Nuggets that included a team option for that third season. Griffin re-signed with the Los Angeles Clippers on a five-year max contract that the Pacers could not have matched financially, but he had meetings lined up with other teams prior to agreeing to remain in Los Angeles, so the notion that he considered leaving is feasible. George reveals in the interview that the alternative free agent that the Pacers suggested was coming off of an injury, which turned him off. That makes Griffin less likely considering his history, but Millsap lacks the cache around the league to draw this sort of reaction from George. If money was an issue, though, that suggests Griffin was the player. The Pacers could have been justifiably afraid to give Griffin the max based on his injury history, which has proven problematic during this contract.
LaMarcus Aldridge requested a trade from the San Antonio Spurs in the summer of 2017, and the fact that he signed with the Spurs at all in 2015 indicates that market size was not a major concern of his. At that point, he had only two years left on a max deal, so his presence would not have been financially onerous. However, the fact that the Spurs did not ultimately trade him suggests that they never intended to despite his request.
Carmelo Anthony was indeed traded during the 2017 offseason, but he had a no-trade clause and it was widely reported that he was only interested in playing for the Houston Rockets or Cleveland Cavaliers before ultimately opening up his list enough to include the Oklahoma City Thunder.
Kevin Durant was technically a free agent in 2017 as well, and he has played power forward in the past. He wasn't coming to Indiana, and the Pacers would've paid him if by some miracle he'd decided to, but it's at least worth pointing out.
Other star power forwards at that time that were not known to be available included Draymond Green, Giannis Antetokounmpo, Kevin Love and Kristaps Porzingis.
Based on what George said, Griffin appears the likeliest option. He has the name value to appeal to a player of George's caliber, but carried enough risk to scare off the Pacers financially, and the idea that he would have gone back to the Clippers only after learning that the Pacers wouldn't pay up is not wholly farfetched.
There is also the possibility that George is either not entirely informed or not being entirely honest. Davis may have told him that he was interested in playing together, for instance, but even if that had been the case, he had to have known that the Pelicans were never going to allow that to happen. Either that, or he was holding the Pacers to unrealistic expectations on roster-building.
The truth is likely somewhere in between. The Pacers are notoriously cheap by NBA standards. They have not paid the luxury tax since the 2005-06 season, and that was in its original, far less punitive form. They have ranked 22nd or lower in team salary in each of the past five seasons. George had every right to be upset with Indiana's thrifty management, but considering the years of reporting linking him to Los Angeles and Indiana's lack of immediate prospects, he may simply be trying to shift blame to the team for a decision that was inevitable.