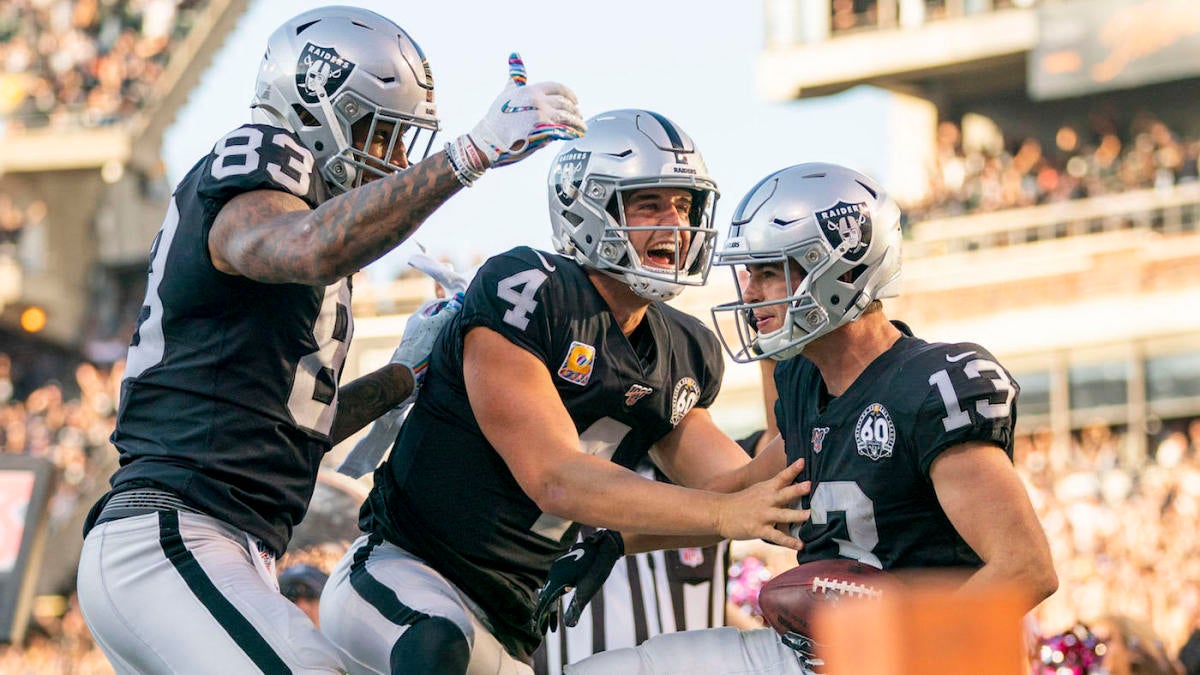 The Raiders are making the move from Oakland to Las Vegas in 2020, and with a new city comes new expectations. The Raiders recorded their best season in last three years, but still lost finished with a losing record — going 7-9 in the second year of Jon Gruden's second stint in Oakland. There's reason to be hopeful for the future, however, as Gruden and general manager Mike Mayock have acquired some young offensive talent that will help them compete in the high-flying AFC West. Raiders tight end Darren Waller believes they could be bringing an elite offensive attack to Sin City — one that could run with some of the best in the league.
"If you look at things across the board, starting with the offensive line and the quarterback, with improvement at the receiver positions and the tight ends trying to be consistent, I think our offense has a chance to do a lot of great things and put up a lot of great numbers," Waller said Tuesday in an interview with SiriusXM NFL Radio, via NBC Sports. "The big thing for us is finishing in the red zone this year. I know that we're doing everything in our power to improve upon that. I don't feel like having a top five offense is out of the picture.
"We have that much talent. We have guys who are buying in. We have a balanced system. I have high expectations, and I think everyone on the offense would say the same thing."
Waller is a big part of the Raiders' offensive attack, and he proved he was one of the most versatile tight ends in the league last season. In 2019, Waller caught 90 passes for 1,145 yards and three touchdowns while averaging 12.7 yards per reception. His quarterback, Derek Carr, received some flack for his play, but he threw for a career-high 4,054 yards, 21 touchdowns and just eight interceptions in 2019. Las Vegas also has an up-and-coming star in the backfield, as Josh Jacobs rushed for 1,150 yards and seven touchdowns while averaging 4.8 yards per carry in his rookie season.
Believe Waller or not, the Raiders having a top five offense next season is not out of the realm of possibility. Last year, they averaged 363.7 yards of total offense per game, which ranked No. 11 in the league, 245.4 passing yards per game, which ranked No. 9 in the league and 118.3 rushing yards per game, which ranked No. 13 in the league. If the Raiders' young offensive talent can improve along with the help of their new additions, this offense could surprise some people in 2020. The Raiders drafted former Alabama speedster Henry Ruggs III with their top pick, who should make an immediate impact out wide, and then selected underrated wideout Bryan Edwards out of South Carolina in the third round. Gruden also scooped offensive weapon Lynn Bowden out of Kentucky — who played quarterback, running back and receiver during his collegiate career.
All of the pieces appear there for the Raiders to create something special next season. Now, it's just up to Gruden to figure out how to get the most out of his talent.