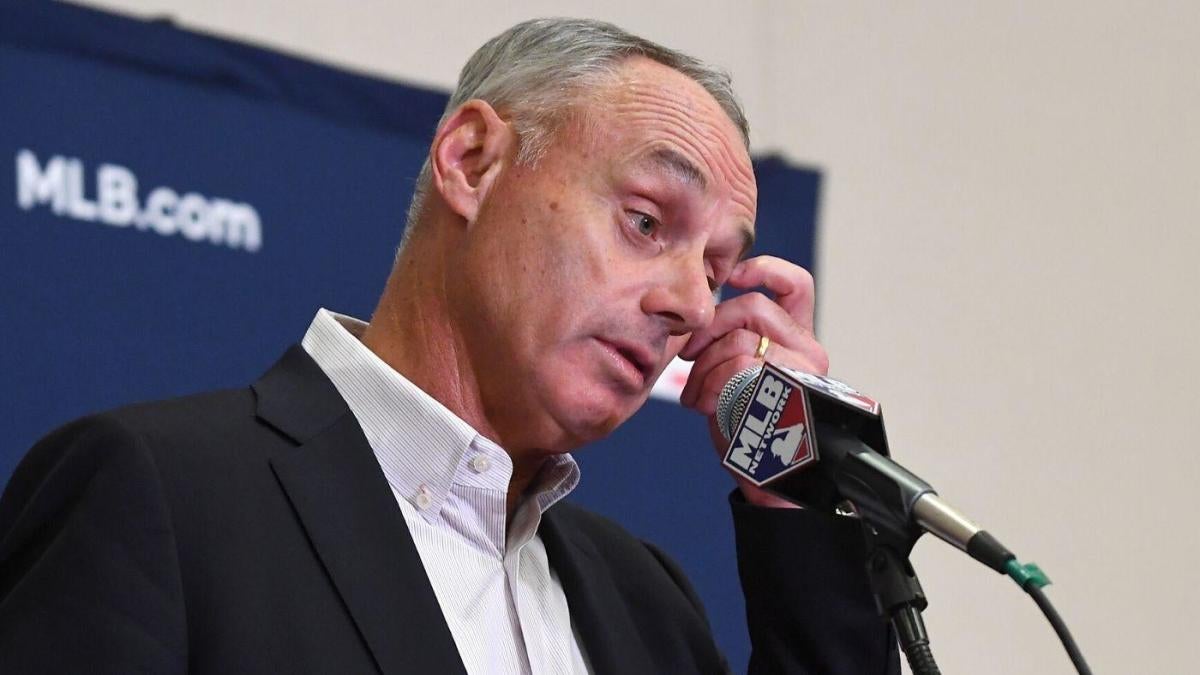 On Monday, MLB responded with a letter informing the MLBPA there will not be a 2020 season unless the union waives any potential legal claims against the league,
according to Bill Shaikin of the Los Angeles Times
. For example, players who contract COVID-19 could pursue legal action claiming unsafe workplace conditions.
MLBPA executive director Tony Clark responded to Manfred's comments Monday evening with a statement saying the "players are disgusted." Here is Clark's full statement:
Also, the MLBPA is expected to file a grievance claiming MLB did not make a good faith effort to play as many games as possible once the season is scheduled. MLB wants the union to forego a grievance. Such a grievance would not impact play and it may take years to resolve, but the owners could be forced to pay billions in back pay.
MLB's various return-to-play proposals would pay the players roughly one-third of their full season salary across a different number of games, generally speaking. The players have proposed 114-game and 89-game seasons at full prorated pay with expanded playoffs for this season and next.
MLB owners held a conference call Monday afternoon to discuss their options for 2020. If a season were to be played, the owners and the MLBPA would still need to negotiate specific health and safety protocols before they can make a determination on the number of games played.
COVID-19 cases are currently spiking in many states, particularly in the south and southwest, home to many MLB teams. There is also a 14-day mandatory quarantine for anyone entering Canada, which presents an issue for the Blue Jays.
"We are running out of time. The clock is ticking," Manfred told ESPN. "But the first step is the MLBPA coming back to the table."
Less than one week after declaring, "We're going to play baseball in 2020, 100 percent," commissioner Rob Manfred said he is "not confident" baseball will be played this year. Manfred walked back his comments during a conversation with Mike Greenberg for ESPN's "The Return of Sports" special.Manfred walking back his comments two days after the MLBPA ended negotiations and less than one week after guaranteeing a season undercuts the league's credibility. It makes Monday's comments appear to be an attempt to scare the union back to the negotiating table, though it should be noted some owners are reportedly willing to cancel the season."I had been hopeful that once we got to common ground on the idea that we were gonna pay the players full prorated salary, that we would get some cooperation in terms of proceeding under the agreement that we negotiated with the MLBPA on March 26th. Unfortunately, over the weekend, while Tony Clark was declaring his desire to get back to work, the union's top lawyer was out telling reporters, players and eventually getting back to owners that as soon as we issued a schedule – as they requested – they intended to file a grievance claiming they were entitled to an additional billion dollars. Obviously, that sort of bad-faith tactic makes it extremely difficult to move forward in these circumstances." Scheduling the season is not as simple as setting a number of games. MLB and the MLBPA would still need to work together on health and safety protocols, and various on-field and roster rules, among other things. There must be some collaboration to launch the season."I'm not confident," Manfred said. "I think there's real risk; and as long as there's no dialogue, that real risk is gonna continue … It's just a disaster for our game, absolutely no question about it. It shouldn't be happening, and it's important that we find a way to get past it and get the game back on the field for the benefit of our fans."
There are government restrictions on spectators attending games.
There are travel restrictions in the United States and Canada.
There are unreasonable risks to players, staff, and spectators.
The March agreement allows Manfred to unilaterally schedule the 2020 season as long as the players are paid full prorated salaries, which has been the No. 1 sticking point the last few weeks. There are also three mutually agreed upon conditions in which a season can be shut down: "Players are disgusted that after Rob Manfred unequivocally told Players and fans that there would '100%' be a 2020 season, he has decided to go back on his word and is now threatening to cancel the entire season. Any implication that the Players Association has somehow delayed progress on health and safety protocols is completely false, as Rob has recently acknowledged the parties are 'very, very close.' This latest threat is just one more indication that Major League Baseball has been negotiating in bad faith since the beginning. This has always been about extracting additional pay cuts from Players and this is just another day and another bad faith tactic in their ongoing campaign."This past weekend the MLBPA rejected MLB's latest return-to-play proposal — 76 games at 75 percent prorated salaries — and invited Manfred to unilaterally schedule the season, which the March agreement allows. "Tell us when and where," MLBPA executive director Clark said in that statement.
Here's more from Manfred's appearance on ESPN: