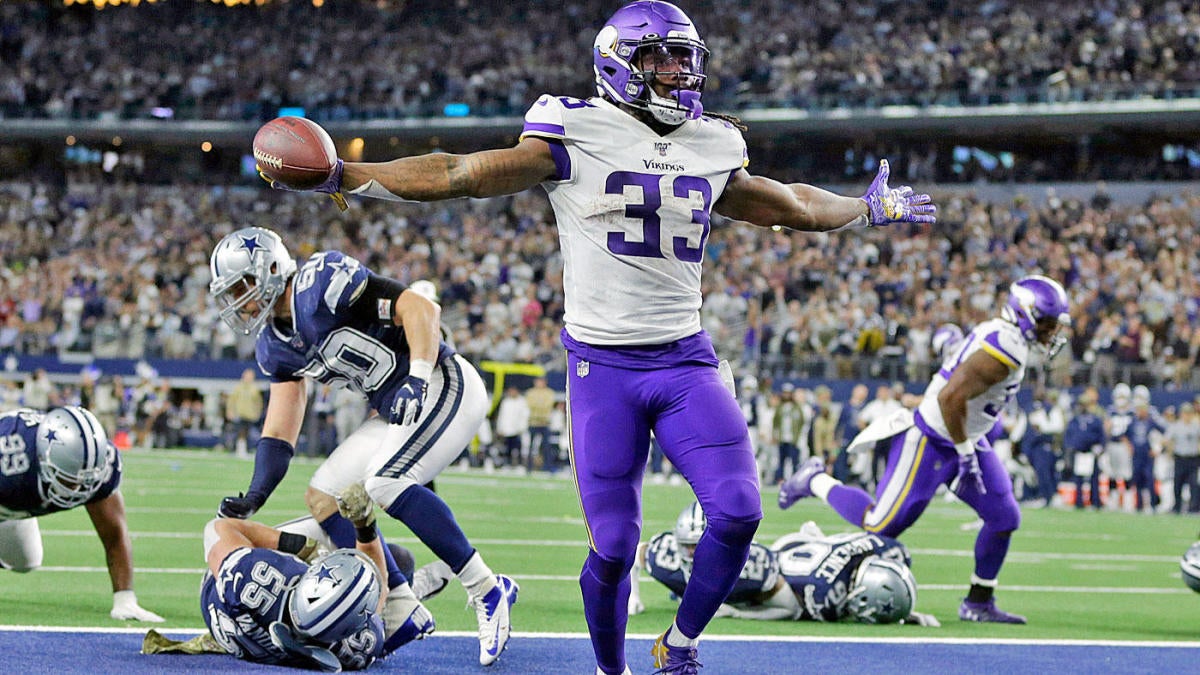 It should come as no surprise that Dalvin Cook is in a staredown with the Minnesota Vikings. We told you in this space weeks ago that this was coming to a head and that the running back wanted a new deal more in line with what Christian McCaffrey pulled down from the Panthers. And now it has come to pass.
He does not intend to show for training camp without a new deal, and, as I chronicled in the past, his franchise is in a bind. There are a lot of factors working in his favor, even despite playing a position that has been largely devalued in recent years. Cook can make a solid case for a new payday, and he and Joe Mixon of the Bengals are on a very short list of non-quarterbacks who might still be able to get a legit extension done as the league and our country continue to sort through this pandemic.
And I continue to believe that there is a reasonable solution to this problem that includes a three-year model and more money frontloaded into 2020. It will take considerable give and take to get a deal done in the current economic climate — and reasonable expectations from both sides — but there is a way to make both parties happy enough to make it worthwhile to execute a new deal.
What Cook has going for him
The Vikings, for the past three years or so, as they transitioned into a new stadium, have paid EVERYBODY. If you were any good — or they thought you were going to be any good — you got paid. Period. Kirk Cousins has already been paid there twice, and he just got there in 2018. Extensions abounded. That's who they are.
Furthermore, they have a risk-averse, old-school coach who doesn't want to risk too much — running the ball is his MO. And with Gary Kubiak further reshaping the offense, Cook is in line for more volume in the passing game and an expanded role overall. Minnesota's defense has slipped considerably from its heights and is going to have to score more to win. One could easily make the case that Cook is the most important player on that side of the ball, that the offense will run through him, and that he has far out-performed his contract.
But …
He's still a running back in a pass-happy era. Almost every team that has doled out a heavy RB deal in recent years has been burned — most absolutely scalded — and Cook's durability has already been an issue. Injuries have been a factor and he has appeared in just 29 out of a possible 48 games through three seasons. Not ideal. Of course, he could argue that he has only been better and strong since season-ending knee surgery his rookie year, and is truly in his prime right now, but especially at this position, it can be a very tough sell.
And the Vikings could contend their finances are more uncertain than ever, who knows if fans go to games this year or if a full season is played, and the cap might fall flat in 2021, further compounding their issues as a team with serious cap woes entering 2020. Plus the GM and head coach are currently lame ducks and ownership might be hesitant to make a huge financial commitment to a running back without its long-term brain trust established (the Jets, for instance, signed Le'Veon Bell to a hefty RB deal and then fired the GM and the current coach has wanted nothing to do with that contract since). It can get complicated, and quick.
So what do they do?
Cook, looking at the prospect of having to play out his rookie deal for $1.3M, can make the case for skipping out on practices and whatever else until he gets the same kind of treatment so many of his teammates have received. I get it. If I was representing him — especially in a virtual offseason — I'd have him shut down his laptop and Zoom right on with his day without any contact with the organization. Makes all the sense in the world to me.
I'd ask for something in the range of the $32M that McCaffrey will get in the first two years of his deal … but also be willing to take a bunch less. Tough climate to do a deal, he didn't have 1,000 yards rushing and receiving like Run CMC, has not been near that durable and the Panthers payroll and cap situation is in many ways the complete opposite of the Vikings (Carolina is shedding salary in the near term with Cam Newton and Greg Olsen let go and Luke Kuechly retiring).
The reasonable solution is the franchise tag
Who knows about the 2021 cap, in such uncertain times, but we do know that the 2020 tag for running backs was a little over $10M. McCaffrey's deal moves the needle some. And eventually, the new broadcast money and gambling will kick back in and eventually fans will be in the stands again buying grossly overpriced beers and hot dogs. A three-year window is where it's at.
The Vikings purchase Cook's franchise tag year (2021) and one more year at an average value of around $12.5M or so a year. Let's say $12.5M in 2021 and $14M in 2022. So roughly $27M in new money right there. Add in the $1.3M he was already set to make this year. We're just short of $30M. Put $10M in a signing bonus that allowed him to take home $11.3M in 2020, guarantee the $12.5M in 2021 and guarantee the $14M in 2022 for everything but injury, with an injury guarantee that kicks in a we days into the 2022 league year. So were kind of playing around with the three-year, fully guaranteed structure that the Vikings gave Cousins — QBs are different — but with some tweaks.
Given the climate we are all in, I think it would be foolish to leave that kind of money on the table. Maybe put in an opt-out clause that is Cook achieves certain metrics in the 2021 season — 1,600 yards rushing? 12 touchdowns? Some threshold of scrimmage yards — then he can opt out of the deal after that season.
Go ahead get a little creative with it; these are different times after all. But this would be a bizarre time for a player, especially a running back, to turn down a significant bird in hand, and this would be a very strange time for the Wilf family to stop spending to keep their best players around.