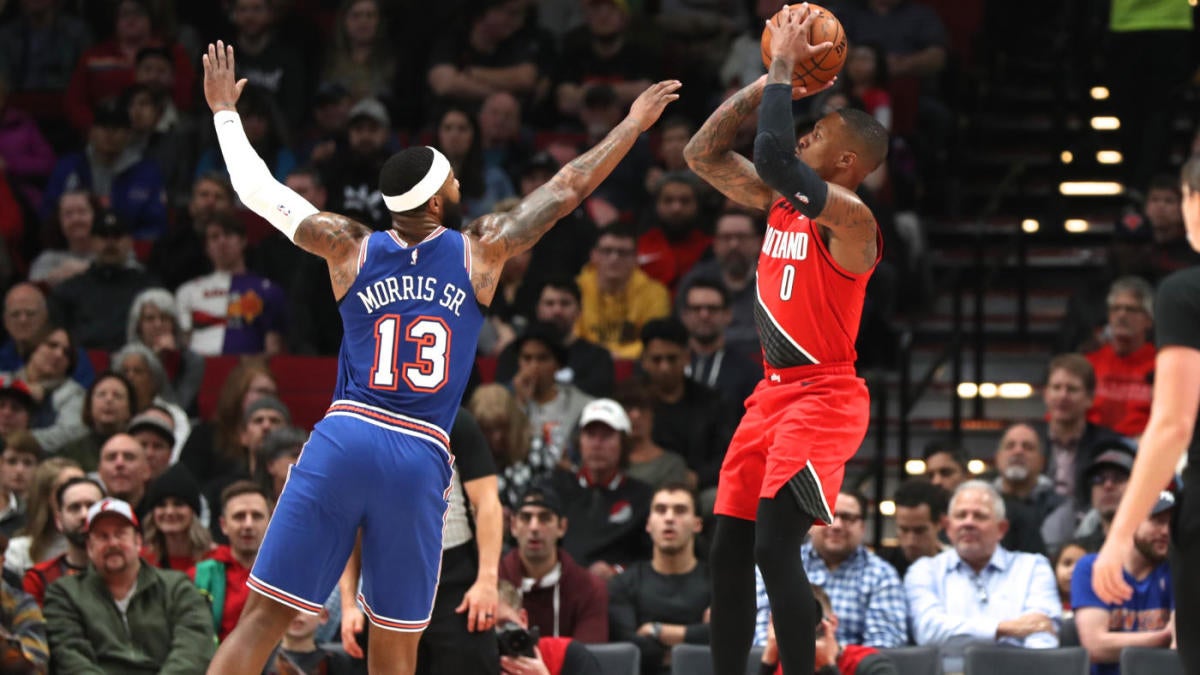 Damian Lillard is a legend in Portland, and after signing a four-year, $196 million supermax extension that doesn't even kick in until 2021, it seems he's on track to be with the Trail Blazers for the rest of his career. A few years ago, however, he says he envisioned a different future: one in which he was playing for the New York Knicks.
During an interview with Vanity Fair on Thursday, Lillard acknowledged hearing about trade rumors, and that he thought he was on his way to the east coast.
When the season shut down, the Trail Blazers were in ninth place; if you move up to eighth, you could play the Los Angeles Lakers in the first round. You want that?

Of course. I think we could beat them.

As a Knicks fan, I wish you would come here. Madison Square Garden is so great.

I thought I was headed there a few years ago; I was hearing trade rumors. The Garden is my favorite place to play.
Poor Knicks fans. They can never catch a break. The never-ending NBA news cycle is constantly filled with rumors about how this is the year the Knicks are finally going to get a star to build around, or quotes from players talking about how much they love Madison Square Garden, yet save for the 2013 season they've had nothing but misery for decades.
And now, in the middle of a pandemic, after their team played so poorly this season they weren't even invited to the bubble in Orlando, here comes Damian Lillard out of nowhere, combining the two worst types of Knicks rumors to kick them when they're down.
Anyway, about those rumors. If repeated enough, they sort of just seep into everyone's consciousness, to the point that even Lillard thought he might be on the move. But how real were they?
Looking back, the initial source appears to be Stephen A. Smith. Now, he's the king of sports entertainment, and is incredible to listen to, but he's not exactly Adrian Wojnarowski. Here's what he had to say on his radio show back in the summer of 2018, as transcribed by Blazers Edge:
Even as the number three team they are clearly not an elite team that's going to make any noise in the postseason. Portland recognizes this, and as a result, you have people in Damian Lillard's camp and on his side looking for him to leave. And he is open to leaving, even though he loves being in Portland.

And if Damian Lillard is going to leave the comfortable and financially beneficial confines of Portland, it's only for two places from what I'm being told. He's only interested in New York or LA. One of the two. New York or LA, and by LA, I mean the Lakers, not the Clippers. That's what Damian Lillard wants. His preference would be for the Portland Trail Blazers to find somebody, somebody big time to join him and CJ McCollum in Portland. That's Damian Lillard's preference. But if they can't improve the team and if they can't find anybody, then he's interested in going one of two places: my sources tell me it's the Lakers or the Knicks.
There was also a short clip posted on Twitter from said show, in which he hilariously says the possibility of Lillard leaving is "entirely possible and very, very real." All other commentaries from the time seem to stem from Smith's comments, which, take that for what you will.
It must be noted that this was just a few months after Lillard and the No. 3 seed Blazers were embarrassingly swept out of the first round by the Pelicans in the 2018 playoffs. It was the second straight season they had been swept in the first round, and since Lillard's arrival they had won just two playoff series.
At that point, it was fair to wonder about the team's ceiling with Lillard leading the way, and it wouldn't be surprising if the team had discussions about big changes. Likewise, it wouldn't be surprising if Lillard himself had doubts about staying in Portland long term. A postseason disappointment like that will have everyone reconsidering things.
But sitting here now a few years later, knowing how everything played out, it's hard to imagine the Blazers ever really got close to trading Lillard.