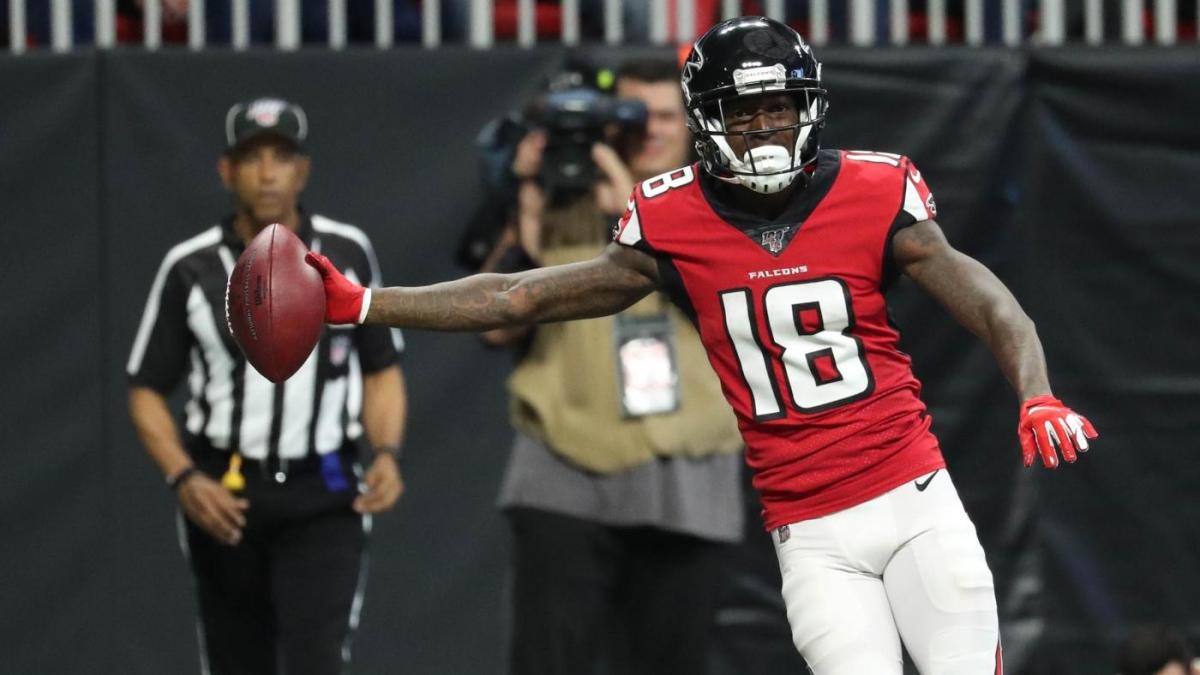 The Atlanta Falcons have a prospective dynamic trio in Matt Ryan, Julio Jones and former Los Angeles Rams running back Todd Gurley, but there's another player that may evolve into a household name this upcoming season. Former Alabama wideout Calvin Ridley has been a big part of the Falcons' offense over his first two seasons in the NFL, but he has so much more potential than just being a No. 2 option behind Jones. During a recent conference call with reporters, Falcons offensive coordinator Dirk Koetter told reporters that Ridley's "exceptional speed and quickness" will ensure he has a monster third season in Atlanta.
"I think he's always been able to beat his man just by pure speed and athleticism, and I think as he gets a little more consistent in his route running and understanding what is landmarks are, his depths of his routes are, I think you're going to see a jump in his game," Koetter said, via the Falcons' official website. "Now, you say that, but we're also talking about a guy who, in his first two years in the league, has put up some pretty substantial numbers. But I think his talent is even higher than that."
The No. 26 overall pick in the 2018 NFL Draft made an immediate impact on the Falcons' offense. In 16 games, he caught 64 passes for 821 yards and 10 touchdowns — which earned him a spot on the PFWA All-Rookie Team. He also set an NFL record by catching six touchdowns in his first four NFL games. Ridley then avoided the dreaded "sophomore slump" in 2019 by catching 63 passes for 866 yards and seven touchdowns despite missing three games due to injury.
There's several reasons to believe that Ridley's third season will be his best one yet. For one, Ridley improved in his second year even though missed three games, plus the Falcons had the No. 3 passing offense in the NFL last season — averaging 294.6 passing yards per game. Many believe that number will go down with the addition of Gurley in the backfield, but I think that remains to be seen. After a knee issue from college flared up in 2018, Gurley rushed for a career-low 857 yards and 12 touchdowns in 2019. It appeared something was amiss with his knee, and the Rams ended up releasing him this offseason. While Gurley recently passed his physical, who knows if he will be able to return to superstar form or even maintain his health. If Gurley struggles or if he gets hurt, the Falcons will be set to return to that pass-first offense — and it should work nicely with Jones, Ridley and the addition of tight end Hayden Hurst. Plus, the stats speak volumes when it comes to the superstar track Ridley is currently on.
Ridley's 1,687 yards are the third-most by any Falcons receiver in their first two seasons, and his 17 touchdowns are just one shy of tying the franchise record held by Jones. According to Football Outsiders, Ridley ranked second among all NFL receivers in DVOA (Defense-adjusted Value Over Average) in 2019 behind only Chris Godwin. He also ranked fifth in DYAR (Defense-adjusted Yards Above Replacement), coming in two spots higher than Jones.
Godwin is an interesting player to bring up, because Koetter and many others believe Ridley can follow in his footsteps in his third NFL season. The Tampa Bay Buccaneers' wideout had a decent second year, catching 59 passes for 842 yards and seven touchdowns, but broke out in a huge way in 2019. Godwin put up career numbers all across the board — recording 86 catches for 1,333 yards and nine touchdowns. Despite being a "No. 2 wideout" to Mike Evans, Godwin came in third in the NFL in receiving yards and tied for fourth in receiving touchdowns. Ridley has the potential to follow this track, especially if the Falcons want to keep the ball in the air.