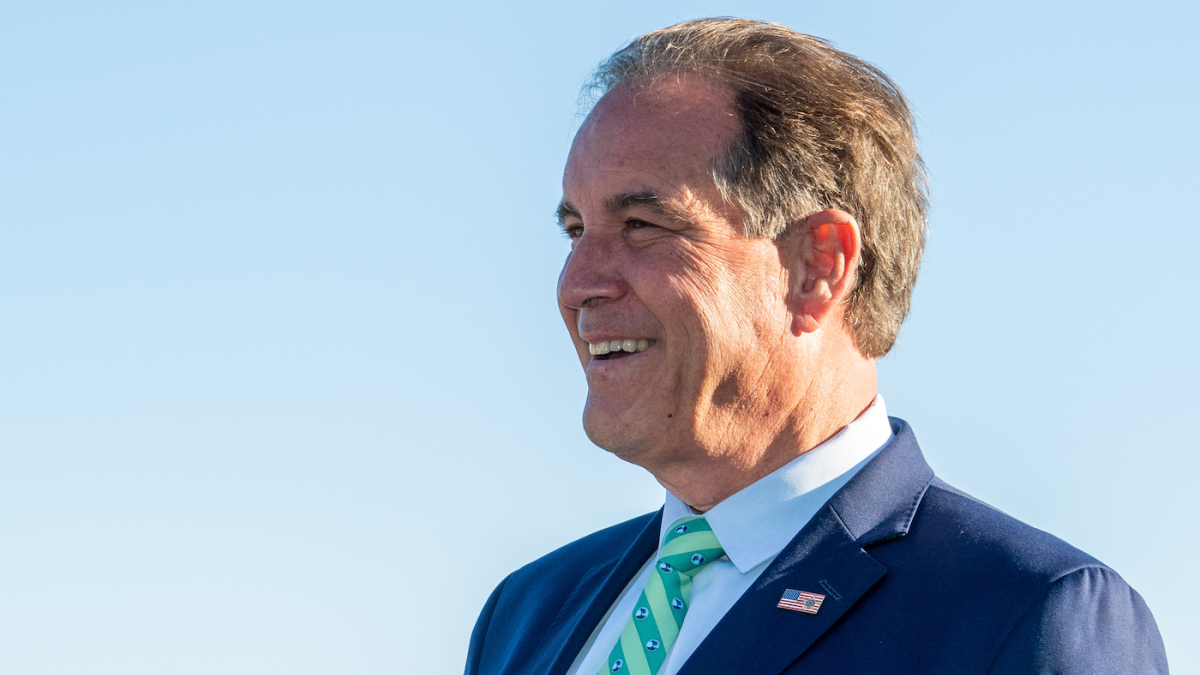 When PGA Tour golf returns this week at the Charles Schwab Challenge in Fort Worth, Texas, it will look a lot different than it did three months ago. That's true regarding both what will happen on the grounds at Colonial Country Club and how the event will be broadcast on CBS Sports.
For starters, lead broadcaster Jim Nantz — who is usually surrounded by up to six or seven people in the tower on the 18th green — will be by his lonesome at Colonial. Broadcast partner Nick Faldo will be complying with social distancing recommendations, as he noted on a conference call Monday; for extra measure, though, he will be not six feet away but over 6 million feet at a studio in Florida helping call the tournament. Others — like Dottie Pepper and Mark Immelman — will be on the grounds throughout the week.
Nantz noted that they have done a version of this style of broadcast before at the Masters when he heads down to Butler Cabin for the green jacket ceremony and Faldo is still up in the booth. This time, though, the festivities will last two days not two minutes.
CBS Sports chairman Sean McManus laid out a number of other plans that were adapted from loads of creative brainstorming and surely a look at a few of the exhibitions that have taken place during the pandemic. In addition to a 50% reduction in on-the-ground staffers, one of the other massive changes is that CBS and the PGA Tour are collaborating to bring folks at home closer to the action on the ground.
There are plans — not just for this weekend but into the future — for players to be mic'd up during the telecast, which was the most significant outcome of The Match: Champions for Charity, a charity exhibition that featured Phil Mickelson, Tiger Woods, Tom Brady and Peyton Manning a few weeks ago.
"I think there's a greater appreciation for wanting to contemporize golf coverage a little bit," said McManus. "I think the players are beginning to realize that they can play a real role in that and making the product more interesting for the viewer at home. I sense that there is more cooperation … more of a willingness to be mic'd."
Additionally, there are plans for a confession cam of sorts on the grounds, dubbed "Inside the Ropes." The idea is that a player would — after leaving the 12th green, for example — dip into a tent with a remote camera and answer a question that has been fed onto the screen. Nobody will be manning the cameras and there will be no interaction, but it could be a fascinating look at a heat-of-the-battle moment from some of the stars on the PGA Tour.
McManus indicated that CBS Sports has been working on plans for this production for the last two months. The end result is detailed and comprehensive. In some ways, that's how it had to be. As PGA Tour commissioner Jay Monahan told Doug Ferguson recently, sports is not even close to out of the woods yet.
"I don't think [the pandemic is] over," he said at the end of last week. "I'm really confident in the plan. But you spend a lot of your time, given the uncertainty, thinking through scenarios that could play out. That's what we'll continue to do. We won't be comfortable until we're told we can be comfortable. That will be when we have a vaccine and there's no risk."
You could say the same about CBS Sports' plan. It's solid and exciting, but there is still so much unknown. It was fascinating to hear Nantz describe what his weekend days will look like. A Saturday and Sunday normally filled up with production meetings and discussion with top-level producers will now just be him arriving at the course, marching to the tower on No. 18 and monitoring everything by himself.
"I have no apprehension," said Nantz. "In that two months — I've pretty much been on the sidelines when it comes to being in these meetings — the amount of detail that has gone into planning this and having a backup plan to the backup plan, it's extraordinary what our production and technical teams have put together."
In so many ways, broadcasters and producers will be stretched like they never have been before. Graphics may be fed in from off-site at times, production trucks have been reconfigured — the entire idea of the broadcast has been changed in a massive way.
Still, there is optimism for what's to come. How could there not be? After no golf for nearly three full months, everyone associated with the sport would take anything. What comes out of this pandemic — some of the change — may even be better for the sport. Who could have imagined — even three months ago — folks talking as casually about a confession cam or players being mic'd up as they are right now?
"It's going to be different," said Nantz "… We're all going to adjust. It's one of the great challenges I've ever seen in my 35 years. This crew is ready for it; it's as well planned out as anything I've ever been a part of in all my years."