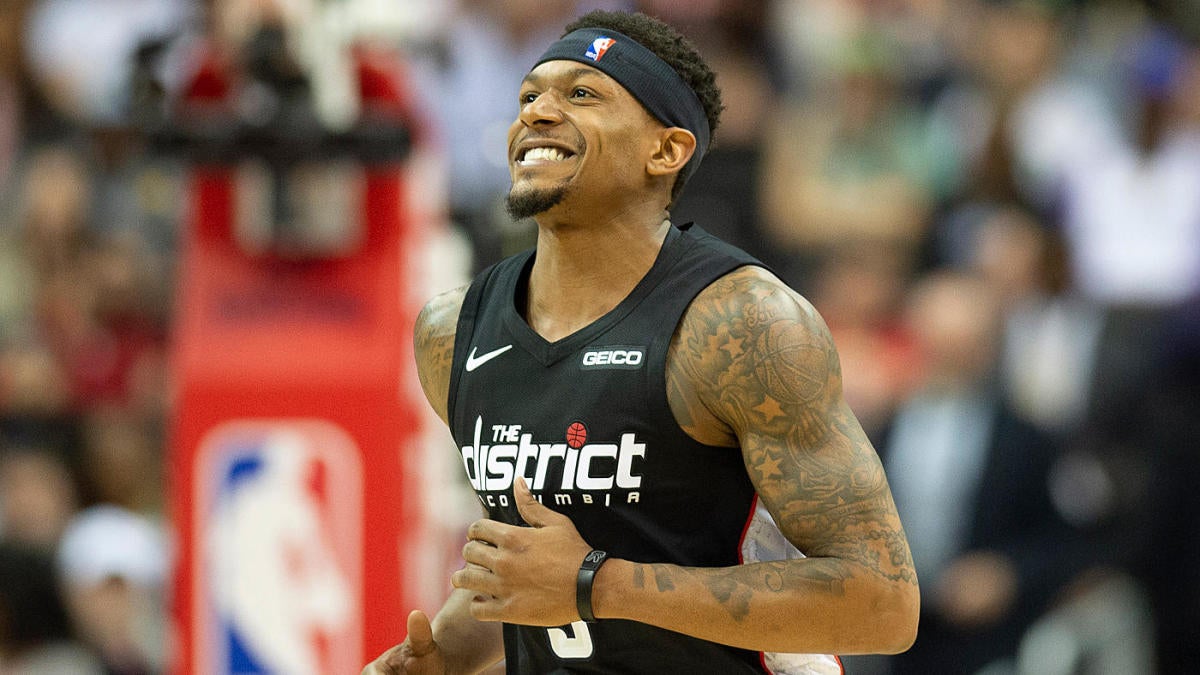 There might not be any games on, but that doesn't stop the rumor mill from churning in the NBA. Last week, it was reported that the Brooklyn Nets were internally discussing potential trades for Washington Wizards guard Bradley Beal. Despite the fact that Beal already signed a two-year, $72 million extension before the start of the 2019-20 season, he's been a prime trade target for teams across the league since the Wizards haven't experienced any success in recent seasons.
Beal would fit well on any team in the NBA, but if he were to be traded to Brooklyn, he would be teaming up with Kevin Durant and Kyrie Irving to create a terrifying Big 3. Beal's lamented that he loves D.C., despite the lack of winning he's experienced with the Wizards, but when the rumor of the Nets being interested in him surfaced, he took it as a positive for him.
"It's not the first time I've heard this kind of talk," Beal told ESPN's Jackie MacMullan. "It's interesting. To me, I look at it as a sign of respect, that I've been doing good things and guys want to play with me."
While the thought that other teams are interested in him made Beal feel honor in the career he's built, he also acknowledges that the idea of playing alongside stars like Kevin Durant and Kyrie Irving would be enticing.
"That's an unbelievable feeling. When you hear that Kyrie [Irving] and KD [Kevin Durant] want you, s—, that's amazing. At the same time, you don't know how much there is to it, or how easy it would be to do. And I've put down roots in D.C. I've dedicated myself to this town, this community. I love it here, and it would feel great to know I could grind out winning here instead of jumping to another team. But I'd be naive to say that I don't think about it when these stories come up."
As Beal said, you don't know how much validity there is behind this rumor, or how easy it would be to get it done, but he's not exactly demanding a trade yet. Beal has played the last three seasons without a fully healthy John Wall, who has been sidelined after surgeries for bone spurs and to repair a torn Achilles tendon. But when that duo shares the floor together, they're just as potent on offense as any top backcourt in the league. Wall is expected to be back at the start of the 2020-21 season, which is something that Beal is focusing on, rather than trades.
"My biggest thing right now is that I want to play with John [Wall] again," Beal said. "I want to see him get back to that level where I know he can be, especially since my game has grown so much [while he's been out]. What can we accomplish together? I'm so happy he's healthy, working his tail off."
Prior to the postponement of the season, Beal said that Wall was participating in light scrimmages and working on drills, which is a positive sign for his return. As much as Beal says he wants to be in D.C., though, the Wizards and Nets seem like perfect trade partners. Beal has established himself as a knock-down shooter, capable of playing on or off the ball. This season, with Wall sidelined, he became the star of the show and averaged 30.5 points per game before the hiatus. He was Washington's entire offense, and averaged a career-high in assists (6.1), proving he can be an elite facilitator when necessary. Plugging him alongside Irving and Durant would work seamlessly.
For the Wizards, the Nets have several players that would be attractive in a trade package, specifically guys like Caris LeVert, Spencer Dinwiddie and Jarrett Allen. While LeVert has had a lengthy injury history, when he's healthy he has the potential to be the second option on a playoff team. Trading LeVert away will give him the freedom to further his development without the pressures of being on a team that has a tight championship window. While trading Beal to a team like Brooklyn will give him the opportunity to seriously contend for a championship right now.
Despite Irving and Durant both being sidelined for all or the majority of the season, the Nets have made it clear that they want to be aggressive in transforming themselves into a title contender. When they fired head coach Kenny Atkinson, who is beloved around the league, it signaled that Brooklyn is no longer interested in building a specific team culture and developing young players, but is now eyeing championships. A trade for Beal would certainly put them closer to that goal.