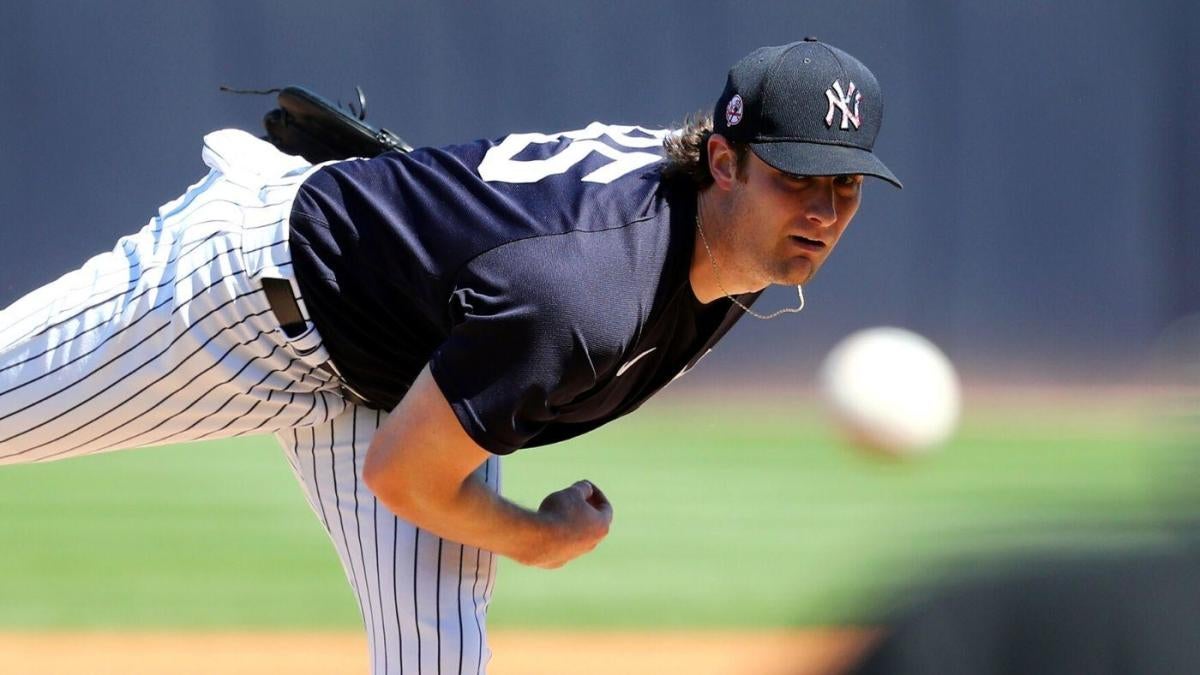 What this says to me is Cole needs to string together some elite-level years and/or rack up the counting stats. Losing part or all of a season here in 2020, right in the middle of his prime, is a pretty sizable detriment to building that Hall of Fame case.
I'm inclined to say no.
A few weeks ago,
I took a look at 10 current active baseball players
who I believe have the most to lose from a canceled 2020 season in terms of their Hall of Fame candidacies. Since we're still waiting around for baseball to happen, we're running through extended looks at the cases. Today's selection is
Gerrit Cole
.
SportsLine projects Cole to go 12-6 with a 3.37 ERA, 1.17 WHIP and 172 strikeouts in 141 2/3 innings. But that's in 23 starts. I just can't see a season long enough to get him that many outings, though. I think we're looking at around 82 games total, meaning he's making around 15 of those starts. That knocks Cole down to around 115 strikeouts.
Let's say Cole heads to his age-30 season with 1,450 strikeouts. Given his low win total and good-but-not-exceptional run prevention, is that a Hall of Fame track?
It makes a difference, no? As opposed to deGrom, Cole doesn't have a Cy Young, though. He finished second last season, his third showing in the top five.
Cole's case, at present, is thin and heavily reliant on what he's done the past two seasons continuing for the next several years.
Cole's top statistical similars right now are
Corey Kluber
, Brandon Webb and
Stephen Strasburg
. If we go similars through age 28, the top three are Strasburg,
David Price
and Johan Santana. If we expand to top 10 on either spectrum, there is nary a Hall of Famer.
Cole signed a nine-year, 4 million deal with the
Yankees
this past offseason. He's right in the middle of his prime, so he's nowhere near having a complete case, such as we reviewed with
Zack Greinke
and
Jon Lester
. Cole is closer to
Jacob deGrom
territory in that losing a prime year is losing a chance to capitalize on hardware.
He's 94-52 with a 3.22 ERA, which is good for a 127 ERA+ and the FIP is 3.06. It's good run prevention, to be clear, but not really overwhelming to the point that it would warrant Hall of Fame discussion. Cole's calling card will be strikeouts. Heading to his age-29 season, Cole has 1,336. He led the majors last season and led the majors in K/9 in each of the past two seasons. Losing 2020 means a mid-prime chance to add more black ink. What Cole stands to lose this season could make a serious dent in his Hall of Fame resume when the time comes. He's obviously at the top of his game. What if he was primed for a Cy Young season in which the Yankees won the World Series and he won World Series and ALCS MVP? It's possible. Now there's a chance we get no season, and that debut season in the Bronx is pushed back. Even if we get a half season and Cole wins hardware, many will consider it as having an asterisk next to it.