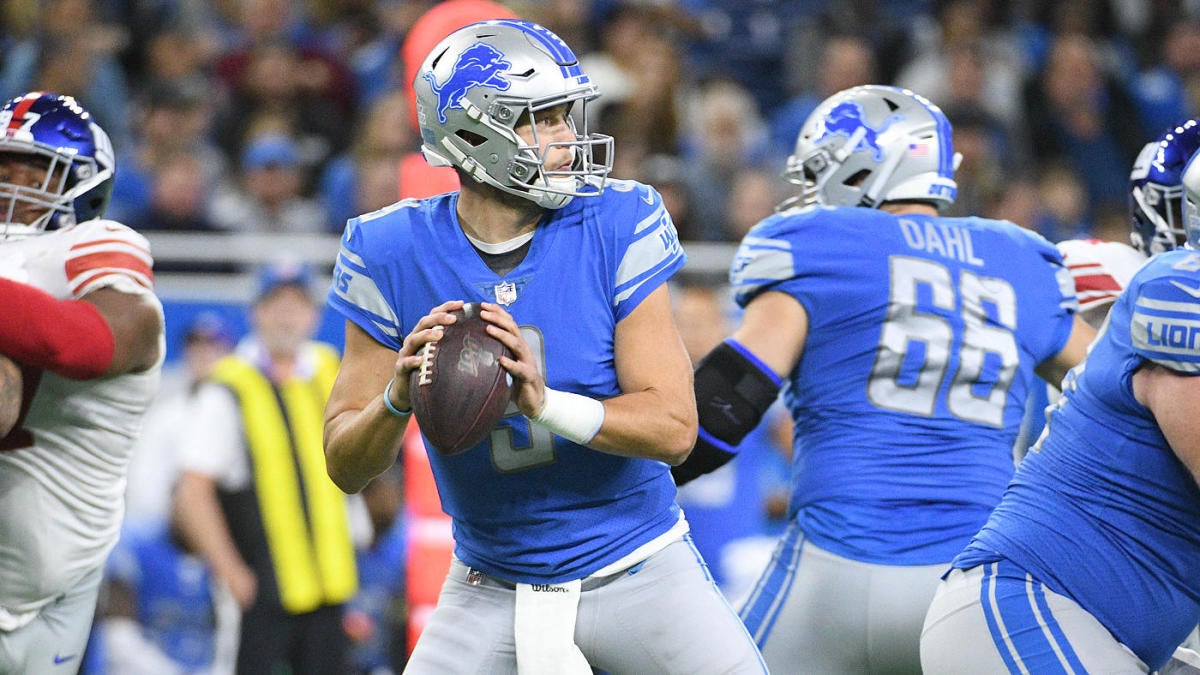 Before it was cut short due to injury, Matthew Stafford was on his way to a heck of a 2019 season. At the time he went down, Stafford ranked second in the NFL in touchdown passes (19), fourth in passing yards (2,499), and fifth in passer rating (106.0). He also checked in fourth in Football Outsiders' DVOA and sixth in ESPN's total QBR.
Not bad for the first year under a new offensive coordinator. The Lions hired former Seahawks play-caller Darrell Bevell prior to last season, and he empowered Stafford to throw the ball downfield more often than he had been in recent seasons. That change worked marvelously and led to much of Stafford's improvement. Now, he's looking forward to Year 2 in the new system.
"It doesn't hurt to be in a second year of an offense and not try to learn something new and try to be a rookie quarterback or second-year guy coming in," Stafford said, per the team's official website. "Definitely, I feel like it's a positive for us as a team and for myself. When I get out there and throw with those guys, when I get chances to work with them I feel like I can teach them as good as our coaches can on what we're looking for and what they need to do. That's an advantage for us. Now let's just hope that shows up on Sundays."
This is a common refrain when it comes to quarterbacks: Year 2 in the new system should be even better than Year 1. But is it actually true? And if so, what degree of improvement should we expect? We did the research to find out.
Stafford is one of 20 quarterbacks who threw at least 3,000 total passes between 2010 and 2019. For each of those quarterbacks, we went through and tabulated their statistics in Year 1 and Year 2 under new offensive coordinators, then added them all up to get an idea of what to expect.
Note that we only included mid-career coordinator changes, and did not include the quarterbacks' first and second seasons as NFL starters. So, for example, Cam Newton's rookie year in 2011 was not counted in the exercise; but when his team hired Mike Shula in 2013, that became Year 1 under a new OC for Cam, while 2014 was Year 2. The results are in line with the talking points.
| | | | | | |
| --- | --- | --- | --- | --- | --- |
| Year | Comp % | TD % | INT % | YPA | Rtg |
| 1 | 63.8% | 4.8% | 2.6% | 7.24 | 90.69 |
| 2 | 64.6% | 5.1% | 2.1% | 7.47 | 95.46 |
This group of quarterbacks completed passes more often and at a greater average yards per attempt in Year 2 under new coordinators, and also saw those passes turn into touchdowns more often and interceptions less often in their second season with new OCs. As a result, their passer rating in Year 2 jumped nearly five full points. Considering Stafford had a 106.0 rating under Bevell last season, if he experiences anything close to the type of boost other QBs like him have gotten in this type of situation in the past, the Lions will likely be very happy.