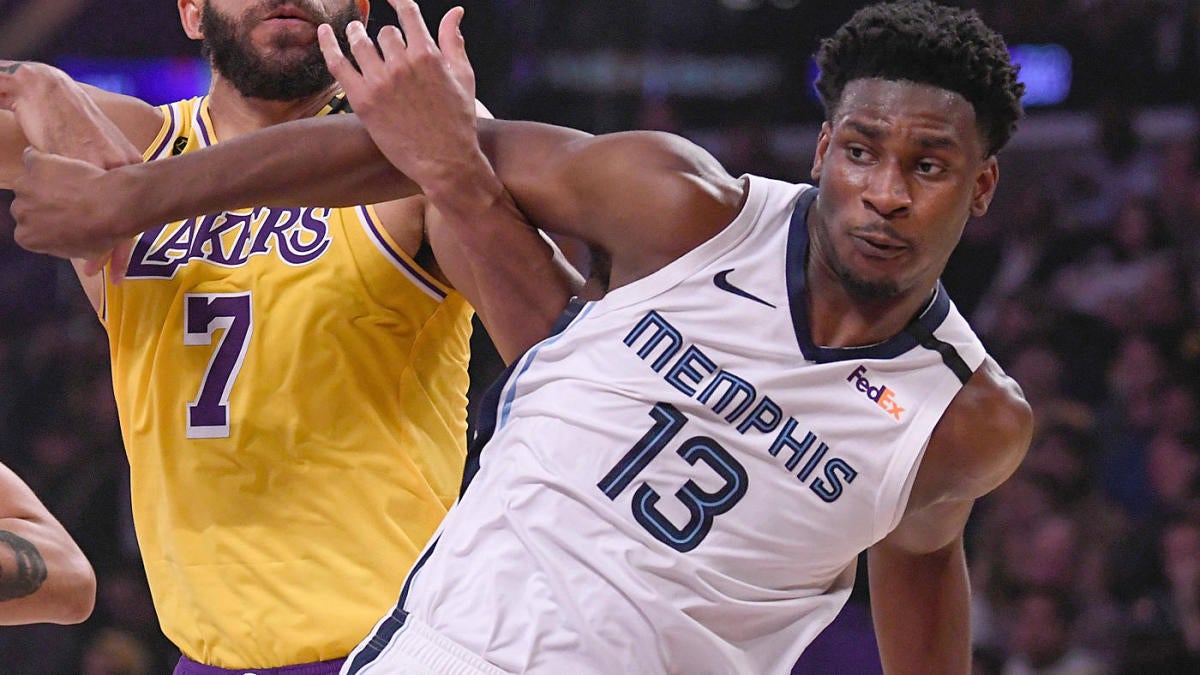 A 114-95 victory for one sub-.500 team over another in an early-season matchup rarely warrants much analysis, but an exception must be made for the Golden State Warriors' 19-point win over the Memphis Grizzlies on Nov. 19. Perhaps the Grizzlies would have won if one of their best players have been available for the majority of the game, but he wasn't. Jaren Jackson Jr. fouled out in only 18 minutes and 28 seconds. A few weeks later, Jackson nearly eclipsed that feat, but managed to stay on the floor for a whole 19 minutes and 17 seconds in a Dec. 1 game against the Minnesota Timberwolves.
This is perhaps the most startling pattern of Memphis' feel-good season. Many of its best moments don't include Jackson because fouls are keeping him off of the floor. He has been the NBA's leader in fouls per game in both of his first two seasons, and his average of 4.1 per game for the 2019-20 campaign doesn't quite belie the severity of the issue. Jackson has averaged 5.2 fouls per 36 minutes for his career, and as a result, his playing time has been severely depressed. Jackson, one of the NBA's most fit and athletic players, averages only 28 minutes per game.
What's scarier is that history doesn't exactly suggest that frequent fouling is a correctable issue. While a number of excellent defenders tend to foul frequently, such as Joel Embiid and Giannis Antetokounmpo, rarely does the league's leaderboard change much from year to year. Andre Drummond has been in the top five three years in a row now. DeMarcus Cousins led the NBA in each of his past four fully healthy seasons. There are isolated examples of improvement, but for the most part, fouling tends to be a lifelong issue.
So let's look at some of the fouls from those games specifically and try to establish a pattern. What is causing Jackson's fouling issues, and how can they be corrected? The most common throughline in each of them, unsurprisingly, is aggressiveness. Three of his 12 fouls in the games mentioned came on the glass.
Much of this is explainable by poor positioning. In both cases, Jackson does not have boxout position for the rebound, but desperately fights for it anyway. This tendency manifests very often on defense as well. Jackson will lose on a play, but refuse to give up and fouls as a result.
On this play, Jackson steps up to try to contain a driver that is already well contained. As a result, he leaves Marquese Chriss wide open, and has no other recourse but to foul.
Even when he's in the right place, though, his instincts sometimes lead him in the wrong direction.
On this play, Jackson has inside position, He could just boxout and fight for the rebound with the advantage. Instead, for reasons that are not clear, he turns around fights for position with his hands.
This is a very common issue of Jackson's. Active hands, in general, are a good thing defensively, but Jackson's are hyperactive. On defense, this often means needless swiping for steals or blocks that result in whistles. Note the first play in the first video as well. He pushes off because he's so desperate to make every single play that he gets carried away. The same thing happens on offense.
His reaction here is almost instinctual, as if he's using his arms to brace for contact on a fall. Sometimes, they can be a bit more aggressive, especially as he tries to clear space on drives.
Jackson, who did not turn 19 until just before the start of his rookie season and remains lean to say the least, relies on being the aggressor from a physical standpoint to hold up against bulkier bigs. Smarter veterans like Draymond Green and Karl-Anthony Towns take pretty clear advantage of that.
The issue with regulating these traits is that they aren't inherently bad. Much like his teammate Ja Morant, many of the things that will one day make Jackson great also have the potential to become his greatest weaknesses. Jackson's aggression and activity lead to quite a few big plays.
But those big plays disappear if Jackson isn't on the floor to make them. As he gets older, Jackson will need to find a balance. He'll need to be able to regulate his big-play impulses so that he's also around to do the simple things. Bulking up a bit will help. Experience could as well.
But the games above matter in that they will hopefully serve as teachable moments. Memphis can survive losing Jackson for most of a November night against a lottery team. What it won't be able to handle is limiting him to only 18 minutes in Game 7 of the Western Conference finals. Now is the time for Jackson to iron these kinks out, because in the not-too-distant future, Memphis is going to be too good to sacrifice games for developmental purposes.
History doesn't suggest that he'll cut his fouls significantly, and in a sense, that's a good thing. If Jackson became the kind of big man who only fouled twice per game, he'd likely lose the things that make him special in the first place. But if he trims them just slightly, he'll be able to maximize those traits on the floor instead of wasting them on the bench.