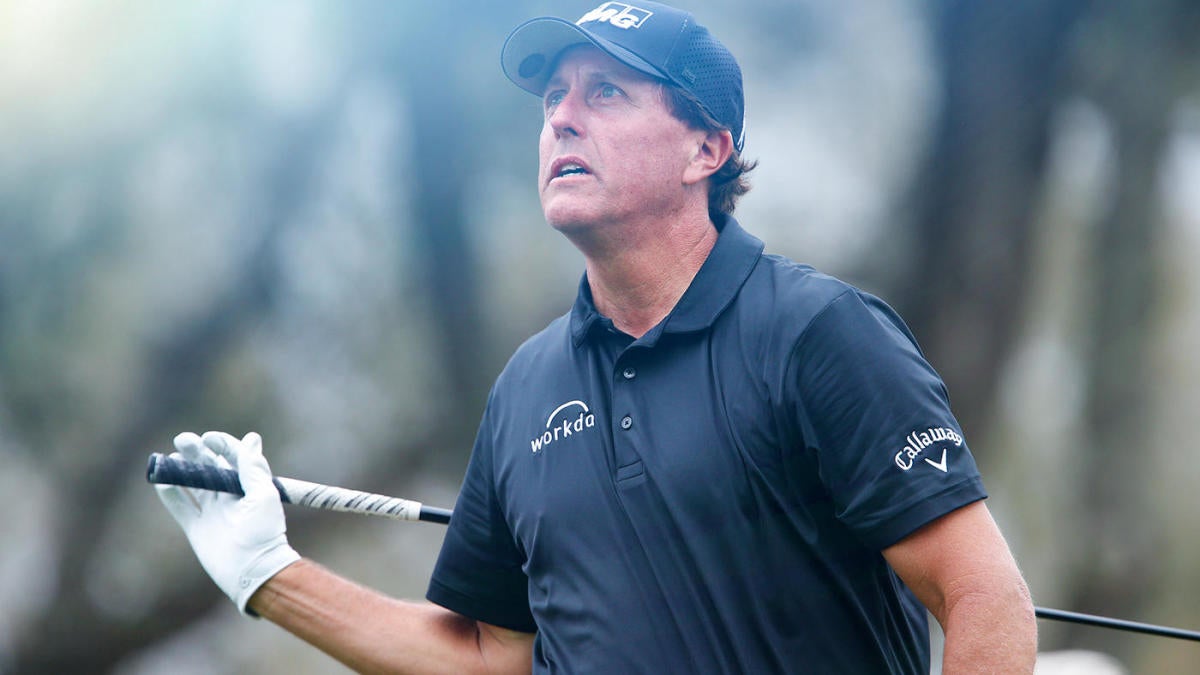 Is Phil Mickelson one of the 10 best golfers of all time? As it relates to Lefty's career achievements, that's the primary question of which it is easy to continually revisit. It does not make the answer any simpler, of course, mostly because it's so difficult to contextualize golfers who existed 100 years apart in wildly different eras.
Nevertheless, it's a fun historical idea to discuss, and it is one we get to momentarily. First, let's look at a snapshot of Mickelson's incredible 30-year career.
PGA Tour events: 622 | Wins: 44 (7%)
Best wins: 2004, 2006, 2010 Masters, 2005 PGA Championship, 2013 Open
Top 10s: 195 (31%) | Top 25s: 328 (53%)
The big takeaway here is that Mickelson plays a lot of tournaments. Compare his 622 starts to Tiger Woods, who has started just 361 PGA Tour events. Sure, Woods is younger and has been injured far more often, but even if he was healthy throughout his career — and even if you tacked on five more years — Woods wouldn't even approach 600 starts. This is a testament to Mickelson's longevity and durability. (More on that in a minute.)
Mickelson's winning mark of 7% is near the floor of where he's been at throughout his career as he's bounced between a 6%-9% rate for three decades. His 44 wins are ninth-most all-time, one back of Walter Hagen for eighth, though it appears Hagen did that in far fewer events started. In this era, 44 wins is outrageously good. Maybe even more impressive is the fact that Mickelson won in 1991 as a 20-year-old amateur and in 2019 as a 48-year-old legend.
In addition to those 44 PGA Tour wins, Mickelson's five major championships have been bested by only 13 golfers. But before you take that number and use it to push Mickelson out of the group of all-time top-10 golfers, consider those in front of him. Harry Vardon and Bobby Jones both won in eras that were, uh, not as competitive as the one Mickelson has played in. Would it help if Mickelson had turned one of his six runner-up U.S. Open finishes into a title, gotten to six majors and completed the grand slam? For sure.
Still, the list of golfers with more PGA Tour wins and more majors than Mickelson is pretty short. It includes Arnold Palmer, Ben Hogan, Jack Nicklaus, Sam Snead, Tiger Woods and Walter Hagen. Those are the only players who have more PGA Tour wins and more majors than Lefty.
Mickelson has been a factor in so many majors, too. In 108 starts, he has more combined first- (5) and second-place (11) finishes than he has missed cuts (15). It's not difficult to envision an alternate reality in which Mickelson has more like eight or even nine major wins instead of five. Remember, his 2016 Open performance against Henrik Stenson would have won nearly every major in history. It was unfortunate that that specific major was one of the few it didn't.
Lefty's legacy — like so many others in this generation — has been affected by Woods as well. We probably remember him differently if Tiger doesn't exist. But because Tiger does exist, it becomes difficult to call somebody who never became the No. 1 player in the world at any point in his career — which certainly would have happened if not for Woods — one of the 10 best players of all time.
While his off-course performance — coffee diet peddling and in-tournament press conferences, not to mention the books that could be written about his antics at U.S. team events — shouldn't affect the way he's remembered, it's hard to not let it seep into the conversation. I'm not sure if Mickelson is one of the all-time characters, but he's certainly one of the all-time caricatures, and that colors the way he's talked about (and always will be) even if people don't realize that it's happening.
The debate about Mickelson as an all-timer is not simple, nor is it straightforward. Is it more impressive that Jones won the 1929 U.S. Open in a playoff over a guy named Al Espinosa after shooting 79 on the final day of the tournament or that Mickelson shot 63-69-70-65 at Royal Troon in 2016 at the Open and lost to Stenson? It's an unanswerable question that depends entirely on your point of view or what you value most when it comes to professional golf.
One thing that could end the debate (inasmuch as there's debate about such a thing), of course, is for Mickelson to win a U.S. Open of his own. If you win 45 times, grab six majors and take the career slam in this era, I'm sorry, but you're one of the 10 best of all time. Since he turns 50 this year and has already admitted that this is never going to happen (hell, he's not even qualified for this year's U.S. Open yet), this is the longest of shots, but it's also a silver bullet in this conversation.
So while we aren't likely to get a U.S. Open victory from Mickelson and thus no clear-cut answer on the question of whether he's one of the 10 best ever, it's certainly become easier to appreciate what Mickelson because of what's happened to Woods over the year.
Lefty's talent never touched Tiger's ceiling, but there's no comparing their longevity. Woods has experienced stops and starts for the last seven years, but Mickelson has kept chugging along. Lefty has made at least $1 million on the PGA Tour every year since 1996, which is by far the longest current streak on the PGA Tour. Though he's not as good at 50 as he was at 20, 30 or 40, he's maintained his play at the highest level for a ridiculous amount of time.
I tend to weigh modern-era achievements more heavily than some, so I personally think Mickelson is around the ninth- or 10th-best golfer of all time. The arguments fascinate me, though, and I could follow each thread forever.
Regardless of whether it's correct to tag Mickelson with that top-10 label, he long ago cemented himself in golf history. The 40-win, five-major club was reached in 2013 at that crazy Open Championship he won at Muirfield (which was maybe his greatest victory). The 40-win, five-major group is an eight-golfer club, and Mickelson is in it. Anything following that — including in the present day as he fights for relativity against players half his age — is just gravy (or with given Phil's dieting habits, maybe iced coffee with butter in it).