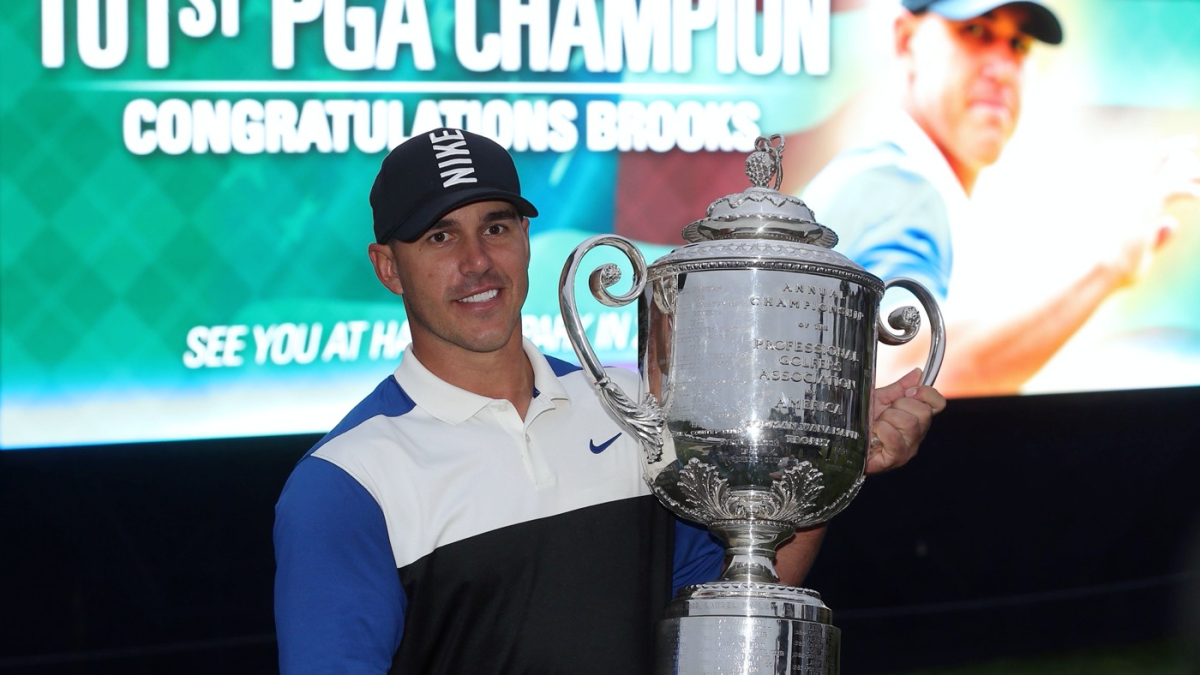 We aren't positive about when the 2020 PGA Championship is going to be played (although it's currently scheduled for Aug. 6-9), but on the bright side we do have a date for the 2030 PGA Championship. The PGA of America announced this week that it would return to Southern Hills Country Club 10 years from now, which will be the eighth major in that course's history. The most recent one came in 2007 when Tiger Woods took home his 13th major championship.
We knew a few years ago that Southern Hills would be getting a PGA Championship at some point in the future (either 2025 or 2030), but the year wasn't solidified until this week. It will be the fifth PGA Championship at Southern Hills, which was recently restored by architect Gil Hanse.
Southern Hills, a 1936 Perry Maxwell design, reopened for member play earlier this summer after a 10-month, $11-million makeover. Hanse's work on the course occupies a kind of philosophical middle ground. On the one hand, he took Southern Hills back to its roots. The bunkers, greens, and hole corridors strongly resemble Maxwell's original creations. On the other hand, as a future venue for majors, it is very much a modern championship test.

How Hanse negotiated this tension may offer a glimpse into the future of high-profile golf architecture. Today, as the driving-distance gap between elite and average golfers continues to widen, many of the world's great courses are struggling to respect their origins while remaining viable championship hosts. The new Southern Hills attempts to do just that.
It looks even better than it sounds.
The PGA Championship is now scheduled out for more than a decade with one slot yet to fill in. While most events stay static in a singular location, majors like the PGA, U.S. Open and Open Championship move around every year. With the PGA's recent move to May, it has had to navigate cooler weather spots while maintaining choices that are equipped with the infrastructure to host a major championship. Here's what we have on tap in the future.
2020: TPC Harding Park (San Francisco)
2021: Kiawah Island (Kiawah Island, South Carolina)
2022: Trump National Bedminster (Bedminster, New Jersey)
2023: Oak Hill Country Club (Pittsford, N.Y.)
2024: Valhalla Golf Club (Louisville, Kentucky)
2025: TBD
2026: Aronimink Golf Club (Newton Square, Pennsylvania)
2027: PGA of America Headquarters (Frisco, Texas)
2028: Olympic Club (San Francisco)
2029: Baltusrol Golf Club (Springfield, New Jersey)
2030: Southern Hills Country Club (Tulsa, Oklahoma)
2031: Congressional Country Club (Bethesda, Maryland)
2032: TBD
2033: TBD
2034: PGA of America Headquarters (Frisco, Texas)
It's quite a lineup of former major hosts and new venues like the courses being built in Frisco, coincidentally by Hanse himself. If there's one that excited me most it's probably Aronimink, which hosted the 2018 BMW Championship but last hosted a major with the 1962 PGA Championship, which Gary Player went on to win.
Southern Hills fits in nicely with this collection of world-class courses and is always a great test no matter whether it's hosting a PGA or a U.S. Open. The big benefit here is that with the PGA in May for the foreseeable future, we presumably won't get horrifically hot conditions like we sometimes have in the past in Tulsa. And while 2030 is a long way away, it does get us one step closer to having the full decade of the 20s filled up with confirmed locations for the PGA Championship.