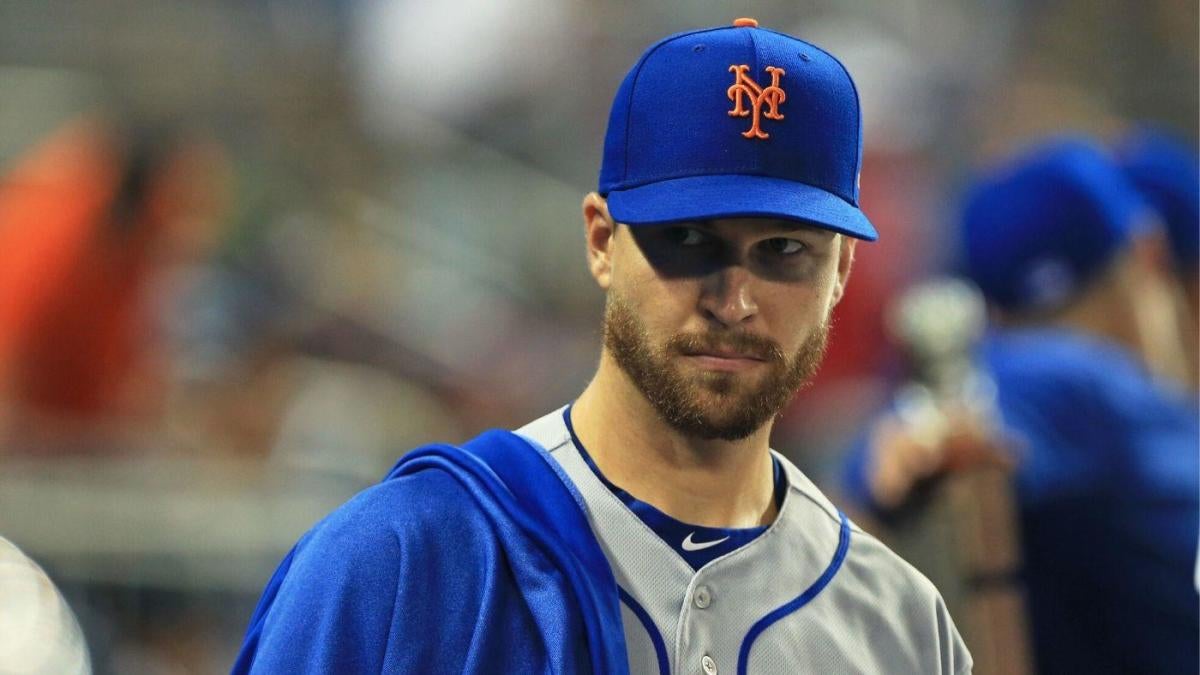 Santana also only won 139 games and sits 81st in JAWS. He fell off the ballot after getting just 2.4 percent in his first year (2018).
Recently,
I took a look at 10 active baseball players
who I believe have the most to lose from a canceled 2020 season in terms of their Hall of Fame candidacies. Since we're still waiting around for baseball to come back, I decided to take a closer look at some players on the list.
I've already done
Joey Votto's
case
. Now, let's take a look at what could happen with
Jacob deGrom
.
It's possible.
That's where deGrom has a shot to jump into the mix. What if he's in the middle of a run of three, four or five straight Cy Youngs? There's no reason to believe he is slowing down at all. His last four starts last year: 28 innings, 12 hits, one run, two walks and 35 strikeouts. His last three? Zero runs in 21 innings with just nine hits and one walk allowed against 24 strikeouts.
If Jacob deGrom is going to be a peak Hall of Fame candidate, 2020 is a prime year where he needs to go off again. The longer we go without playing, the longer deGrom starts to look more like Santana than Koufax.
But a superb peak can make the counting stats irrelevant.
The point here, though, is deGrom is having his chance at a Koufax-like prime halted by the shutdown. Santana led the league in ERA three times and won two Cy Youngs. He was the best pitcher in baseball for five seasons. From 2004-08, he was 86-39 with a 2.82 ERA (157 ERA+), 1.02 WHIP and 1189 strikeouts in 1146 2/3 innings. In addition to the two wins, he finished third in Cy Young voting twice and fifth once.
deGrom 2018-19: 189 ERA+, 9.2 WAR per 162 games
Koufax 1962-66: 167 ERA+, 7.8 WAR per 162 games
The SportsLine projections with deGrom getting 26 starts this season had him going 12-5 in 159 innings with 180 strikeouts and a 2.43 ERA. Those are Cy Young-caliber numbers. I fear we're only getting about half that, though. Do six wins and 90 strikeouts really move the needle enough on deGrom's counting stats to satisfy 75 percent of the Hall of Fame voting body when the dust settles?
Look at Sandy Koufax. Through six seasons, Koufax was 36-40 with a 4.10 ERA (100 ERA+). Then he had a very good season in 1961. Then he became the man nicknamed "The Left Arm of God." In his final five seasons, Koufax was 111-34 with a 1.95 ERA (167 ERA+). He led the league in ERA every single year. He won three Cy Youngs and an MVP.
And not all pitchers with great peaks get into the Hall. Look at Johan Santana. Koufax only won 165 games in his career, good for 210th in
MLB
history. He sits 89th in JAWS among starting pitchers. Yet he's an easy Hall of Famer and no one disputes it — nor should they — because his peak was so good.
Now, that's five seasons of Koufax and two of deGrom, so obviously overall Koufax has the big edge. Koufax was also part of two World Series champions and won the MVP both times. That stuff all matters a lot.
To be clear, deGrom is in a much different place than Votto. DeGrom's is a case where a stud player is losing games right in the middle of his prime. As opposed to Votto, if deGrom retired right now, there is a zero percent chance he'd be a Hall of Famer. This is a case where we are looking ahead and wondering if the loss of, say, half a season in his prime could cost him enshrinement in Cooperstown.
Fresh off back-to-back Cy Young awards, deGrom needs to compile a "peak candidate" resume for the Hall of Fame. That is to say, his counting stats are never going to live up. He turns 32 years old this season and he has 66 wins, 1,255 strikeouts and 1,101 2/3 innings. He only has three complete games and one shutout. Even going strong into his late-30s, it's hard to see deGrom racking up the old-school markers in counting stats.
DeGrom the last two seasons on a rate basis has been better than prime Koufax.