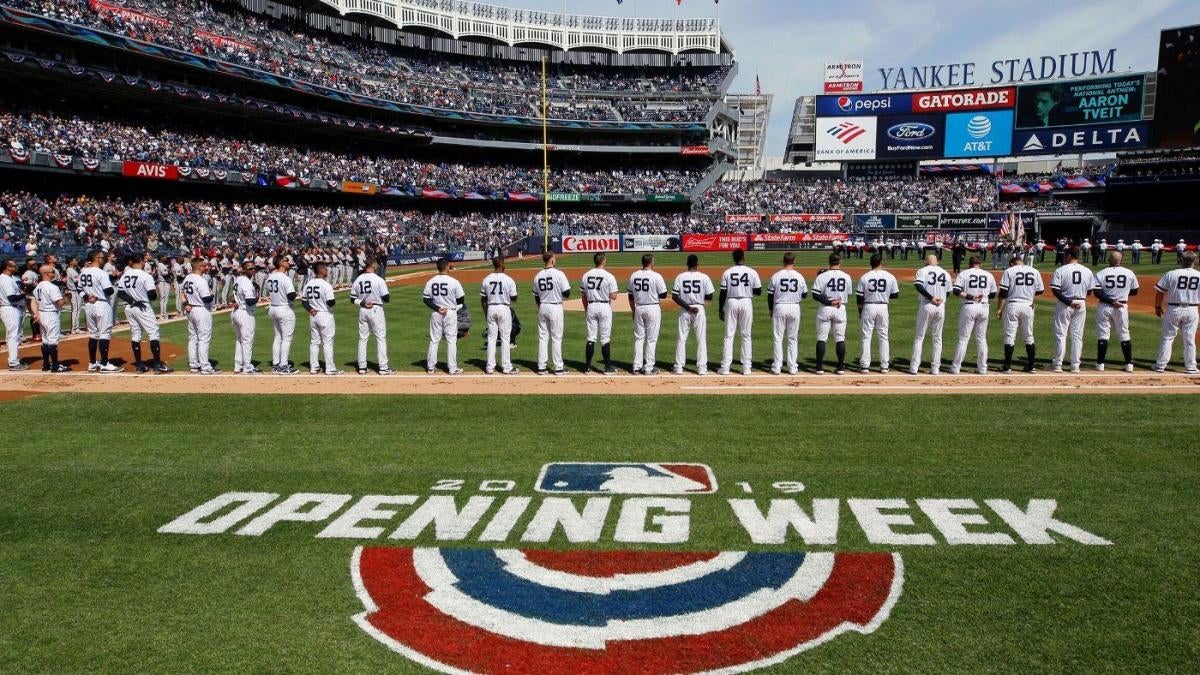 "The expectation around baseball right now is that Major League Baseball is going to be coming to the Players Association with a plan in the coming days to a week-plus or so, and during that time we're going to get a much better sense of when baseball could actually start in the United States."
Major League Baseball is currently on hiatus because of the coronavirus pandemic. But fans could get an idea about when baseball could return in the coming days. At least one team, the
Cleveland Indians
,
have reportedly told players to prepare for a potential July 1 Opening Day
. On Wednesday, ESPN's Jeff Passan reported
MLB
could go to the MLB Players Association with a proposal to begin the 2020 season in the next week.
MLB going to the MLBPA with a plan and finalizing a plan are two very different things. Everyone is concerned about safety. That's the top priority. The MLBPA will also want to ensure travel is not onerous and players are not separated from their families for long periods of time. There will be proposals and counterproposals. The plan will be revised several times, undoubtedly.
…But MLB recognizes it must initiate a process as if the rosiest scenario will play out because, if indeed it is possible, then there is so much to accomplish between now and then.
The union is insisting that the agreement of late March assured players they would be paid a prorated allotment of their 2020 salaries based on games played this year. The Commissioner's Office has stated that agreement specified that further salary remedies would need to be addressed if games were played without the revenues that come from having spectators — and it is understood that at least initially there will be no fans, thus, no money taken in for ticket sales, souvenirs, parking, concessions and luxury suites.
"We want to play. As players, we want to play," MLBPA executive director Tony Clark said earlier this week. "As these ideas find their way into mainstream media, there are some ideas that seem to make sense, there are others that don't track very well. All of them are being viewed against the backdrop of getting back on the field and affording our guys an opportunity to do what they love to do."
Joel Sherman of the New York Post adds that the league's proposal will be a best-case scenario situation that includes a regular season start in early July and reports it should come by the beginning of next week "at the latest." Here's more from Sherman: Here's what Passan reported during an ESPN broadcast:
MLB player salaries are still one of the main concerns of the MLBPA and league ahead of a potential 2020 season, Sherman adds. The league is expected to propose a pay scale in the coming days, according to Sherman. More:
By the beginning of next week at the latest — perhaps even before this week is concluded — MLB is planning to present to the Players Association a proposal that will include what is currently the most optimistic hope: What would a season look like if spring training 2.0 began in June and the regular season in July?
MLB and the MLBPA resolved several shutdown-related issues in March. "Each of the parties shall work in good faith to as soon as is practicable commence, play, and complete the fullest 2020 championship season and post-season that is economically feasible," says the agreement. Translation: MLB and the MLBPA have to agree to everything. One side can't force the other to start the season.
MLB also hopes to play as many games as possible in home cities this year. Plans that involve dropping some or all teams into hubs like Arizona or Florida will be logistically difficult if not impossible. Games in MLB cities mean players and staff can live at home and easily isolate, among other things.