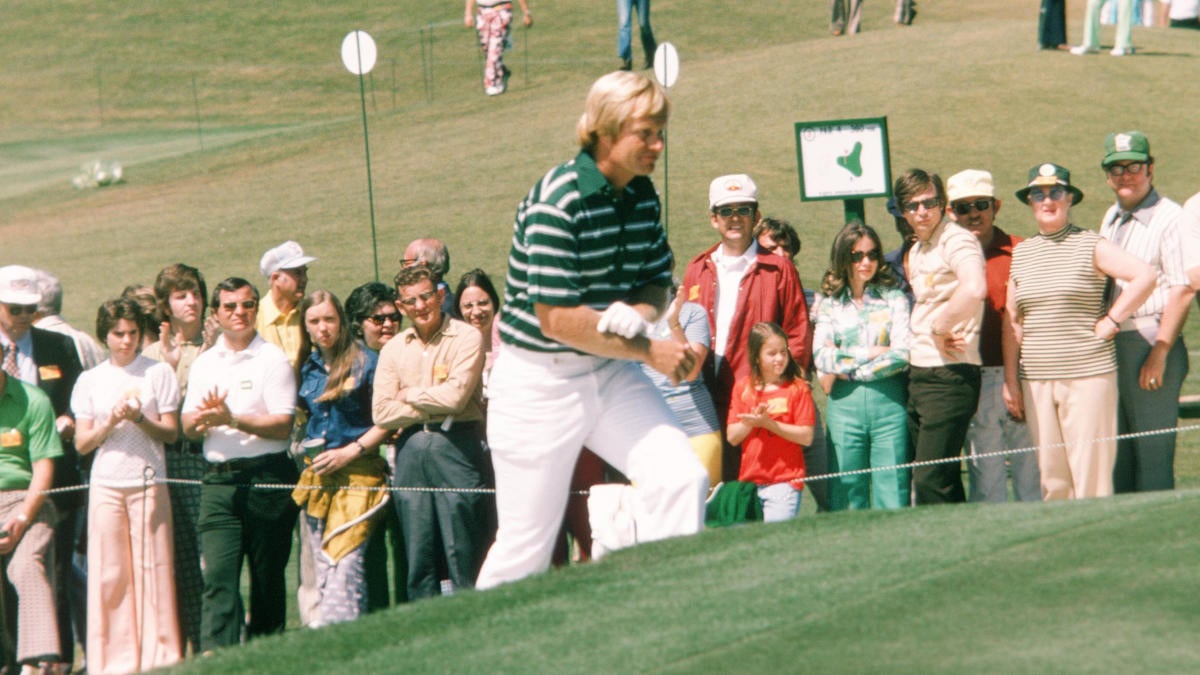 With the 2020 Masters delayed until November, CBS has decided to air features on three of the most incredible Masters tournaments over the weekend. The final round of Phil Mickelson's 2004 victory be shown on Saturday (2:30 p.m. to 6 p.m. ET), as will Tiger Woods' fourth round of 2019 on Sunday (12:30 p.m. to 6 p.m.), but the weekend will start with a 45-year trek into the past.
CBS will begin its coverage with a one-hour look back at the 1975 Masters from 1:30-2:30 p.m. on Saturday, featuring Jack Nicklaus' incredible win over Johnny Miller and Tom Weiskopf.
I think nearly five decades is sufficient time to no longer need a spoiler alert. Nickalus wins, but boy was it not as simple as that. On Friday evening at Augusta National, Weiskopf trailed Nicklaus by six, and Miller trailed him by 11. But after a 66 and 65, respectively, to Nicklaus' 73 on Saturday, Weiskopf took the lead and Miller wasn't far behind. It led to one of the wildest Sundays in Masters history.
When Nicklaus walked off the first nine, he was 11 under. So was Weiskopf. Miller was two worse at 9 under, but he had a lot left in the tank. Nicklaus uncharacteristically played the next five holes in 1 over before making birdies at No. 15 to tie Weiskopf's lead. But Weiskopf again took the lead on No. 15 as Nicklaus played the 16th.
So Nicklaus covered him up and tied it with a famous (and long) birdie at the 16th hole. It was enough … barely. Weiskopf bogeyed No. 16, and though both he and Miller would have birdie putts at the last to tie Nicklaus and find themselves in a playoff, neither would convert.
The trio shot a combined 24 under on the weekend. Fireworks everywhere.
Those three golfers were three of the very best in the world at the time. Miller and Weiskopf had never won at Augusta, while this was Nicklaus' fifth time. Here's what Dan Jenkins wrote for Sports Illustrated that week.
There was something about the 1975 Masters that was cinematic from the beginning. The setup was perfect, all of the world's best golfers coming into the thing primed, poised, inspired, eager. And sure enough it began to unfold toward what promised to be a historic climax, one way or another. But no one could possibly imagine that in the final hours it would become so excruciatingly exciting and monumentally meaningful in terms of the characters involved.
It's easy to miss the context all these years later. When a Masters is distilled into one hour, or even worse, three minutes, it's difficult to grasp the magnitude. I imagine that will be what it's like for folks who watch Tiger Woods highlights 50 years from now. Here's Jenkins again.
On Sunday night Nicklaus would try to describe what this sort of situation is like. "Fun," he would call it. "To be out there in the middle of something like that is fun," he would insist. "You're inspired, you're eager, you're excited. You almost want to break into a dead run when you hit a good shot. It's what you've prepared yourself for, what you wait a year for. To know you can look back some day and know you were a part of something like it, that's just great."
As for Weiskopf, this was his fourth runner-up at Augusta in seven years. He would never again get this close to a green jacket. Miller had one other top 10 (T2 in 1981), but that was all.
"I can't believe I lost this tournament," Weiskopf said after his 70 on Sunday. "The luck balances out. It comes down to the last hole and you hit a good drive, a good approach shot and good putt and it stays out. All I know is, one of these days the putt is going in and I'll win a Masters."
He never would. Everything feels like it's going to go on forever even though it never does. Nicklaus improbably followed this Masters win at the age of 35 with another one 11 years later at the age of 46. Another 12 years after that and he would notch another top 10, beating 1997 champion Woods in the year after Tiger's triumph.
It's impossible to rank all of Nicklaus' wins — although 1986 is probably the apex of his career — but none were likely as dramatic as this one with the massive characters involved and the way he closed down the stretch. Just like he always seemed to do.
Masters Rewind schedule
TV: CBS | Free live stream: CBSSports.com, CBS Sports app
| Date | Time (ET) | Event | Description |
| --- | --- | --- | --- |
| Saturday, April 11 | 1:30 to 2:30 p.m. | 1975 Masters | Hour-long special on Jack Nicklaus' fifth of six career Masters victories. |
| Saturday, April 11 | 2:30 to 6 p.m. | 2004 Masters | Phil Mickelson joins Jim Nantz to analyze the final round of his first green jacket. |
| Sunday, April 12 | 12:30 to 6 p.m. | 2019 Masters | Tiger Woods joins Jim Nantz to recount the emotions and significance of his fifth Masters win. |
For more #MastersRewind content, including exclusive archival photos and videos from the 1975 Masters, visit Masters.com and @Masters on social media.