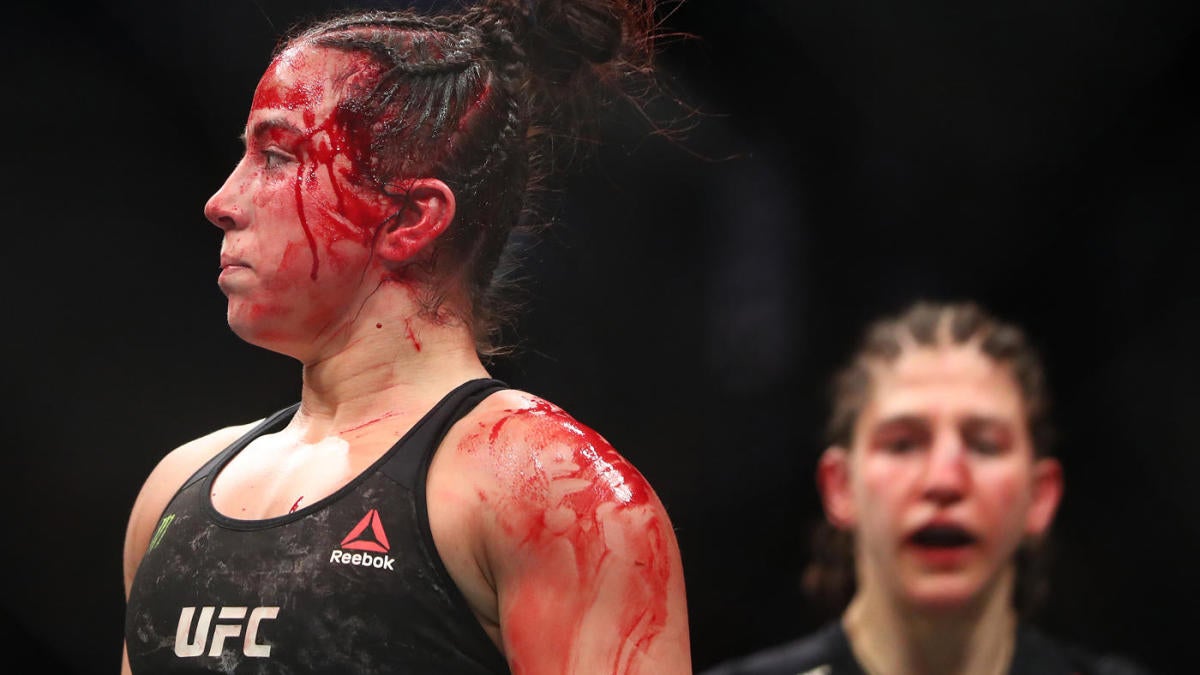 It was clear in the second round of her UFC 246 loss that something was wrong with Maycee Barber. After losing the first round of the fight to heavy underdog Roxanne Modafferi, Barber was hit with a jab in Round 2 and fell to the canvas while clutching at her knee. She was able to gut out the remainder of the fight but suffered the first loss of her career.
Between the second and third rounds, the ringside doctor examined Barber's knee and informed the referee that she had a suffered a "small, partial tear" of her ACL. Already bloodied, Barber took more punishment due to her compromised movement over the third round, resulting in a lopsided decision loss despite entering the cage as the biggest betting favorite on the card.
Despite the doctor's opinion in the cage, it turns out the tear was not small or partial. According to an ESPN report, the ACL was completely torn. Her camp also claims the rising 21-year-old star suffered the injury 10 seconds into Round 1, but it only showed when she went down in the second frame.
"We think she injured it in the first 10 seconds," Maycee Barber's father, Bucky Barber, said in the ESPN report. "She stepped on Roxanne's foot as she backed up and felt a pop. You can see the knee give out on the side. She went back and started fighting and trying to do things and I noticed she was flat in a way I've never seen before."
Barber is now expected to miss roughly nine months for recovery and rehabilitation.
More UFC news, rumors
UFC middleweight champ Israel Adesanya got a kick out of seeing Conor McGregor's in-cage return at UFC 246. In particular, Adesanya appreciated McGregor's shoulder strikes that set up his 40-second knockout of Donald Cerrone. "It was great, I loved it. I appreciated the way he played the game," Adesanya told ESPN. "I loved the shoulder strikes, that was gangster. I liked the head kick, that was sick, it was real slick. I'm a big fan. And obviously his management team is my management team, so it's good. It's a good win for us because when he wins, I win; when I win, he wins. It's good for us because we get to claim a lot of the chips on the table."
UFC strawweight Felice Herrig found herself in a brief Las Vegas scuffle while attending UFC 246. Herrig posted a photo of herself with a bloody nose on Instagram and detailed an argument that began when she confronted a woman for running in the road to pick up a penny. "I'm like, 'It's just a penny,'" Herrig wrote. "Then, she got all mad, and then she got all up in my face. I was like, 'You should probably punch me if you want to,' and she f—ing did punch me. Then, I punched her back twice-ish. She gave me a bloody nose and I never bleed my own blood. I was very upset."
Leon Edwards told MMAjunkie that former welterweight champ Tyron Woodley tried to avoid taking their UFC London clash but was eventually forced into the fight. "Tyron was trying to make excuses of why he shouldn't come overseas and why he didn't want to come to London," Edwards said. "The UFC had to force him into it. They gave him no choice but to take the fight. He was forced into it. He knows it's a dangerous fight for him, and after I beat him, where does he go? He knows the risk.