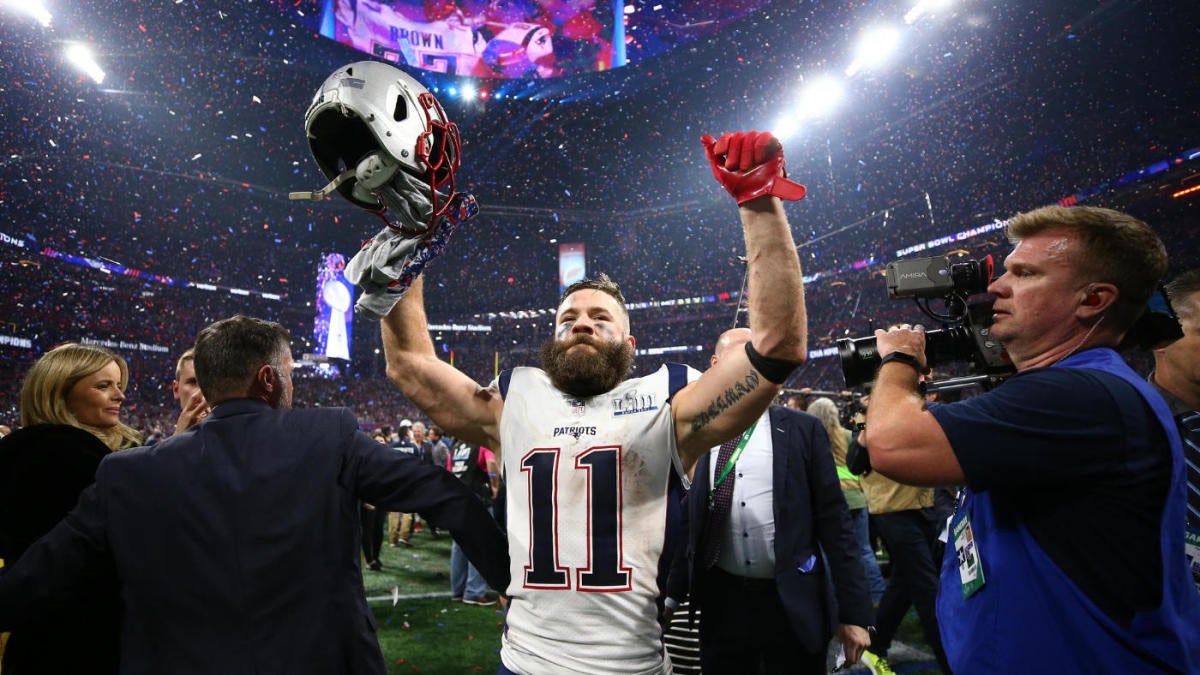 One thing is for sure heading into this year's Super Bowl showdown between the 49ers and Chiefs — Tom Brady can't add to his record of four Super Bowl MVP awards.
Chiefs quarterback Patrick Mahomes is the favorite to win this year's MVP award, which shouldn't come as a surprise given the fact that 29 of the previous 53 Super Bowl MVPs have been quarterbacks. While Brady stands alone as the only four-time MVP, fellow quarterback Joe Montana was the first three-time winner while leading the 49ers to four championships in a nine-year span during the 1980s. Before Montana, quarterback Terry Bradshaw won two MVPs while leading the Steelers to four championships during a six-year span in the 1970s.
A decade earlier, quarterback Bart Starr was named MVP of Super Bowls I and II while leading the Packers to their fourth and fifth world championships during the 1960s. And let's not forget about Giants quarterback Eli Manning, who is also a member of the multiple MVP club after he helped lead New York to two upsets over the Patriots.
Here is the full list of all Super Bowl MVP winners:
| Super Bowl | MVP, Position, Team | Stat line |
| --- | --- | --- |
| I | Bart Starr, QB, Green Bay | Two touchdown passes in the Packers' 35-10 win over the Chiefs |
| II | Bart Starr, QB, Green Bay | 202 yards passing, 1 TD in the Packers' 33-14 win over the Oakland Raiders |
| III | Joe Namath, QB, New York | 206 yards passing in the Jets' 16-7 upset win over the Colts |
| IV | Len Dawson, QB, Kansas City | 142 yards passing, 1 TD in the Chiefs' 23-7 win over the Vikings |
| V | Chuck Howley, LB, Dallas | Two interceptions and a fumble recovery in a 16-13 loss to the Colts |
| VI | Roger Staubach, QB, Dallas | 119 yards passing and 2 TDs in a 24-3 Cowboys' rout of the Dolphins |
| VII | Jake Scott, S, Miami | Two interceptions in the Dolphins' 14-7 win over the Redskins to cap the NFL's only perfect season |
| VIII | Larry Csonka, FB, Miami | 33 carries, 145 yards rushing, 2 TDs in the Dolphins' 24-7 win over the Vikings |
| IX | Franco Harris, RB, Pittsburgh | 158 yards rushing, 1 TD in the Steelers' 16-6 win over the Vikings |
| X | Lynn Swann, WR, Pittsburgh | 4 catches, 161 yards, 1 TD in the Steelers' 21-17 win over the Cowboys |
| XI | Fred Biletnikoff, WR, Oakland | 4 catches, 79 yards in the Raiders' 32-14 win over the Vikings |
| XII | Harvey Martin & Randy White, DL, Dallas | Led Dallas defense that forced eight turnovers in a 27-10 win over the Broncos |
| XIII | Terry Bradshaw, QB, Pittsburgh | 318 yards passing, 4 TDs in a 35-31 win over the Cowboys |
| XIV | Terry Bradshaw, QB, Pittsburgh | 309 yards passing, 2 TDs in a 31-19 win over the Los Angeles Rams |
| XV | Jim Plunkett, QB, Oakland | 261 yards passing, 3 TDs in a 27-10 win over the Eagles |
| XVI | Joe Montana, QB, San Francisco | 157 yards passing, 1 TD in a 26-21 win over the Bengals |
| XVII | John Riggins, RB, Washington | 166 yards rushing, 1 TD in a 27-17 Redskins' win over the Dolphins |
| XVIII | Marcus Allen, RB, Los Angeles | 20 carries, 191 yards rushing, 2 TDs in a 38-9 Raiders' win over the Redskins |
| XIX | Joe Montana, QB, San Francisco | 331 yards passing, 3 TDs in a 38-16 win over the Dolphins |
| XX | Richard Dent, DE, Chicago | 2 sacks, 2 forced fumbles in the Bears' 46-10 demolition of the Patriots |
| XXI | Phil Simms, QB, New York | 268 yards passing, 3 TDs in the Giants' 39-20 win over the Broncos |
| XXII | Doug Williams, QB, Washington | 340 yards passing, 4 TDs in the Redskins' 42-10 rout of the Broncos |
| XXIII | Jerry Rice, WR, San Francisco | 11 catches, 215 yards, 1 TD in the 49ers' 20-16 win over the Bengals |
| XXIV | Joe Montana, QB, San Francisco | 297 yards passing, 5 TDs in the 49ers' 55-10 drubbing of the Broncos |
| XXV | Ottis Anderson, RB, New York | 102 yards rushing, 1 TD in the Giants' 20-19 win over the Bills |
| XXVI | Mark Rypien, QB, Washington | 292 yards passing, 2 TDs in the Redskins' 37-24 win over the Bills |
| XXVII | Troy Aikman, QB, Dallas | 273 yards passing, 4 TDs in the Cowboys' 52-17 win over the Bills |
| XXVIII | Emmitt Smith, RB, Dallas | 30 carries, 132 yards, 2 TDs in the Cowboys' 30-13 win over the Bills |
| XXIX | Steve Young, QB, San Francisco | 325 yards passing, 6 TDs in the 49ers' 49-26 rout of the Chargers |
| XXX | Larry Brown, CB, Dallas | Two interceptions in the Cowboys' 27-17 win over the Steelers |
| XXXI | Desmond Howard, KR, Green Bay | 244 all-purpose yards, 99-yard kick return TD in the Packers' 35-21 win over the Patriots |
| XXXII | Terrell Davis, RB, Denver | 30 carries, 157 yards, 3 TDs in the Broncos' 31-24 win over the Packers |
| XXXIII | John Elway, QB, Denver | 336 yards passing, 1 TD in the Broncos' 34-19 win over the Falcons |
| XXXIV | Kurt Warner, QB, St. Louis | 414 yards passing, 2 TDs in the St. Louis Rams' 23-16 win over the Titans |
| XXXV | Ray Lewis, LB, Baltimore | Led a dominant Ravens defense in a 34-7 win over the Giants |
| XXXVI | Tom Brady, QB, New England | 145 yards passing, 1 TD in a 20-17 win over the Rams |
| XXXVII | Dexter Jackson, CB, Tampa Bay | Two first-half interceptions in a 48-21 Bucs' rout of the Raiders |
| XXXVIII | Tom Brady, QB, New England | 354 yards passing, 3 TDs in the Patriots' 32-29 win over the Panthers |
| XXXIX | Deion Branch, WR, New England | 11 catches, 133 yards in the Patriots' 24-21 win over the Eagles |
| XL | Hines Ward, WR, Pittsburgh | 5 catches, 123 yards, 1 TD in the Steelers' 21-10 win over the Seahawks |
| XLI | Peyton Manning, QB, Indianapolis | 247 yards passing, 1 TD in the Colts' 29-17 win over the Bears |
| XLII | Eli Manning, QB, New York Giants | 255 yards passing, 2 TDs in the Giants' 17-14 upset of the Patriots |
| XLIII | Santonio Holmes, WR, Pittsburgh Steelers | 9 catches, 131 yards, 1 TD in the Steelers' 27-23 win over the Cardinals |
| XLIV | Drew Brees, QB, New Orleans Saints | 32-of-39, 288 yards, 2 TDs in the Saints' 31-17 win over the Colts |
| XLV | Aaron Rodgers, QB, Green Bay Packers | 24-of-39, 304 yards, 3 TDs in the Packers' 31-25 win over the Steelers |
| XLVI | Eli Manning, QB, New York Giants | 30-of-40, 296 yards, 1 TD in the Giants' 21-17 win over the Patriots |
| XLVII | Joe Flacco, QB, Baltimore Ravens | 22-of-33, 287 yards, 3 TDs in the Ravens' 34-31 win over the 49ers |
| XLVIII | Malcolm Smith, LB, Seattle Seahawks | INT for TD, fumble recovery, 10 tackles in the Seahawks' 43-8 demolition of the Broncos |
| XLIX | Tom Brady, QB, New England Patriots | 37-of-50, 328 yards, 4 TDs in the Patriots' 28-24 win over the Seahawks |
| 50 | Von Miller, LB, Denver Broncos | Six tackles, 2.5 sacks, one pass defended in the Broncos' 24-10 win over the Panthers |
| LI | Tom Brady, QB, New England Patriots | Finished 43-for-62, the most attempts in Super Bowl history, for 466 yards and two touchdowns in Patriots' 34-28 OT win over Falcons |
| LII | Nick Foles, QB, Philadelphia Eagles | 28-of-43, 373 yards, 3 TDs plus a TD reception in Philly's 41-33 win over the Pats |
| LIIII | Julian Edelman, WR, New England Patriots | 10 catches, 141 yards (long of 27) in 13-3 win over Rams |