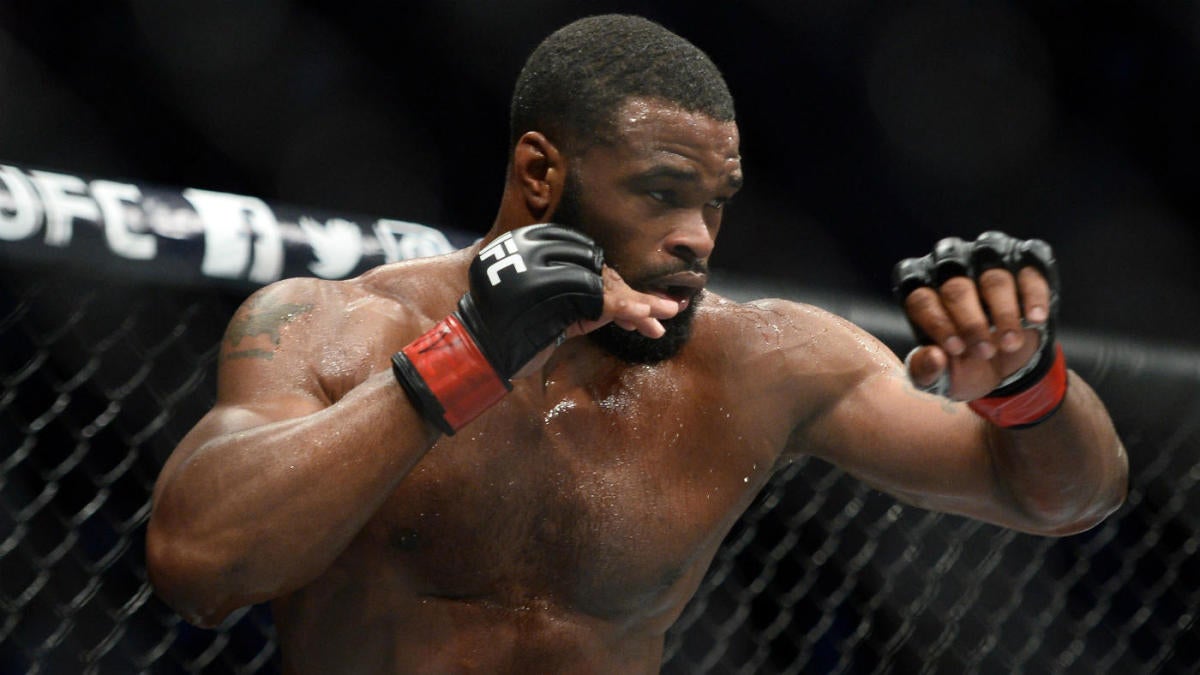 In a stacked UFC welterweight division, a de facto title eliminator has been set. Former champ Tyron Woodley will face off with rising contender Leon Edwards when the UFC returns to London on March 21. The fight will be Woodley's first bout since losing the title to Kamaru Usman.
The fight was originally reported by ESPN based on a statement from UFC president Dana White. Contracts have not yet been officially been signed but are expected to be in the coming days. The event takes place at London's O2 Arena.
Woodley knocked out Robbie Lawler at UFC 201 in July 2016 to claim the 170-pound crown. He would successfully defend the belt four times, one of which was a draw against Stephen Thompson. During a 6-0-1 run that included his title reign, the UFC began advertising Woodley as possibly the greatest welterweight of all time. But he was thoroughly dominated in his title loss to Usman and now will look to get back on track against Edwards.
Edwards is on an eight-fight win streak that includes wins over Donald Cerrone, Gunnar Nelson and Rafael Dos Anjos. He has a 10-2 record in the Octagon, with the most recent of those two losses being a December 2015 loss to Usman.
With Jorge Masvidal potentially in line to receive a title shot at Usman and Colby Covington eventually coming back after suffering a broken jaw in his loss to the champ, the depth at 170 pounds is impressive. The winner of Edwards vs. Woodley has as solid a claim as anyone to a title bout in 2020.
More UFC news, rumors
Conor McGregor is set to return to the Octagon tomorrow against Donald Cerrone at UFC 246. He is, however, still keeping one eye on the world of boxing. After a Manny Pacquiao business associate floated the idea of the the boxing superstar facing McGregor at the soon to be completed Allegiant Stadium in Las Vegas, future home of the Raiders in the NFL, McGregor was asked about the potential fight. "That's the new football stadium, is it? I would be honored to be a part of that event," McGregor said. "I would love to be the first combatant to fight in that arena. What a fight that would be against Manny, right? A small, powerful southpaw. I'd have to figure out the weight and these types of things, but it's something that interests me no doubt."
As a guest fighter at UFC 246 media day, Jorge Masvidal said he's potentially into the idea of putting the "BMF title" he won against Nate Diaz on the line. The title was supposed to be a one-off novelty, but Masvidal said he's a "gambling man" when asked about future fights for the title. "You've got to put something up worth collateral," Masvidal said. "Something that makes me go, 'Yeah, that makes it worth me putting this up.' I'm not just gonna put this up for somebody to win and me to not win nothing after I baptize them. You've got to give me something if I end your ass."
After being forced to pull out of his planned UFC 248 bout with Jared Cannonier, Robert Whittaker posted an Instagram photo of him walking with his son. While he still did not make the reasons for the withdrawal explicitly clear, he cited a need to take some time away from the Octagon, though was clear it was not a permanent situation. "I'm sorry to all my friends, supporters and family for not being able to fight in March," Whittaker wrote. "A lot has happened over the 12 last months and I need to take some time now to be with my family, slow things down and to refocus. Sorry to everyone again but I'll be back. The best is yet to come."