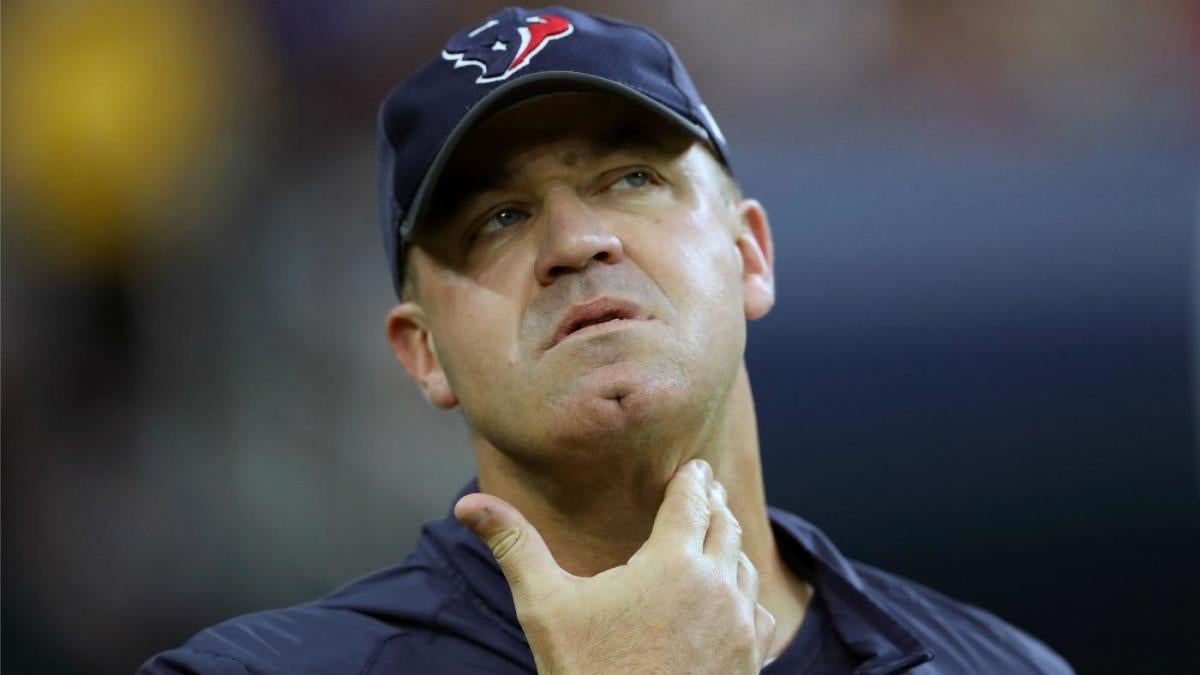 Four more spots in the first round of the 2020 NFL Draft solidified this weekend, with the Vikings, Ravens, Texans, and Seahawks all seeing their Super Bowl hopes end in the divisional round. That means those four teams are locked in to pick in the 25-28 range in April's draft — barring any trades between now and the time those picks are made, of course.
The Vikings land the No. 25 pick after finishing with the same record as the Texans, who were also eliminated during the divisional round weekend because they had an easier strength of schedule.
The Texans land the No. 26 pick, after the Vikings, as a result of having a more difficult regular season schedule. The Texans blew a 24-point second-quarter lead against the Chiefs in what will go down as one of the biggest collapses in the history of the divisional round weekend.
Next comes the Seahawks with the No. 27 pick. Seattle rallied to nearly overcome an 18-point deficit, but they fell short against the Packers in the end.
Finally, the Ravens went down 14 points early and could never rally back against 2019's Cinderella story — the Titans. The stats from the following Tweet say it all:
Below, you'll find the 2020 NFL Draft order:
2020 NFL Draft order
| Pick | Team | Record | SOS |
| --- | --- | --- | --- |
| 1 | Bengals | 2-14 | 0.553 |
| 2 | Redskins | 3-13 | 0.502 |
| 3 | Lions | 3-12-1 | 0.506 |
| 4 | Giants | 4-12 | 0.473 |
| 5 | Dolphins | 5-11 | 0.484 |
| 6 | Chargers | 5-11 | 0.514 |
| 7 | Panthers | 5-11 | 0.549 |
| 8 | Cardinals | 5-10-1 | 0.529 |
| 9 | Jaguars | 6-10 | 0.484 |
| 10 | Browns | 6-10 | 0.533 |
| 11 | Jets | 7-9 | 0.473 |
| 12 | Raiders | 7-9 | 0.482 |
| 13 | Colts | 7-9 | 0.492 |
| 14 | Buccaneers | 7-9 | 0.500 |
| 15 | Broncos | 7-9 | 0.510 |
| 16 | Falcons | 7-9 | 0.545 |
| 17 | Cowboys | 8-8 | 0.479 |
| 18 | Dolphins (f/PIT) | 8-8 | 0.502 |
| 19 | Raiders (f/CHI) | 8-8 | 0.508 |
| 20 | Jaguars (f/LAR) | 9-7 | 0.535 |
| 21 | Eagles | 9-7 | 0.455 |
| 22 | Bills | 10-6 | 0.461 |
| 23 | Patriots | 12-4 | 0.469 |
| 24 | Saints | 13-3 | 0.486 |
| 25 | Vikings | 10-6 | 0.488 |
| 26 | Dolphins (f/MIA) | 10-6 | 0.520 |
| 27 | Seahawks | 10-6 | 0.531 |
| 28 | Ravens | 14-2 | 0.494 |
| 29 | Titans* | 9-7 | 0.488 |
| 30 | Chiefs* | 12-4 | 0.510 |
| 31 | Packers* | 13-3 | 0.453 |
| 32 | 49ers* | 13-3 | 0.504 |
* TBD by playoff finish