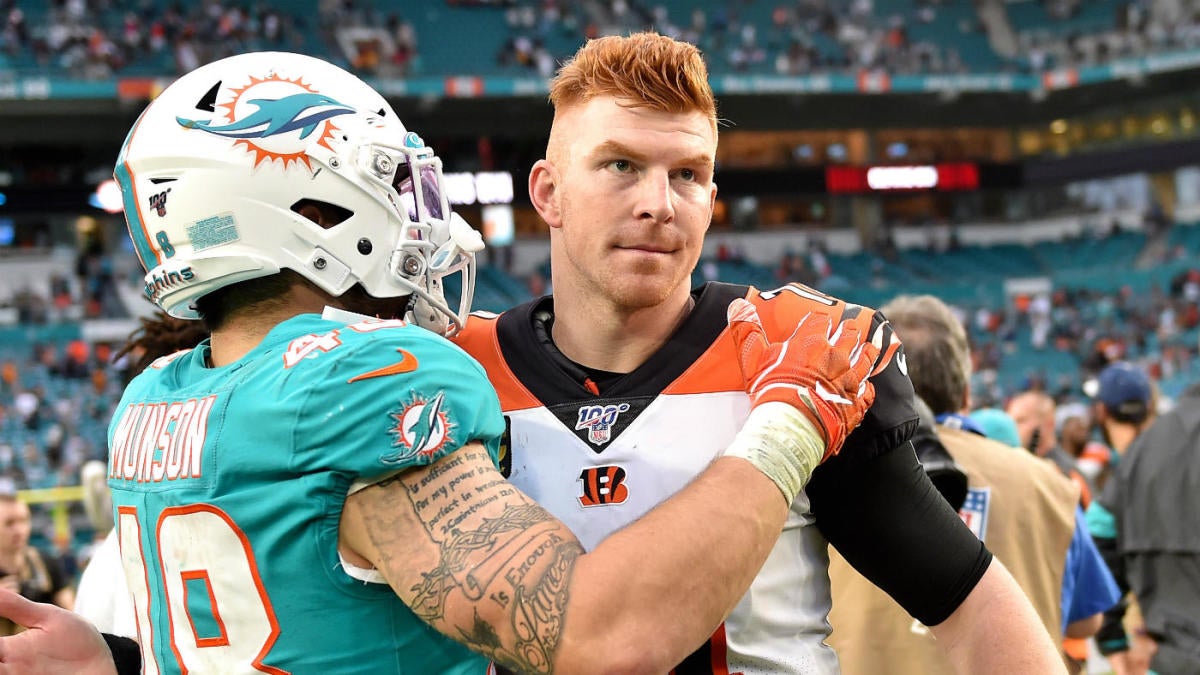 Congratulations to the Cincinnati Bengals. After showing enough heart to rally back from a huge deficit in Miami, an overtime loss to the Dolphins locks the Bengals into the No. 1 overall pick in the 2020 Draft. With the team needing a quarterback, expect every mock draft you see from here until draft night to slot LSU quarterback Joe Burrow in to Cincinnati.
The other battle of bottom four teams also went to overtime, where the Giants earned a victory and the Redskins earned a much better consolation prize by moving to No. 2 in the draft order. That puts them in the driver's seat to likely select Ohio State pass rusher Chase Young, but they'll need to lose to the Cowboys in Dallas to maintain their status, as the Giants and Dolphins both would win strength of schedule tiebreakers.
The underrated storyline from Sunday's results is the Lions slipping past the Giants and Dolphins to take hold of the No. 3 pick in the draft. If they lose to the Packers next week, they'll pick no worse than third, and if a consensus No. 2 quarterback emerges after Burrow, that could mean landing an excellent package of picks to trade down if they choose.
Below you'll find the draft order as it stands heading into Monday Night Football in Week 16.
2020 NFL Draft order (before MNF)
| Pick | Team | Record | SOS |
| --- | --- | --- | --- |
| 1 | Bengals | 1-14 | 0.571 |
| 2 | Redskins | 3-12 | 0.500 |
| 3 | Lions | 3-11-1 | 0.489 |
| 4 | Giants | 4-11 | 0.466 |
| 5 | Dolphins | 4-11 | 0.471 |
| 6 | Jaguars | 5-10 | 0.484 |
| 7 | Chargers | 5-10 | 0.496 |
| 8 | Panthers | 5-10 | 0.529 |
| 9 | Cardinals | 5-9-1 | 0.531 |
| 10 | Jets | 6-9 | 0.462 |
| 11 | Broncos | 6-9 | 0.522 |
| 12 | Browns | 6-9 | 0.558 |
| 13 | Falcons | 6-9 | 0.560 |
| 14 | Raiders | 7-8 | 0.478 |
| 15 | Raiders (from CHI) | 7-8 | 0.495 |
| 16 | Cowboys | 7-8 | 0.496 |
| 17 | Colts | 7-8 | 0.498 |
| 18 | Buccaneers | 7-8 | 0.507 |
| 19 | Dolphins (from PIT) | 8-7 | 0.478 |
| 20 | Jaguars (from LAR) | 8-7 | 0.549 |
| 21 | Titans* | 8-7 | 0.484 |
| 22 | Bills* | 10-5 | 0.453 |
| 23 | Vikings* | 10-4 | 0.445 |
| 24 | Seahawks* | 11-4 | 0.513 |
| 25 | Eagles* | 8-7 | 0.469 |
| 26 | Dolphins (from HOU)* | 10-5 | 0.516 |
| 27 | Chiefs* | 11-4 | 0.527 |
| 28 | Packers* | 11-3 | 0.457 |
| 29 | Patriots* | 12-3 | 0.476 |
| 30 | Saints* | 12-3 | 0.496 |
| 31 | 49ers* | 12-3 | 0.491 |
| 32 | Ravens* | 13-2 | 0.496 |
* TBD by playoff finish