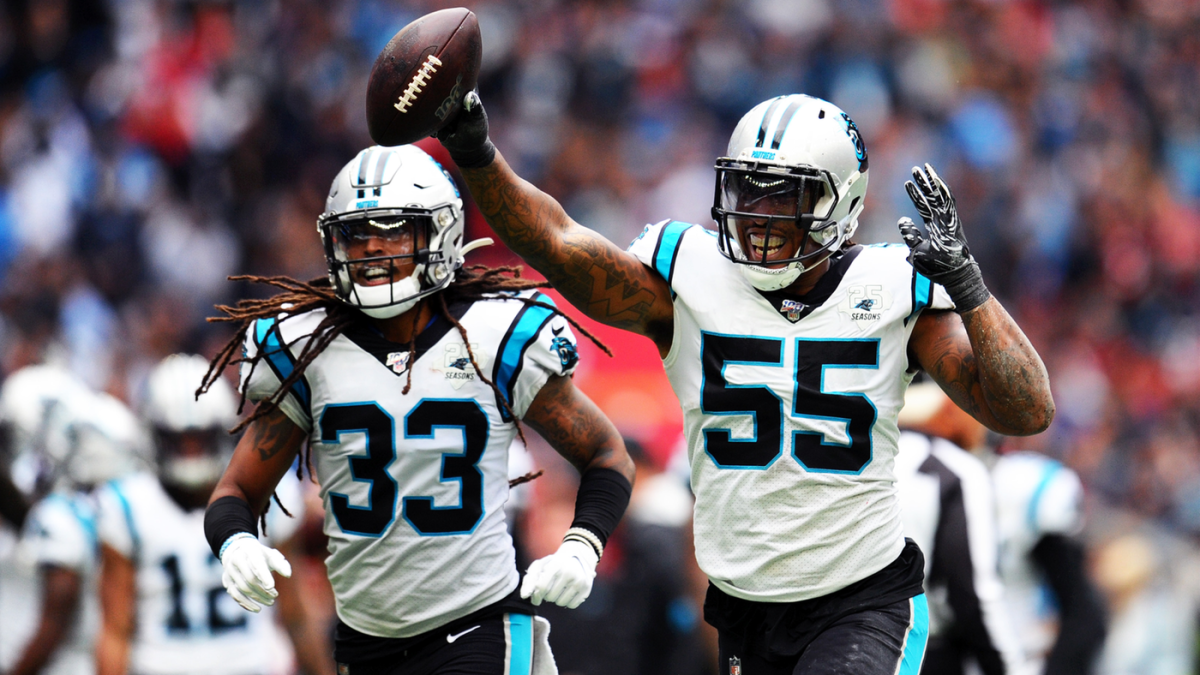 A month ago, the Carolina Panthers were 0-2 and looking for answers following a Thursday night loss to the Tampa Bay Buccaneers. On Sunday, in front of a packed house inside London's Tottenham Hotspur Stadium, the Panthers extracted a measure of revenge, beating the Buccaneers by a count of 37-26 while racking up their fourth consecutive victory.
With the win, Carolina moved to within a half game of first place in the NFC South, while Bruce Arians' Bucs dropped to 2-4 after losing consecutive games for the first time this season.
Why the Panthers won
Seven forced turnovers — including five interceptions and a fumble from Buccaneers quarterback Jameis Winston — was the biggest reason why Carolina won the first rematch of the 2019 season. The Panthers, starting with James Bradberry's interception on the game's first play from scrimmage, would score each of their 17 first half points off of turnovers while building a 10-point lead at halftime. The Panthers' constant pressure contributed to Winston's erratic play, with former Buccaneer standout Gerald McCoy recording a game high 2.5 sacks.
Conversely, the Panthers committed just one turnover while receiving stellar play from quarterback Kyle Allen, who on Sunday became the first former undrafted rookie to win his first four NFL starts since Hall of Fame quarterback Kurt Warner accomplished that feat in 1999. Allen completed 20/32 passes for 227 yards while throwing touchdown passes to Christian McCaffrey and Curtis Samuel. Allen, using McCaffrey mostly as a decoy, had success getting the ball to D.J. Moore (seven catches for 73 yards), Samuel and tight end Greg Olsen (four catches, 52 yards).
The Panthers also played a clean game, committing just three penalties for 30 yards.
Why the Buccaneers lost
Winston's six turnovers largely explain why the Buccaneers were unable to repeat the success they had against Carolina back in Week 2. While Carolina "only" scored 20 points on the turnovers, they scored on each of their first three forced turnovers while putting Tampa Bay in an early hole. The Buccaneers, who trailed the entire game, became one dimensional, which allowed Carolina's defense to tee off on Winston while forcing him to get the ball out faster than he'd like to. While he threw for 400 yards, Winston was sacked seven times while being under constant pressure.
Despite the rash of turnovers, two fourth-quarter touchdowns make it a two-possession game with just under 13 minutes left. But after forcing a Carolina punt, Bobo Wilson's muffed put set up Joey Slye's 29-yard field goal (his third of the day) that gave the Panthers an insurmountable 37-18 lead.
Mike Evans, despite catching nine passes for 96 yards, also contributed to the loss by failing to come up with two deep passes from Winston, the first coming on Tampa Bay's last possession of the first half. With the Buccaneers trailing by 11 with 2:48 left, Evans failed to come up with another deep pass that would have given Tampa Bay the ball inside Carolina's 10-yard line. The drive eventually ended with Winston's fourth pick of the game.
Turning point
Midway through the third quarter and with the Panthers leading 20-7, Carolina linebacker Luke Kuechly's interception of Winston gave his offense the ball on Tampa Bay's 8-yard-line. Samuel scored his first of two touchdowns on the next play to give the Panthers a 20-point lead. While the Buccaneers would respond with three late scoring drives, Kuechly's pick and Samuel's ensuing score provided a cushion the Buccaneers could not overcome.
Play of the game
Though he was held to 57 yards on 31 touches, McCaffrey still found a way to make a difference. After his 1-yard touchdown run gave the Panthers an early 10-0 lead, McCaffrey's 25-yard touchdown that included a nasty stiff-arm on Tampa Bay rookie linebacker Devin White gave Carolina a 17-7 halftime lead. The NFL's leading rusher, McCaffrey now has nine total touchdowns through six games.
Quotable
"Winning. Just winning." — Kyle Allen, when asked by NFL Network after Sunday's game what has been the best thing about being an NFL starting quarterback. Allen, who has taken over for a injured quarterback Cam Newton, has thrown for 901 yards with seven touchdowns and no interceptions while winning each of his first four starts.
What's next
Carolina will enjoy its Week 7 bye before traveling to the West Coast to take on the San Francisco 49ers in Week 8. Tampa Bay will also be off next week before heading to Tennessee to face the Titans.
Relive the action from London by checking out our live blog of Carolina's exciting win below.
Live blog
If the live blog fails to display, click here to reload.