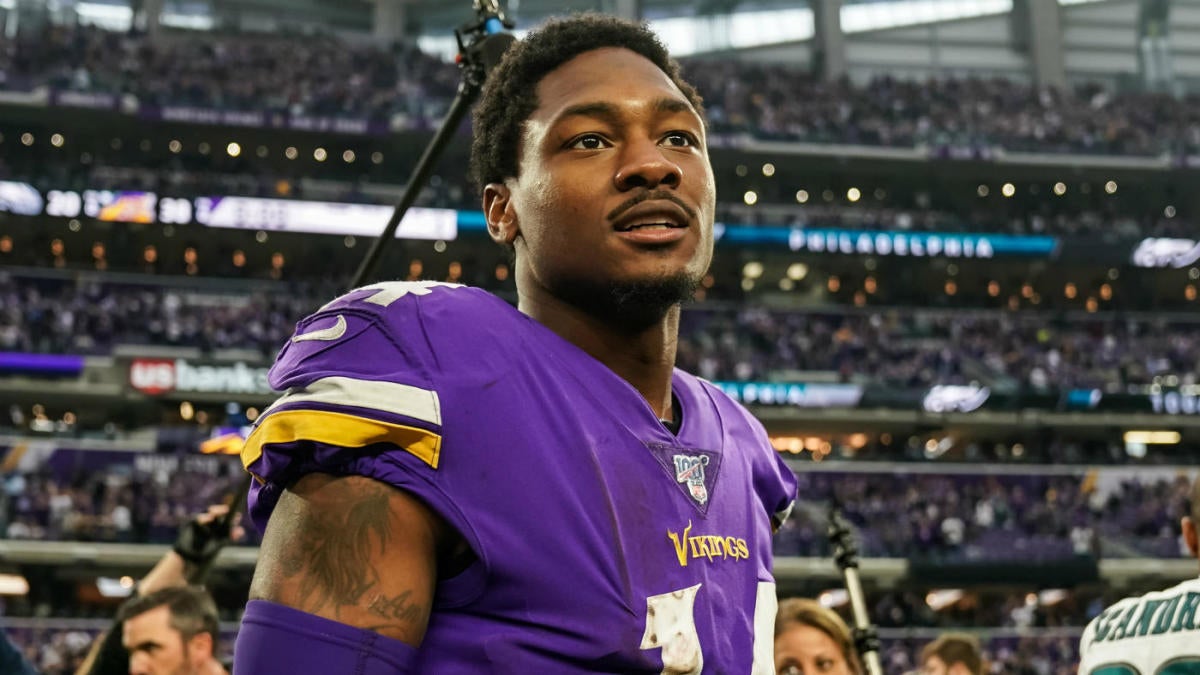 Sometimes you just need to get something off your chest.
Sometimes a little venting goes a long way. Sometimes, an airing of grievances can be a good thing, and bring out the best in a team. In the case of the Minnesota Vikings, the aerial results since their skill players went public with their displeasure about the offense have been beyond reproach. This looks like a totally different downfield attack the past two weeks, and all of a sudden it is smiles all around in Minnesota.
Remember when receiver Adam Thielen was calling out quarterback Kirk Cousins after another dreadful outing in Week 4 against Chicago, and then Cousins was apologizing to him on his radio show, all while receiver Stefon Diggs was airing passive-aggressive trade demands? Yeah, all of that happened, and since then the Vikings have appeared much more loose on offense, chucking the ball around with greater zeal and confidence. It's been a tale of two seasons, already, and on Sunday they picked apart the Eagles for the better part of four quarters, with Diggs serving as the superstar one week after Thielen did.
After starting the year with an ugly 10-pass-attempt game and then winning the following week with just 13 completions, Cousins appeared to be having a crisis of confidence and execution. Throwback head coach Mike Zimmer – he of the run early, run often, run always mentality – seemed to have sapped this unit of its will to put the ball in the air, but conflict may not have been the worst thing for this bunch.
Cousins, the last two weeks, has completed 44 of 56 passes (79 percent!) for 639 yards (11.4 yards per attempt!) with seven touchdowns and just one interception. Sure, he lacks signature wins against quality teams, but while the Eagles are not playing like Super Bowl contenders lately, they certainly had that billing in the preseason. Perhaps, Cousins has got himself back together.
And after being glorified spectators the first month of the season, Thielen now has 13 catches for 187 yards and three touchdowns the past weeks, while Diggs has 10 catches for 211 yards and three touchdowns. Not too shabby. With Dalvin Cook running the ball as well as anyone on the planet, that is as balanced as you can hope. On the whole, the Vikings' defense has been as good as it gets in 2019. Throw in the fact they are mauling people at home (3-0 with a scoring differential of 100-44) and I suspect the Vikings are a factor in the NFC North.
Concern about Mahomes, Chiefs grows
It's time to start to worry about the Chiefs. This ankle thing with Patrick Mahomes is a thing. It's been going on for about a month now and at various points each week he seems suddenly ordinary due to the limitations of that ankle, and given all of the other injuries at play, and the general ineptitude of the Chiefs defense, and you have ample reason for concern.
As each game goes on, Mahomes' ankle invariably gets rolled up on or stepped on or simply flares up, and he has been unable to move normally. He becomes tethered to a spot and he can't follow throw on his attempts properly and it becomes all arms, which limits his accuracy. He was a different QB after suffering another shot to the ankle on Sunday, and with this offense under duress, it's fair to wonder if this becomes an ongoing theme.
And if the Chiefs are not going to be able to play with a big lead, and thus be able to hide their lack of any semblance of a rushing defense, then the margins for victory become significantly more slim for them. Like, losing twice in a row at home is un-Arrowhead like, and, frankly, they were lucky as hell to beat the Lions the week before.
They could get away with some of this stuff last year when they could at least muster a big-time pass rush … but they haven't replaced Justin Houston or Dee Ford and the secondary is as bad as ever and the QB isn't on record-shattering pace anymore and the games are closer … and did I mention they can't even pretend to stop the run?
Here are the time of possession and rushing totals for Chiefs opponents the last four weeks:
Baltimore – 32:44, 203 yards
Detroit – 33:55, 186 yards
Indianapolis – 37:15, 180 yards
Houston – 39:48, 192 yards
Good luck fixing that, before or after the trade deadline. If Mahomes is super human, then we gloss over a lot of this. But with him not able to transcend, and with that ankle flaring up on a regular basis, and with the Chiefs playing at Denver on a very short week, and then the Packers and Vikings defenses looming after that, things could really open up in the AFC West.
More insider notes from Week 6
If the Bengals don't unload their bevy of over-30 trade chips in the next two weeks there should be a federal inquiry. There is no counter argument. Zero. Zilch. Yeah, the score looked kinda close Sunday, as they fell to 0-6, but they gave up 324 yards in the first half alone, they were only in it early because of a TD off the opening kickoff, and they don't have a discernible strength on either side of the ball. Keeping A.J. Green and Geno Atkins and Carlos Dunlap would be ridiculous. Sorry. …
People are freaking out in Cleveland. They shouldn't. And guess what, when the Browns lose to New England coming out of their bye and drop to 3-5, don't freak out, either. They can beat bad teams and aren't ready to beat elite teams yet. But Baltimore is in the same boat, and the Ravens have the Seahawks and Pats looming, and 8-8 could win that flawed division. Baker Mayfield won't lead the league in turnovers all season – though he does now with 12 – and the schedule will ease up soon enough. Let it breath and remember where you were a year ago when Hue Jackson was campaigning to take back play-calling duties. …
Jalen Ramsey pulled the ultimate power move on Sunday, sitting again with his "back" problem after owner Shad Khan went on TV last week to say that he expected him to play. Like I've been reporting, this was only going to keep getting more and more ugly and this player sees no future for himself in Jacksonville and will do whatever he can to force a trade. At 2-4, and at another crossroads, and with the ability to land a massive haul of picks, the Jags need to move on. Having this hanging over them every week does them no good and the player won't be re-signing there, anyway. …
I'd put the over/under on Eagles trades at two, with at least one being of some significance. GM Howie Roseman has been working it for weeks and that team needs help. Injuries have been a killer and the frustration was boiling over for QB Carson Wentz on Sunday. …
Russell Wilson is the NFL front-runner for MVP right now. Has to be. Of course, some of us had him No. 2 on the best players in the league top 100 this summer (and I think my guy Prisco had him around 50) … And Deshaun Watson would probably be my No. 2 in the MVP race. When they give him even a little bit of protection he is special. …
Lamar Jackson absolutely shredded the Bengals Sunday and already has 460 yards on 69 carries this season (6.7 per carry). He is on pace for 1,230 rushing yards (and that despite running just three times for six yards in a Week 1 blowout of the Dolphins). …
With Dan Quinn's firing in Atlanta becoming a matter of when and not if, I would imagine Raheem Morris would be the best candidate for the interim title.