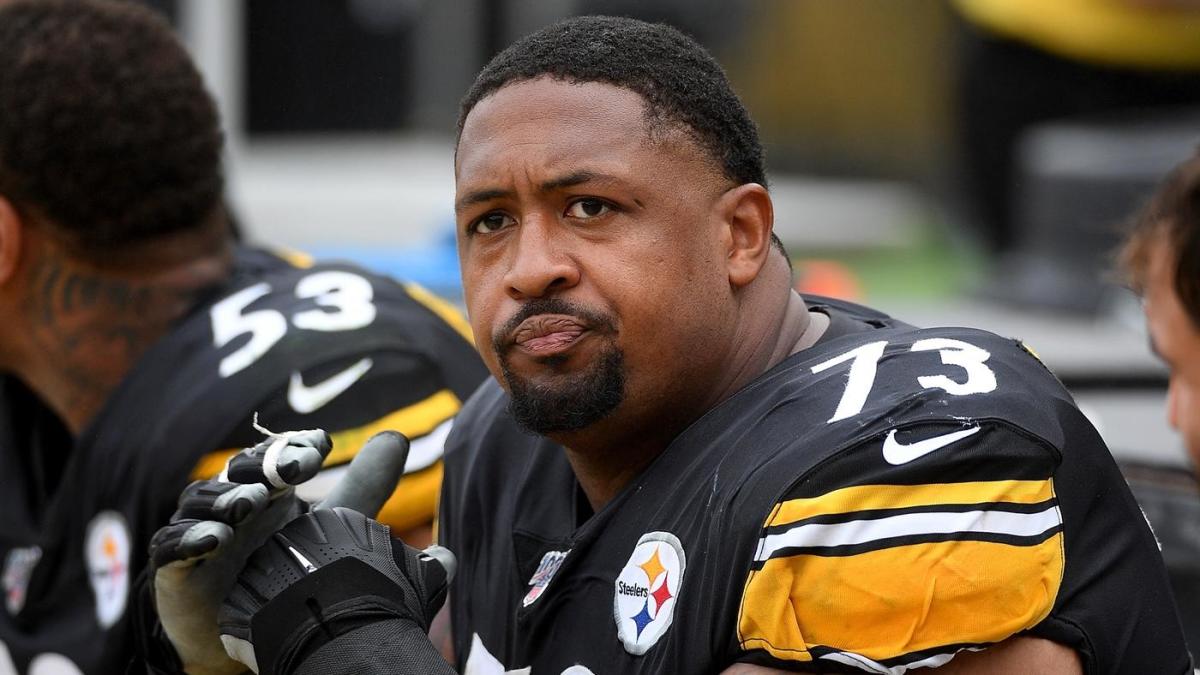 One Pittsburgh Steelers veteran leader loved the intensity and physicality that was on hand during the team's Wednesday practice in preparation for the team's road game this Sunday night against the Los Angeles Chargers. Another veteran, to put it mildly, did not.
While Pittsburgh defensive captain Cam Heyward was in favor of the Steelers' physical practice that included "a number of skirmishes", offensive lineman Ramon Foster, the longest-tenured player on Pittsburgh's active roster, was one of multiple offensive players who did not like the physical nature of Wednesday's padded practice.
"When I talk about it, it takes me to a dark spot," Foster told The Athletic's Mark Kaboly following practice. "I would rather not, but you should know better. There is such a thing as a training camp where you can hash out all of that and there is such a thing of being a pro, and I am a believer of being a pro. Give all you want to in camp, I don't care, it's camp. When the season starts, you become a pro to each other, to the team, to the community."
Heyward, on the other hand, thinks that a chippy practice was just what the doctor ordered for a 1-4 team that is on the brink of seeing their season end before the midway point.
"We are chippy," Heyward said. "We are 1-4. All we want are Ws. It's like with everything you do — if you aren't getting results that you want, you are going to get ticked off. We are trying to win a game, and that's all I care about right now. You have to emulate the game."
Among the big hits that were had during Wednesday's practice — the Steelers' first padded practice in nearly two weeks — reportedly included Marcus Allen — a practice squad safety — delivering a hit that sent running back James Conner to the ground. On the ensuing play, backup Kam Kelly hit receiver JuJu Smith-Schuster, who has been taking heat in Pittsburgh after his fumble in overtime last Sunday set up the Baltimore Ravens' game-winning field goal. Guard David DeCastro also spoke about the physical practice, which you should go check out in Kaboly's story.
While team discord is usually not a good thing, Wednesday's practice could be considered a positive with regard to the Steelers' defense. After struggling mightily during the first two games of the season, Pittsburgh's defense as raised its game over the last three weeks. After recording five turnovers in their Week 3 loss in San Francisco, the Steelers' defense sacked Andy Dalton eight times while also coming up with a pair of turnovers in Pittsburgh's only win of the season.
In Sunday's loss to the Ravens, the Steelers sacked Lamar Jackson five times and intercepted him twice while holding him to just 161 yards through the air.
After years of being the weaker of the two units, Pittsburgh's defense is unquestionably the strength of the Steelers heading into Sunday night's game in Los Angeles. The unit has been playing so well as of late that Pittsburgh head coach Mike Tomlin opted to send out his defense for the first possession of overtime against the Ravens. The Steelers' defense responded by forcing a three-and-out before Smith-Schuster's fumble set up Justin Tucker's game-winning kick.
Given the momentum they've built over the last three weeks, the defense's desire to have a physical practice is understandable. At the same time, the Steelers cannot afford any more injuries to an offense that will be without receiver James Washington (shoulder) and Jaylen Samuels (knee) for the foreseeable future. That, along with the fear of the physical nature of Wednesday's practice disrupting team chemistry, is likely another reason why Foster was less than enthused with what took place between the two units.
One offensive player that wasn't touched on Wednesday was quarterback Mason Rudolph, who practiced on a limited basis as he continues to go through the concussion protocol.