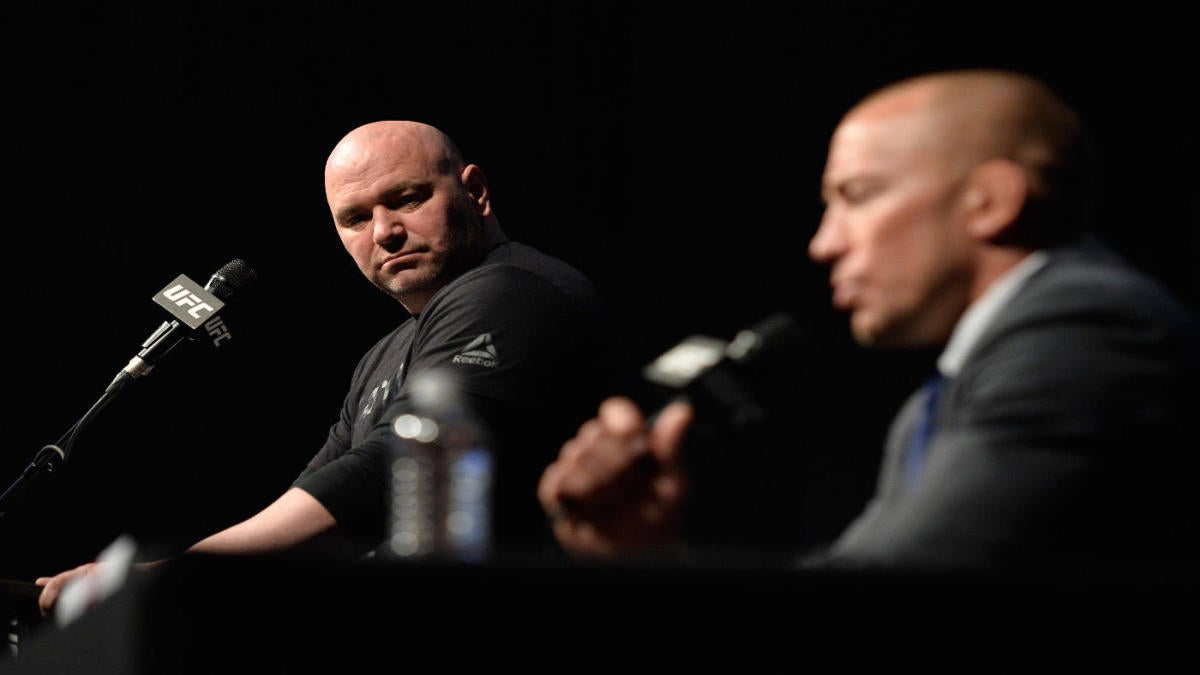 Former UFC welterweight and middleweight champ Georges St. Pierre has teased the idea the only fight that could bring him out of retirement is a showdown with lightweight champ Khabib Nurmagomedov. UFC president Dana White had been cold on the idea until speaking during a recent Instagram Q&A.
White is now viewing the potential fight as "fun" but said Nurmagomedov first has to get through his planned bout with top contender Tony Ferguson.
"The Tony fight has to happen first," White said. "Obviously, if Khabib wins that fight, the GSP fight would be a fun fight to make, for sure."
St. Pierre recently completed a 75 hour "water fast" and posted a photo of himself sitting down for a sushi dinner. In the comments, Nurmagomedov replied "155?"
Fighting at lightweight, as Nurmagomedov suggested, was recently dismissed by St. Pierre's longtime trainer Firas Zahabi.
"Right now I think the ship has sailed on 155," Zahabi told MMA Junkie. "I don't think Georges will ever do 155. I think there was a time and place and window where Georges would make that sacrifice to do a mega-fight. But I think that window's passed, personally."
Also potentially standing in the way of St. Pierre vs. Nurmagomedov is Justin Gaethje, who has made a strong case for a championship opportunity of his own. But a big business fight between the undefeated lightweight king and a former two-division champ and all-time great could certainly allow "GSP" to jump the line.
More UFC news, rumors
Speaking with Sky Sports in New Zealand, White threw out another potential superfight, citing a clash between interim middleweight champ Israel Adesanya and light heavyweight champ Jon Jones as one that could be "a really big fight." Adesanya challenges middleweight champ Robert Whittaker this weekend in a unification match. Should Adesanya win the UFC 243 headline bout, White seems intrigued by the idea. "If Israel wins, and he really does want to fight Jon Jones, that's a really big fight," he said.
Michael Bisping pulled out his prothetic eye during the latest edition of his "Believe You Me" podcast. Bisping dealt with significant vision loss down the stretch in his career. The eye issues initially began after a head kick from Vitor Belfort in January 2013. Despite having almost no vision in the eye, Bisping competed 11 more times, including capturing the UFC middleweight championship in June 2016.