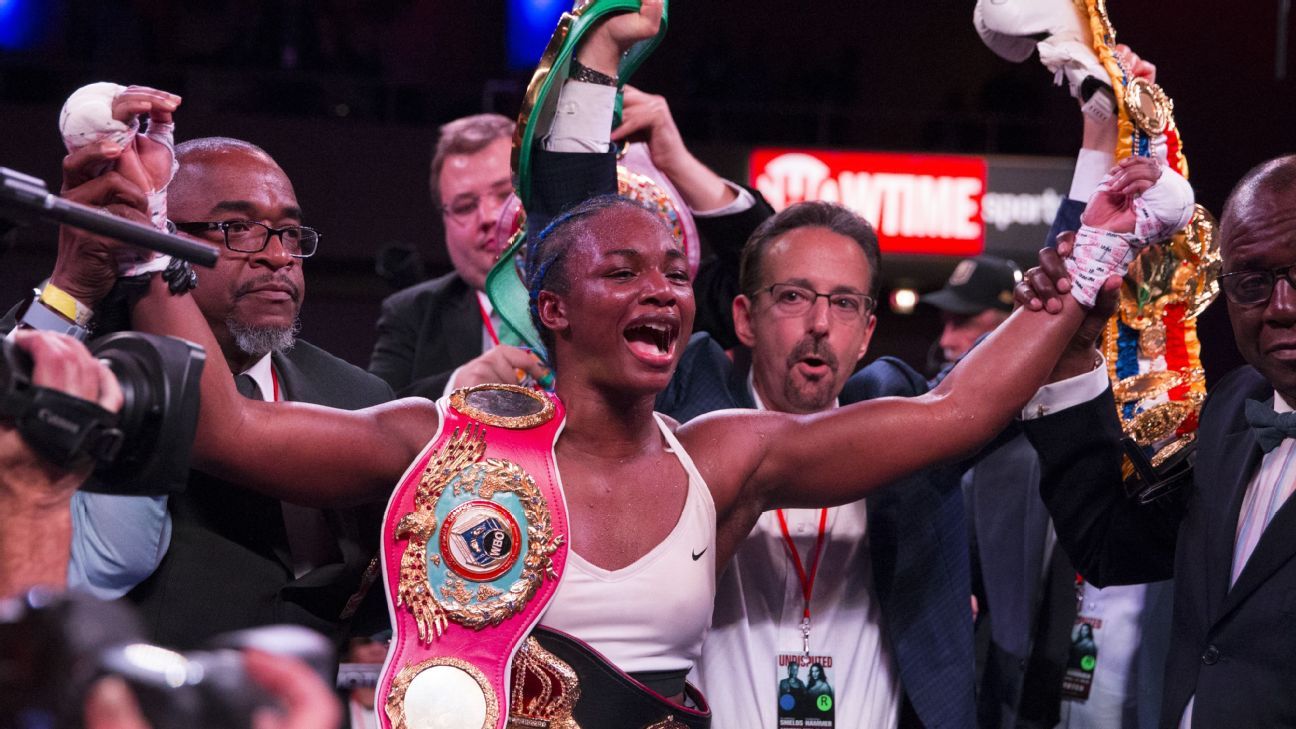 The fight between Claressa Shields and Ivana Habazin, already for a vacant women's junior middleweight world title, took on additional meaning on Wednesday when organizers announced that the bout would also have a second vacant world title at stake.
"We are delighted that the fight will now be for both the WBC and WBO world championships," promoter Dmitriy Salita said. "Claressa is aiming for historic nights every time she gets into the ring and it is exciting that the victor of the fight on Saturday will be a unified 154-pound world champion."
Shields, a former unified super middleweight titlist and the reigning undisputed middleweight world champion, is moving down in weight to the junior middleweight division to take on Habazin on Saturday (Showtime, 9 p.m. ET) at Dort Federal Event Center in Shields' hometown of Flint, Michigan.
Shields, the only American boxer (male or female) to win back-to-back Olympic gold medals and the face of women's boxing in the United States, not only wants both 154-pound belts to add to her collection, she wants the slice of history that will go with winning them.
If the 24-year-old Shields (9-0, 2 KOs) defeats Habazin (20-3, 7 KOs), 29, of Croatia, she will set the record for winning world titles in three weight classes in the fewest number of fights. Pound-for-pound king and unified lightweight world champion Vasiliy Lomachenko won a title in his third division in his 12th fight in May 2018.
"I want to show everybody that I'm a truly great fighter," said Shields, who unified the four major middleweight belts by lopsided unanimous decision over Christina Hammer in her last fight in April. "I can beat Vasiliy Lomachenko's record of winning titles in three divisions in 10 fights instead of 12. Plus, I'm going backwards, not going up in weight, where there are better challenges for me.
"My performances will lead to bigger fights and bigger purses for me and my opponents. I'm just going to keep building my name and building my brand. With this fight against Habazin, I'm definitely going in looking for the knockout. If I get it in spectacular fashion, that will go viral and help push my career forward."
The fight, which was originally scheduled for Aug. 17 in Flint before Shields dislocated her right knee in late June, forcing a postponement, will be Shields' first as a pro in her hometown, where even the Mayor Karen Weaver has taken an interest by coming to the news conference when the fight was announced.
"It means everything to have this fight back in my hometown," Shields said. "I want to be the good news for Flint and make people smile. I'm happy to be bringing a fight back home while I'm still on top. I feel like Flint will be uplifted by that."
Habazin, a former welterweight world titlist, has won five fights in a row and will be fighting in the United States for the first time.
"This is a really big opportunity for me," Habazin said. "I was a world champion and I'm looking forward to winning a title in another division. Claressa Shields is a spectacular fighter and I have respect for her, but I'm going to bring the fight to her. I didn't come here just to fight; I came here for victory." She said fighting in Shields' hometown is of no concern.
"I really don't think about that the fight is in Flint," she said. "It's not something important for me, where the fight is. For me, the only important thing is to win, and she's the biggest name right now in women's boxing and I want to beat her, that's all, because I have 10 years in boxing and it wasn't easy. My world was really tough and right now maybe it's the last opportunity to do something big and I take it seriously."
The card will also feature two other 10-round televised bouts. Heavyweight Jermaine Franklin (19-0, 13 KOs), 25, of Saginaw, Michigan, will face Pavel Sour (11-1, 6 KOs), 36, of the Czech Republic, and highly-regarded welterweight prospect Jaron "Boots" Ennis (23-0, 21 KOs), 22, of Philadelphia, will face Demian Daniel Fernandez (12-1, 5 KOs), 30, of Argentina.