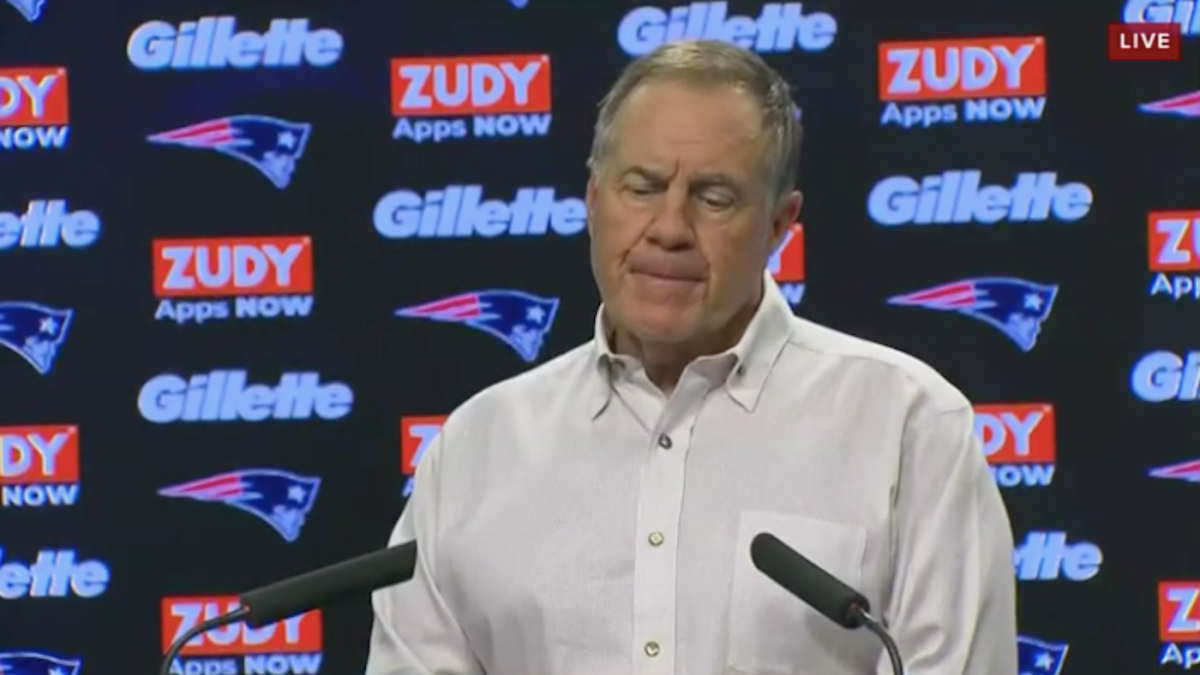 Patriots coach Bill Belichick met with the media on Wednesday in what was his first press conference since a sexual assault lawsuit was filed against Antonio Brown this week, and as you can probably imagine, things got a little intense.
During the opening statement of his press conference, Belichick acknowledged the lawsuit, but then also added that he wouldn't be answering any questions about anything pertaining to the case.
"On Antonio's situation, both Antonio and his representatives have made statements and I'm not going to be expanding on any of those, they are what they are," Belichick said. "We've looked into the situation. We're taking it very seriously. All the way through the organization. I'm sure there are questions, but I'm not going to be entering into a discussion about that today."
After the opening statement, the press conference turned into a three-minute sparring match with reporters. During the very brief time that he took questions, Belichick did answer one key question: The Patriots coach revealed that Brown would be allowed to practice with the team on Wednesday.
When asked if Brown would practice, Belichick simply said, "Yes."
This likely means that Brown will be allowed to practice unless his situation somehow changes (More evidence could come to light, the NFL could place him on the commissioner's exempt list or even suspend him for violating the league's personal conduct policy.)
One other interesting note is that the Patriots coach didn't close the door on the possibility of Brown playing against the Dolphins on Sunday.
"We're taking it one day at a time, just like we always do," Belichick said when asked if Brown would be playing in Miami.
After those two questions, Belichick spent the rest of the press conference dodging questions before he finally left the podium. During the Q&A session, Belichick was asked if he was concerned about the possibility that Brown might be placed on the commissioner's exempt list, which would make the receiver ineligible.
"We're preparing for one day at a time," Belchick said.
At one point in the press conference, Belichick was asked if the Brown situation would be a distraction to the team.
"We're working on Miami," Belichick said. "We went through the scouting report. We went through the game plan today. We're going to practice for today."
Belichick eventually shut things down after he was asked if the allegations in the lawsuit would keep Brown from playing from Sunday, which was the second time he had been asked if Brown would play.
"I appreciate all the questions," Belichick said. "What's been said has been said."
In the lawsuit, Brown is accused of sexually assaulting a female acquaintance, Britney Taylor, on three separate occasions. Although Brown's legal team has admitted that the two had a sexual relationship, his camp maintains that everything was consensual between Brown and Taylor.
As for Belichick, he eventually left the podium after he was asked two times in a row if Brown had mentioned anything to him about the lawsuit before signing with the Patriots.
"I mean, I'm done with that, OK," Belichick said after the question was asked the first time. "Anything else on Miami? Any other questions?"
When the same question was asked again, you could tell that Belichick was ready to end the press conference and call it a day.
BB: "I just answered that question."
Reporter: "Actually, you didn't."
BB: "Actually, I did."
And with that, Belichick's four-minute press conference came to its conclusion. The main takeaways are that Brown will be practicing on Wednesday, he's currently eligible to play Sunday and he very well might be on the field against the Dolphins.