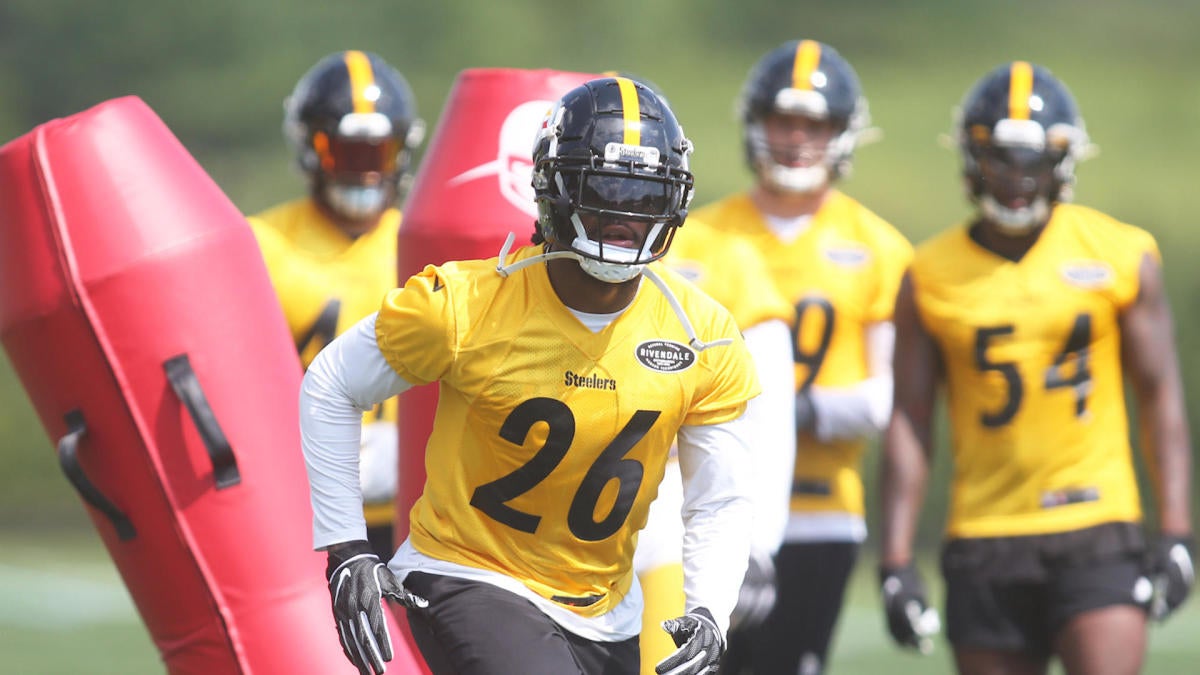 LATROBE, Pennsylvania – In any given year you could count on Antonio Brown and Le'Veon Bell to contribute a combined 3,500 yards or so from scrimmage, roughly 25 touchdowns and too many explosive plays to keep track of. And, well, a countless number of meltdowns, flare-ups, or expressions of unusual behavior as well.
Now that all of it is gone from Pittsburgh – the drama, the grand entrances the passive-aggressive interactions and the propensity to literally leave the team from time to time, to say nothing of all of that game-day production – a very different version of the Steelers prepare for the 2019 season in the early days of training camp at St. Vincent's College. Two of the most explosive players ever to don the iconic black and yellow of one of football's most storied franchises are gone, with the Steelers banking on others filing the void and creating a very different energy and chemistry after the locker room fractures of recent years.
It's a gamble, to be sure, with no shortage of players, coaches and staff eager to let you know how altered the vibe is here now, without the antics and contract squabbles and shenanigans of previous camps (Brown, you may recall, went AWOL from the dorms here around this time a year ago, in what would become a motif for a season in which the Steelers blew a division lead and missed the playoffs entirely). Whether or not it results in the high-powered attack Steelers fans have become accustomed to remains to be seen, or a return to the playoff standard that ownership expects, remains to be seen, but things do seem a little more placid, and perhaps, unified, than some recent summer trips to Western Pennsylvania.
"Every team is new and every group forms their own dynamic as we move from practice to practice to game," general manager Kevin Colbert told me. "So I think that is still forming. When you talk about the production, when you look at he running back position last year to the year before … it was roughly 150 yards less than what the position gave us the year before ..
"And sure, anytime you move on from a player that gave you 100-plus catches, who will be that other person? Someone else will be. I'm pretty sure that (quarterback) Ben (Roethlisberger) will have close to the same number of completions and close to the same number of touchdowns and it will probably be a different breakdown. And I don't know what that is, because beyond Ju Ju (Smith Schuster) no one else has been a starter for the Pittsburgh Steelers. So we don't know. I don't know the rest of that group …"
If nothing else, it feels like everyone has exhaled around here with some of the bigger, more out-spoken personalities no longer around. "That (stuff) didn't just start last year," one team source said of the inter-personal collapses of last year. "A lot of that stuff has been going on for years. I don't even know if AB had a dorm room here. There were problems for a while between certain players, but the difference was it never got into the street before. That's the difference, and once that happened the whole thing went the wrong way."
The difference, also, is that the team stopped winning, and winning, as you've long heard, cures everything. With the AFC North perhaps much improved from this time a year ago, 2019 might prove to be a challenge. There is certainly more short-term pressure than in years past, and more long-term questions (starting with the below).
Notes from camp
There were some surprised execs and coaches around the league that Mike Tomlin only signed a one-year extension this summer. The Steelers always extend coaches with two years left on their deal, and while I'm told there is an option year component to this new contract, it was still shorter than some would have guessed. Ownership wants to have Tomlin and Colbert tied down for at least the length of Roethlisberger's tenure as starting quarterback. Colbert did not sign his extension (his current deal expires after the draft), however, and said he let ownership know a while back that he'd prefer to go year-to-year at this stage of his career. "It's a personal thing for me and my wife and my family," Colbert said, "and I want to be sure that if I commit, I'm fully committed, and at this time I'm committed through the 2020 draft … And I'm appreciative that (owner) Art Rooney was okay with doing it that way." For what it's worth, it's widely known around the NFL how highly Panthers owner David Tepper, a former Steelers minority owner, thinks of Colbert, who is one of the best execs in the NFL; if the Panthers do not thrive (I believe they will) many would anticipate Tepper taking a run at hiring Colbert.
The Steelers drafted Mason Rudolph with the intention that he would replace Roethlisberger one day. Sure, it would take several years … but they believed with proper development he could be their next franchise QB. Other teams scouting quarterbacks in the 2018 draft were more skeptical, but the Steelers continue to like what they see. Rudolph has come a long way from where he was a year ago and earned praise for his work in the spring. A year from now, who knows … "Mason actually had a good preseason," Colbert said, "and when you look at his quarterback rating, it was the best of any of the rookie quarterbacks. Now, does that mean he's going to be a starter? No. We'll see how it shakes out this preseason … Ben is 37, at which point do you replace him? We've seen Brady and Manning go into their 40s … How long can he go? We don't know. But it's my job to make sure we're ready and you want to have those young guys to be in waiting at that point."
With Rudolph seen as the next guy up, backup quarterback Josh Dobbs could be an interesting trade chip. Several teams inquired about his availability a year ago, and the fourth-round pick in 2017 is an intriguing athlete for sure. Especially if injuries arise at the QB position elsewhere, expect teams to feel out his availability again.
Linebacker TJ Watt will again carry heavy pass rush responsibilities this season. His move to the left side of the defense has worked well and doesn't look like it will be changing anytime soon. "I'm just a lot more comfortable on the left side," he said.
The decline of kicker Chris Boswell was a major storyline for the 2018 Steelers, and there is a sense he will have to earn his way back on the team despite getting a big payday not that long ago. The trend to cheaper kickers is taking off in the league and the Steelers have Matthew Wright, a rookie from Central Florida, as the other kicker in camp right now. But that could certainly change and if need be a veteran free agent could be added to the mix. "He has to match the standard that he created," Colbert said of Boswell. "He has to find it within himself. And we're with him. We want him to do it. That's why he's here. We're going to support him, but we also have to have another guy ready … And we're going to keep out eye on whats happening at that position around the league, as we have to. We've got to be prepared if he's not who he has been."   
With so many players who logged heavy targets in the past no longer on this roster, naturally much of the attention has gone to Schuster, the lone receiving standout who remains. But don't forget about holdover Eli Rogers. Entering his fifth year with the team, he has been inconsistent and a bit part of the offense, but Roethlisberger loves him and trusts him, everyone around here tells me, and he could become a key contributor in the slot. "I think we'll see a different Eli this year than we did last year," Colbert said, with Rogers now far removed from an ACL tear.
No team has had more success drafting receivers in virtually all rounds than the Steelers, and they selected James Washington in the second-round in 2018 because they believe he has real play-making ability. He got off to a slow start last year, struggled to adjust to the pro game as is the case for many rookie wideouts, dropped some balls and lost his confidence. He is getting a chance to work with the starters in this camp, and has the physical attributes to make a leap (including shedding about 15 pounds). "Yes, we anticipate him having a bigger year," Colbert said. For what it's worth, at Saturday's practice, veteran free agent Donte Moncrief was making a lot of plays and seeing targets from Big Ben both short, and intermediate, with Washington making a highlight catch in seven-on-seven.
Rookie running back Benny Snell, a fourth-round pick out of Kentucky, continues to turn heads early in camp, and could work his way into that rotation sooner rather than later.
The Steelers continue to make inroads to getting corner Joe Haden signed to a contract extension and there is a strong anticipation that will be finalized well before the season begins. "This is the time of year we do it, we usually do it one at a time, and we're usually pretty methodical about it," Colbert said. They are keeping corner Artie Burns as well despite his struggles thus far.
Vance McDonald could be a legit fantasy contributor this season at the tight end position.