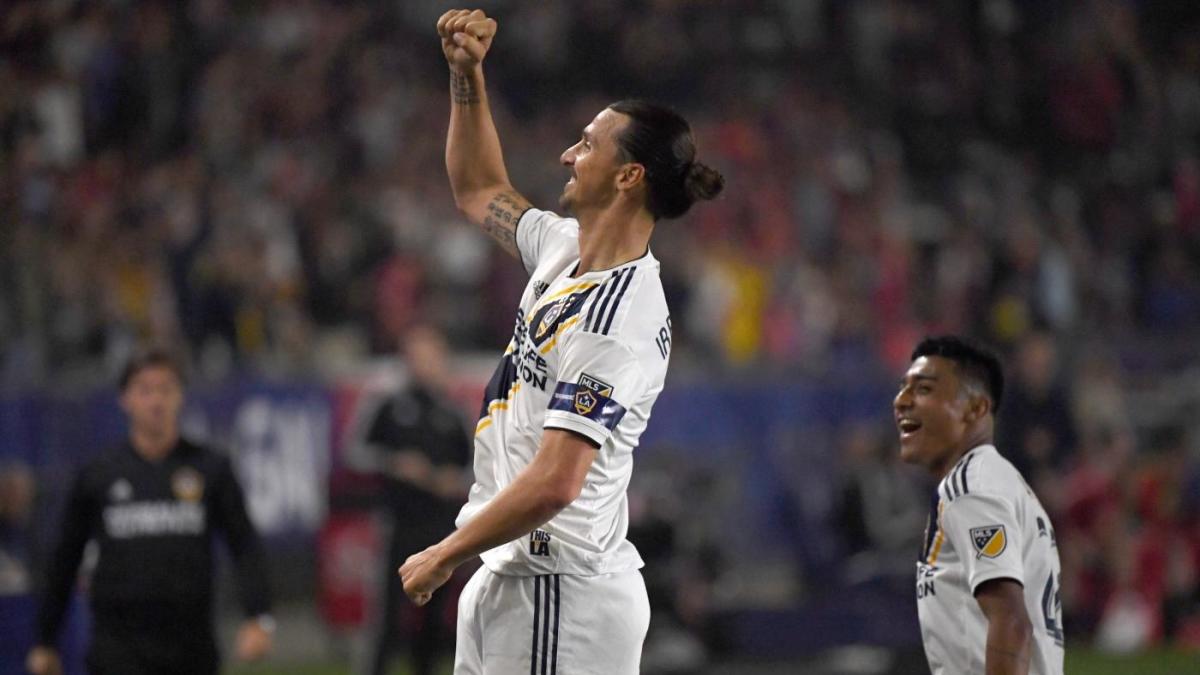 Los Angeles still belongs to the Galaxy. In a highly-anticipated MLS showdown, the Los Angeles Galaxy beat LAFC 3-2 on Friday night behind a Zlatan Ibrahimovic hat trick in a game that had it all. Despite Carlos Vela scoring twice, including the opener from a penalty kick just three minutes in, Ibra went off with another legendary display. 
Before the match, Ibrahimovic had called himself the best player in Major League Soccer over Vela, and he once again proved it. Just five minutes after Vela's opener, Ibra produced a bit of magic with a clever touch to lift the ball over a defender before rifling home from outside the box. Check out this exquisite effort:
Peek at that celebration right in front of LAFC coach Bob Bradley. Savage. And that's arguably as good as a goal as he's scored in MLS. It looked like Ibra was saying "toma" after the goal, which is essentially Spanish for "take that" and completely fitting. 
While his bicycle kick, long-range shot versus LAFC and 500th career goal were all special, this one included some flair to it and is up there with some of his best. Unfortunately for LAFC, he was just getting started. 
Ten minutes into the second half, he was at it again, heading home from inside the box with class off a fine ball from Diego Polenta:
To finish LAFC off, he scored from outside the box with his left foot, sending a rocket into the bottom-right corner of the goal:
Watch that again, and check out the celebration. Just seconds after the goal, Ibra shoved Latif Blessing five yards in the air and it's absolutely hilarious. 
Here's what it looked like:
Ibra got the hat trick, scored with both feet and his head, celebrated in front of the opposing coach and flung a player. And he wasn't done yet.
After the match, Ibra took to Twitter as he knows best:
What a legend. Here's hoping he plays in MLS well into his 40s. 
And while Ibra stole the show, the players around him did well to feed him the ball and put him in position to score. The Galaxy deserve a ton of credit for coming back in a game where they were the odds-on underdog. In four meetings all-time, the Galaxy have two wins and two draws against LAFC. 
While Bradley's team may be leading MLS, the Galaxy still run the city of angels.