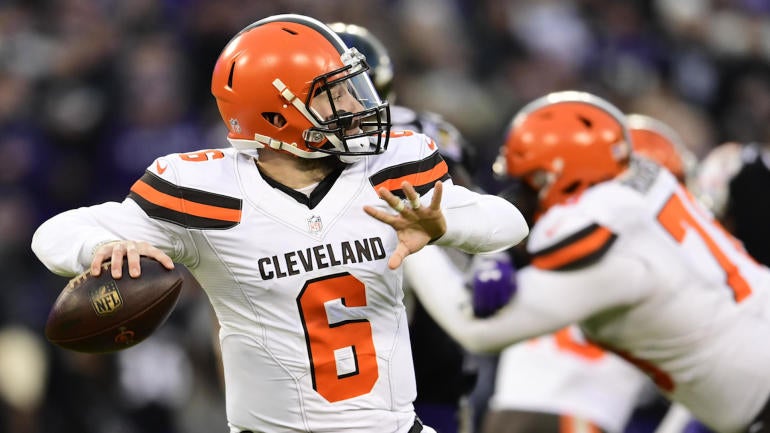 Many sportsbooks already have released 2019 NFL season win totals, and amateur and professional bettors alike are already making their picks. Right now, there's limited information to make NFL picks as roster composition is in its infant stages and will be a work in progress until Week 1. Many clubs also are adjusting to new head coaches. But many serious NFL handicappers use their knowledge of the clubs along with their own projections to find an edge in these long-term investments, so a little expert help can go a long way.
For example, those who anticipated a breakout season for the Chicago Bears in 2018 made a handsome profit as Chicago hit the board with a season win-total of 6.5 but ended up nearly doubling it with 12 victories and an NFC North title. Now, sportsbooks are open for business on 2019 NFL picks for win totals and the action is rolling in. Before you make any 2019 NFL win total bets, listen to what SportsLine's Mike Tierney has to say. 
A renowned national sportswriter whose work appears in the New York Times and Los Angeles Times, Tierney has reported from seven Super Bowls. He also has emerged as one of the top handicappers for SportsLine in all sports and is coming off outstanding seasons in both college and pro football. 
Tierney was all over the New England Patriots (-2.5) to cover against the Los Angeles Rams in the 2019 Super Bowl, topping off another stellar season in which he hit nearly 60 percent of his NFL picks against the spread. Anyone who has followed him is up big. 
Now, Tierney has analyzed the 2019 NFL odds for win totals from every angle and released his top five picks for the upcoming season at SportsLine. 
We can tell you he's taking the Under on nine wins for the Cleveland Browns, who are widely expected to take another step forward after they won seven games last season. He believes the hype surrounding the upstart club has led to an inflated number from oddsmakers. 
Tierney notes the Browns won one game in two seasons combined before last year. He believes the youth-laden club could stumble amid what might be unrealistic expectations. He also points out that newly acquired running back Kareem Hunt will miss half the season because of an NFL-imposed suspension. 
Another potential variable for Cleveland is first-year coach Freddie Kitchens. He came to the Browns in 2018 as the running backs coach and was promoted to interim offensive coordinator when head coach Hue Jackson was fired last year after eight games. The team went 5-3 the rest of the way.
Kitchens is believed to be popular with the players, particularly quarterback Baker Mayfield, But many football observers were still surprised when the franchise chose Kitchens, who has no previous NFL head-coaching experience. Even with Odell Beckham now in the fold, the Browns could struggle to live up to expectations.
Tierney has four other strong selections that you need to see before locking in your own 2019 NFL picks, including a shocking prediction for the Dallas Cowboys. These picks are only available at SportsLine. 
What are Tierney's top five 2019 NFL season-win total wagers? And are the Cowboys a must-back or must-fade? Visit SportsLine now to find out the top five 2019 NFL win total picks you need to jump on now, all from an accomplished NFL analyst who hit nearly 60 percent of his spread picks last year.