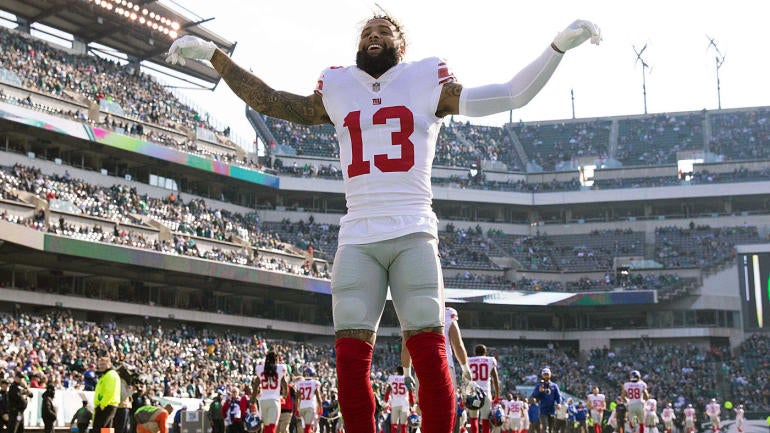 The New York Giants' offseason has revolved largely around trading Odell Beckham to the Cleveland Browns and everyone screaming about them refusing to acknowledge that Eli Manning's continued presence as the starting quarterback is a problem. It's been real fun for the parties involved, and it's resulted in Giants GM Dave Gettleman continuing to go on a publicity tour in which he defended his moves and, occasionally, fired shots at Beckham.
Gettleman took a pretty obvious dig at Beckham during an interview with Steve Politi of NJ Advanced Media when, over a bowl of tomato basil soup, he was asked if the Giants have a locker room chemistry problem. 
"Not anymore," he said with a satisfied smile.
If it's not obvious, Gettleman is saying that by trading Beckham, he cleaned up his locker room issue. It's all part of his plan, probably.
Odell found it very obvious, because he took to Twitter and went on a bit of a tirade in the direction of Gettleman. It started with Beckham tweeting about taking the high road in relation to an Eli Manning tweet from someone else, and then firing off a note about Monday being the "best day of my life." 
Who knows what this news is, but this was not your run-of-the-mill "I'm enjoying the day, gonna be quiet and turn off my phone" tweet. This was a "prepare to be nuked" tweet. And Beckham set his phasers to stun.
Beckham yelled about putting everything in the game and saying that it's silly for people to criticize him for being emotional. Then the former first-round pick, now with the Browns, proceeded to tweet about the Giants specifically. Beckham said he's not upset about being in Cleveland (there was some buzz that he wasn't thrilled) but believes the Giants trading him was "crazy" and "disrespectful."
A few minutes later, Beckham announced he was done tweeting.
Narrator's voice: Odell wasn't done tweeting. 
Instead, Beckham then claimed he "begged" the Giants to let him travel with the team while he was hurt, but that the Giants wouldn't let him join the team.
And then Odell basically pointed out that Gettleman lied publicly with his claims about the wide receiver and not wanting to trade Beckham after signing him just a year before.
And then Beckham dropped the hammer, saying "yes I'm a cancer" if he's on a team "that's OK with losing." Read: the Giants are fine with losing and blaming Odell for the locker room issues. (Worth noting here: he's basically admitting to being a pain in the ass in the locker room when the team wasn't good.) 
Then Odell blamed the media, because, well, duh.
Odell didn't appreciate anyone questioning his performance in the playoffs. And he kept tweeting and tweeting and then saying he was done tweeting and then noting that he was indeed firing shots.
And then finally quit tweeting when his mother said to let her enjoy her birthday.
Thank you Mama Beckham. From everyone.