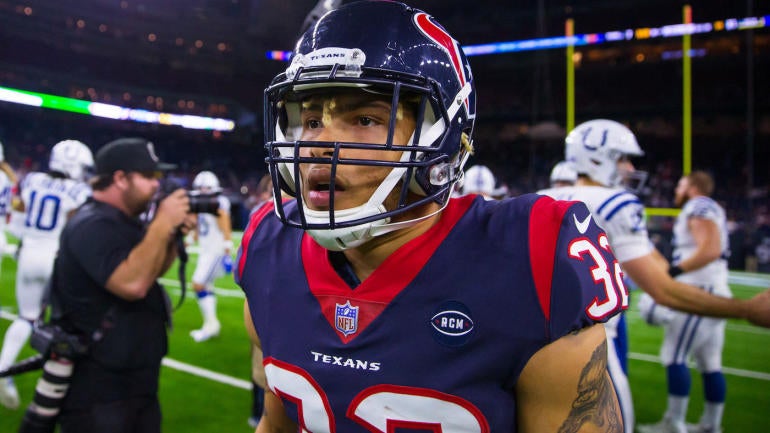 After their defense cost them a spot in the Super Bowl, the Chiefs are apparently going all-in on fixing it by signing one of the best available free agents. 
As first reported by Terez A. Paylor of Yahoo Sports, the Chiefs will sign former Cardinals and Texans safety Tyrann Mathieu when the new league year begins on Wednesday. As first reported by ESPN's Adam Schefter, it'll be a three-year, $42 million deal.
The Chiefs are close to a deal with S Tyrann Mathieu, I'm told

— Terez A. Paylor (@TerezPaylor) March 11, 2019
Former Texans' S Tyrann Mathieu intends to sign a three-year, $42 million deal with the Kansas City Chiefs, per a league source.

— Adam Schefter (@AdamSchefter) March 11, 2019
The Chiefs, who journeyed to the AFC title game with the top-ranked offense that often overcame a defense that allowed 26.3 points per game in the regular season and 37 points in their season-ending loss to the Patriots, were always in the market for one of the many talented safeties hitting free agency. After watching the Redskins hand Landon Collins a reported six-year, $84 million deal earlier on Monday, the Chiefs made their move for Mathieu, a Swiss Army knife that will immediately make their defense better.
Since entering the league, Mathieu has emerged as one of the league's best safeties who can do a bit of everything. With the Cardinals from 2013-17 , he averaged 56.2 solo tackles, 5.6 tackles for a loss, 0.8 sacks, 8.2 passes defended, and 2.2 interceptions per season. After getting cut by the Cardinals a year ago, Mathieu signed on with the Texans. He proceeded to rack up 70 solo tackles, five of which were for a loss, eight passes defended, three sacks and two interceptions. 
And that made him a hot commodity in free agency. The Texans wanted to keep him and according to The Monday Morning Quarterback's Albert Breer, offered him a long-term deal that would've paid him more than $9.5 million per year. Mathieu ended up getting $14 million per year from the Chiefs. 
It's the best possible outcome for Mathieu, who tweeted in January that he cared more about a ring than money. 
Not only is Mathieu getting a chance to win a ring with a legitimate Super Bowl contender that is well positioned to challenge for a championship in the years to come, he's also getting a ton of money. In order for the Chiefs to get over the hump, they'll need a defense that can provide Patrick Mahomes and company with just a little more help. Mathieu should help them do exactly that. He's also only 26 years old. So, the Chiefs aren't paying for a past-his-prime player.
As it stands, Mathieu would line up alongside Eric Berry, who is already signed to a monster contract of his own. The two would form the best safety tandem in football, but there's always a chance the Chiefs will find a way to move on from Berry to avoid spending significant money at one position group. They've already cut Justin Houston and could reportedly trade Dee Ford after franchise tagging him, and all of this came after they switched defensive coordinators.
The Chiefs are well aware changes are needed on defense. On Monday, they made their biggest one yet by bringing in one of the best defensive players available. Don't be surprised if more changes come.