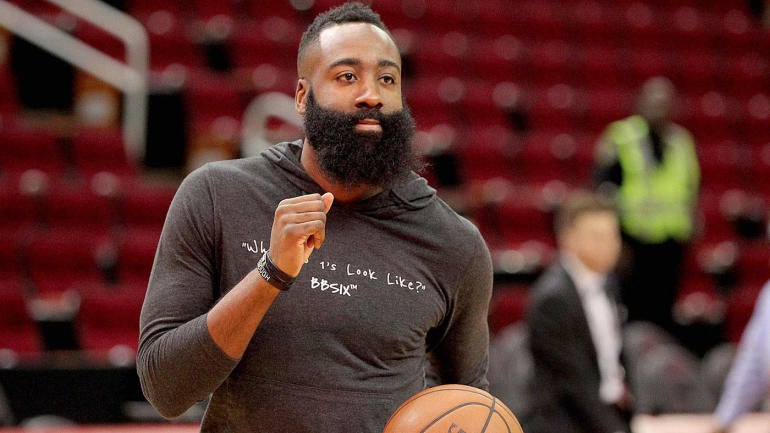 It's a busy night in the NBA on Monday, with nine games on the schedule. 
Things start out with the "Zion Williamson Bowl," which will see two of the worst teams in the NBA, the New York Knicks and Cleveland Cavaliers, battle it out to see who really is the worst team in the NBA.
Obviously, the slate gets a lot more interesting as the night wears on. The Oklahoma City Thunder will look to fend off the Portland Trail Blazers for the third seed in the Western Conference when they host them at Chesapeake Energy Arena.
Meanwhile, James Harden will look to continue his consecutive games scoring streak of 30-plus points when then the Houston Rockets host the Dallas Mavericks.
Here's everything you need to know about tonight's action.
NBA schedule for Monday, Feb. 10
Super Mario takes flight
Mario Hezonja did his part to make the matchup between the Knicks and Cavaliers exciting. Driving baseline, he exploded to the rim for a thunderous slam. 
George throws one down
Paul George brought some early energy to the Thunder's contest against the Trail Blazers. He scored OKC's first basket with a powerful driving slam. 
Maker protects the rim
Thon Maker is already making an impact with the Pistons. Against the Wizards on Monday night, Maker rose up to meet Bobby Portis at the rim for an incredible block. Unfortunately for Maker, he paid a painful price for his effort. 
Grant and Schroder out against Blazers

The Thunder's task of defeating the Blazers just got a whole lot tougher. As Oklahoma City prepares for one of their biggest regular-season matchups, they'll have to do so without two of their key role players. That would be because both Jerami Grant and Dennis Schroder will be sidelined against the Blazers.